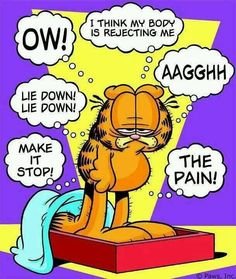 Occasionally, I write about my health problems and the struggles I have in my day-to-day life. Doing so, of course, will attract people who perversely revel in my pain and suffering or love telling me that my health problems are God's judgment on my life, a precursor to the pain and suffering I will experience in the Lake of Fire after I die. Some commenters such as Tom/James/John/Joe go into graphic detail describing what God will one day do to the atheist named Bruce Gerencser. Yet, these same miscreants want me to join their Jesus Club and worship their God on Sundays. Even if God is real, and he's not, I would never, ever worship such a deity. Such a God is a psychopath, as are some of his followers.
Most readers of this blog don't have a problem with me writing about my health. I recognize that this site is not a blog about gastroparesis, fibromyalgia, osteoarthritis, or hemorrhoids. People read my writing because they are interested in what I have to say about religion and politics, especially Evangelicalism and the Independent Fundamentalist Baptist Church movement. For the record, I have mentioned fibromyalgia thirty-three times, gastroparesis eleven times, and osteoarthritis twenty-one times in my writing. My health problems are an insignificant part of my writing, yet according to one Evangelical preacher I won't mention by name, mentioning these things more than once is unnecessary (and evidently irritates his hemorrhoids). Of course, I could say the same thing about his writing. He's mentioned God/Jesus thousands of times in his writing. Surely, mentioning the Big Kahuna and his sidekick Jesus once is enough. 🙂 Right?
There are several reasons I write about my health problems.
First, many readers want to know how I am doing.
Second, I am homebound. Due to declining motor functions and vision problems, I stopped driving in March 2020. I must now rely on Polly to chauffer me where I want to go. She works full-time, so there's not a lot of time for me to be out and about. We go to the grocery and out to eat, but the rest of the time I am homebound. We do take short road trips occasionally, and when it gets warmer, I will wander out into our yard to do a bit of yard work, but most of my days are spent within the four walls of our two-story home.
Writing about my health problems and life in general allows me to connect with people outside of my claustrophobic world. The Internet allows me to maintain human connections with family, friends, and acquaintances, relationships that would have been impossible in a pre-Internet world.
Third, I want to be an advocate for people who suffer from the same diseases I do. I want them to know that I understand. Until you have actually had, say gastroparesis or Fibromyalgia, you can't understand how these diseases affect humans. Much like reading the experiences of former Evangelicals, reading the stories of chronic pain and chronic illness sufferers resonates with people who are walking a similar path. When Polly, who has ulcerative colitis, had to have part of her colon and bladder removed three years ago and had a colostomy for eighteen months, she found it helpful to hear from readers of this blog who have had similar experiences. When Polly was diagnosed with A-fib, she appreciated talking to people who had A-fib too. There's something comforting about knowing that you are not alone; that if others can make it to tomorrow, so can you. Don't underestimate the power of a kind, thoughtful blog post, email, comment, or social media message. When you are suffering, sometimes, it's the little things that often mean the most. Money helps too. 🙂
Bruce Gerencser, 66, lives in rural Northwest Ohio with his wife of 45 years. He and his wife have six grown children and thirteen grandchildren. Bruce pastored Evangelical churches for twenty-five years in Ohio, Texas, and Michigan. Bruce left the ministry in 2005, and in 2008 he left Christianity. Bruce is now a humanist and an atheist.
Connect with me on social media:
Your comments are welcome and appreciated. All first-time comments are moderated. Please read the commenting rules before commenting.
You can email Bruce via the Contact Form.