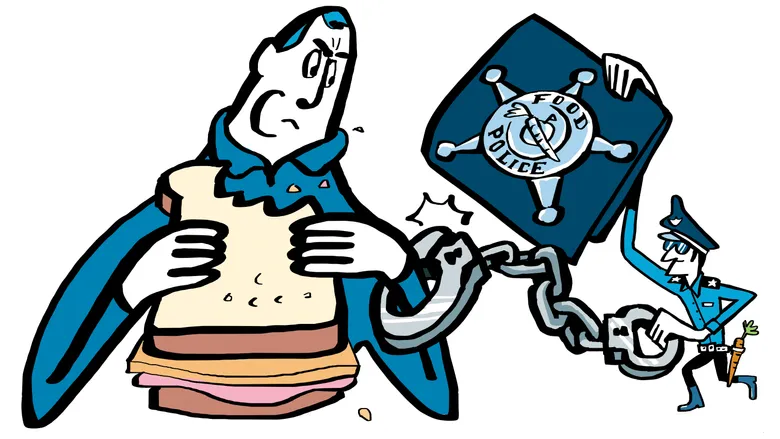 Recently, I wrote a post titled Humor: How You Know You Have Gastroparesis. Any time I write about my health problems, someone will either leave a comment or send me an email about what I need to do "fix" what ails me. I have repeatedly asked people not to do this, but much like Evangelical zealots they are determined to evangelize for the gospel of "eating natural," homeopathy, keto, vegetarianism, veganism, supplements, or countless other "diets." I've even written posts about not offering me unsolicited medical advice:
Please Do Not Offer or Send Me Unsolicited Medical Advice
The Similarities Between Food Fundamentalists and IFB Zealots
Leave it to Fake Dr. David Tee to ignore all that I have written on this subject and offer me "advice" anyway:
I am just curious. You do know that antibiotics wipes out both good and bacteria in your digestive system. Have you thought of going to the following foods and spices to help restore some balance- pepper (good for inflammation), cinnamon (not a lot), Greek style yogurt, pure honey, relish, dark chocolate and similar foods. These items work on restoring the good bacteria your stomach needs as well as help with bloating and inflammation.

If you have don't bite my head off and if you haven'\t talk to your doctor about more natural remedies
Sigh
There are several assumptions that people make about my health problems.
First, I am to blame for my health problems. While lifestyle and environmental factors certainly play a part in diabetes and high blood pressure, how am I in any way to blame for gastroparesis, fibromyalgia, and osteoarthritis? How am I to blame for the herniated discs in my upper back and neck? How am I to blame for the plethora of problems I have with my spine? Or the Morton neuromas in my feet? What could I have done differently that would have resulted in a better outcome?
For the record, my diabetes and high blood pressure are managed with diet and medication. Last A1c? 5.4. And my cholesterol? Normal, across the board.
Second, because I am overweight, I must have a "bad" diet or eat the wrong things.
Third, my reliance on evidence-based, science-based medicine keeps me sick.
If I would just eat better and eschew Western medicine, my health would improve overnight; my stomach would magically "cure" itself; the arthritis and degenerative disease in my spine, feet, and hands would magically disappear; my fibromyalgia would magically recede into the background of my life, never to be heard from again.
If only life were that simple, right?
Fake Dr. Tee assumes that there's something wrong with my diet; that if I would eat the right things I would be magically cured. He provides no empirical evidence for his claims, no double-blind studies that show the efficacy of his magical foods. Just personal opinion.
Here's the thing, my diet is just fine. In fact, it's more than just fine.
Currently, on our kitchen counter and in the refrigerator you will find:
Veggies: carrots, asparagus, cabbage, Brussel sprouts, broccoli, lettuce, beets, red potatoes, yellow potatoes, russet potatoes, sweet onions, red onions, green onions, green peppers, mushrooms, celery
Fruit: apples, bananas, lemons, oranges, tomatoes
Damn, Bruce, you and Polly must like eating veggies and fruit. Yep, and we have eaten this way since the late 1990s — twenty-two years. So much for "food" being the problem.
I even take a few supplements, even though science clearly shows that taking supplements is largely a colossal waste of time and money. The only time we need to take supplements is when we have deficiencies.
I take:
Potassium for low potassium levels, likley due to the blood pressure medicines I take.
B12 for low B12 levels; the cause is unknown. I have had low B12 levels for 20+ years
Iron for anemia, caused by gastroparesis. This remains an ongoing concern as the supplements have not appreciably raised my red blood cell counts.
Vitamin C, taken to help with the absorption of Iron
Fake Dr. Tee also mentions spices. I will let the following photos from Polly's kitchen tell you everything you need to know: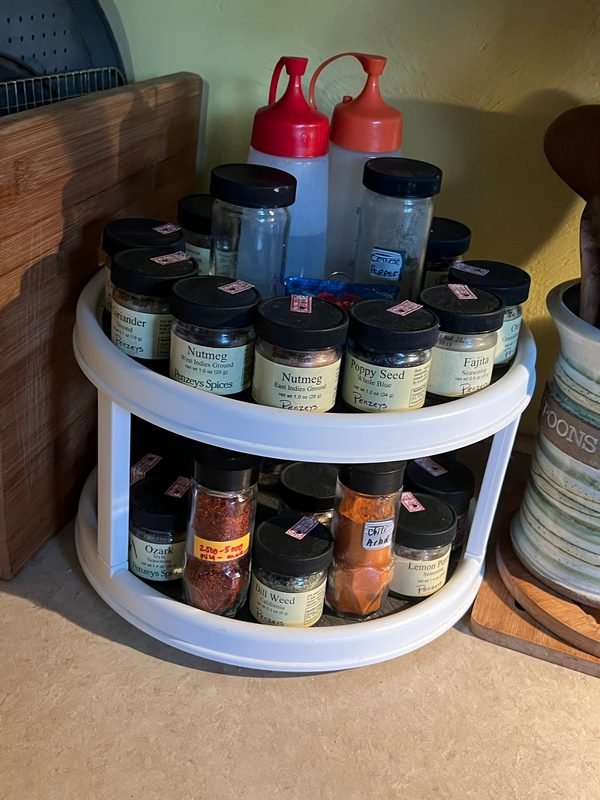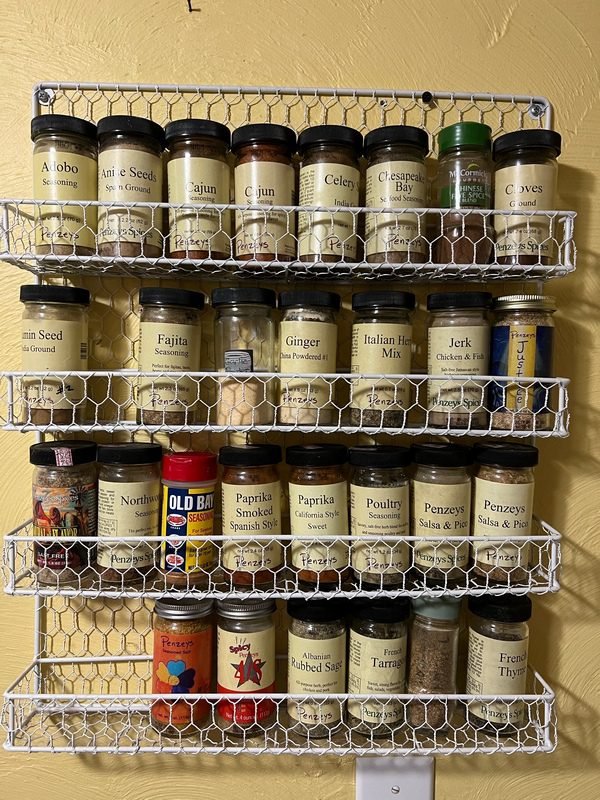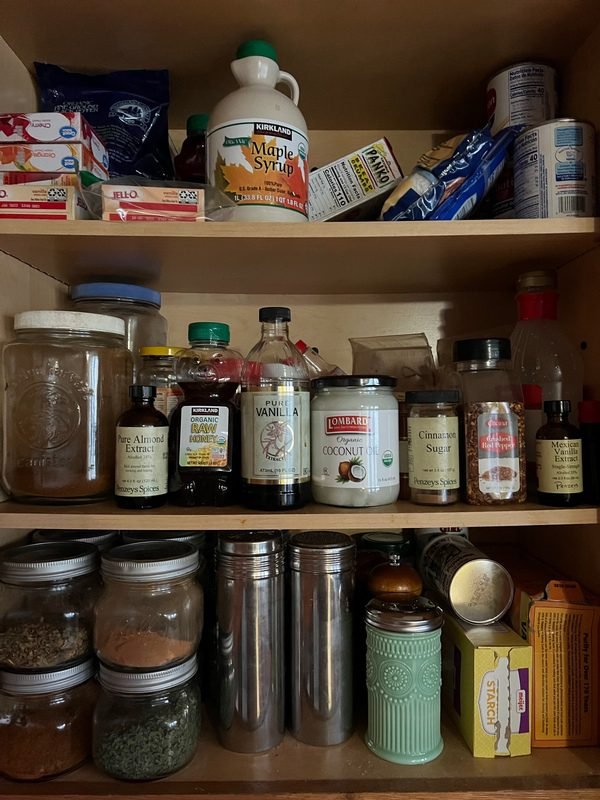 Time for dinner! Tonight, I am eating Oreos, mint chocolate chip ice cream, and a Snickers, washed down with A&W Root Beer and a double shot of Jameson. I'll sprinkle some cayenne pepper on the ice cream so the food police will be happy. 🙂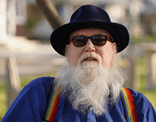 Bruce Gerencser, 65, lives in rural Northwest Ohio with his wife of 44 years. He and his wife have six grown children and thirteen grandchildren. Bruce pastored Evangelical churches for twenty-five years in Ohio, Texas, and Michigan. Bruce left the ministry in 2005, and in 2008 he left Christianity. Bruce is now a humanist and an atheist.
Connect with me on social media:
You can email Bruce via the Contact Form.
Your comments are welcome and appreciated. All first-time comments are moderated. Please read the commenting rules before commenting.