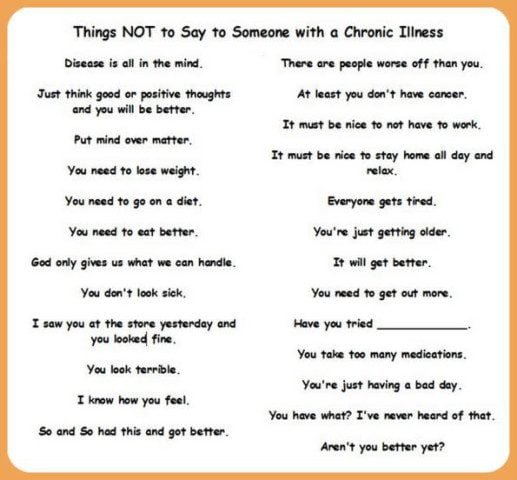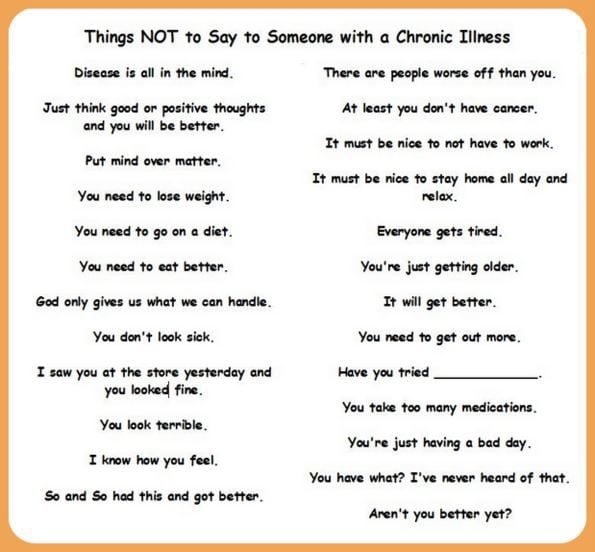 My health is very much a part of my story. It is impossible for readers to understand where I have come from and where I am today without me telling them about my struggles with chronic pain, fibromyalgia, and osteoarthritis. Over the past decade, I've not been shy about sharing with readers my health history. Unfortunately, in doing so, I have opened myself up to unsolicited medical advice from people who have diagnosed me from afar. In recent years, I have received emails, letters, telephone calls, texts, packages, and personal visits from people who are certain they know the cure for what ails me.
One woman — a former church member — would stop by my house every few weeks hoping to sell me super-duper, cure-all shakes that she was certain would return me to perfect health. I had to hide in my bedroom and have Polly lie to her about my availability. After months of attempts to evangelize me, the woman finally took the hint and stopped. At the time, she was on the shakes. Today? She has abandoned this miracle cure and continues to face debilitating health problems.
Well-meaning people have told me that this or that drug, this or that supplement, reiki, spinal adjustment, surgery, acupuncture, iridology, yoga, chakra alignment, mindfulness, homeopathic concoctions, essential oils, Native American rituals, magnets, diets — need I go on? — would infallibly cure me. Today, I received in the mail a list of books from a blog reader — some of which I have read — that, if followed, would supposedly put an end to my chronic pain. The gist of the books is this: your pain is all in your head.
I go out of my way to avoid interaction with readers when they put on lab coats and play doctors. I either ignore them altogether or I quickly say "thank you" and change the conversation. Yet, it seems no matter how many times I say, PLEASE DO NOT OFFER OR SEND ME UNSOLICITED MEDICAL ADVICE, people continue to ignore my request and offer advice anyway. What is it that says to some readers that they are free to disrespect me as a person? Is there anything ambiguous or unclear in PLEASE DO NOT OFFER OR SEND ME UNSOLICITED MEDICAL ADVICE? Do some readers think I am stupid or ignorant or lacking competent medical care?
I get it. I am the kind of writer who has swung open the door of his life, inviting such advice. However, I have politely asked that people not give me unsolicited medical advice. How hard can it be for readers (and family members) to respect my wishes and leave me alone? Can they not see that their tactics are no different from those used by Jehovah's Witnesses or evangelizers from Independent Fundamentalist Baptist churches? "Sir, we are here today to offer you something that will change and transform your life!" Never mind the fact, that I am not ignorant about what they are peddling, be it Jesus or a "cure" for Fibromyalgia.
Let me be clear. I am under the care of a team of competent medical professionals. I am well-educated concerning my afflictions. Unless researchers come up with new treatments, I am going to die "Just as I am." I have resigned myself to the fact that a combination of what ails me will eventually lead to my demise. And I am okay with that. I do what I can to manage my symptoms. If I read of something that "might" be helpful, I bring it up to my primary care doctor. In the twenty-three years he has cared for me, he has NEVER said no to me; never refused an off-label drug or treatment that "might" alleviate my pain and suffering. "Let's try it and see if it works." My orthopedic doctor treats me in a similar manner. He knows, based on x-rays, CT scans, and MRIs, that I have arthritis from head to toe. He knows that surgery is not a good option for me, so he does what he can to alleviate my pain. The scans tell him that the pain is not in my head.

I know that writing this post and making it prominently available will do little to stop certain readers offering unsolicited medical advice. It is not like I can ban them or anything. As long as I have a widely read blog and make it easy for people to contact me, I am going to receive emails, letters, telephone calls, texts, packages, and personal visits from pretend doctors. That doesn't mean, however, that I can't bitch about it. Praise Loki for the power of bitching, amen? Amen!
Let me conclude this post with several excerpts from articles that address the issue of unsolicited medical advice. The first article is titled, Your Unsolicited Health Advice Isn't Just Irritating. It's Damaging. Sarah Blahovec writes:
You may be thinking, "These people [people who offer unsolicited medical advice] sound irritating, sure, but why are you making such a big fuss? They're just trying to help!"

Of course, I get that they're trying to help, and in some cases, it really is just a pet peeve that I'll politely accept or decline and move on. But the thing is that constant unsolicited advice, questioning, and imploring to try something different becomes very invalidating. You don't just hear a helpful tip to try, you hear that you aren't trying hard enough, that using medication to treat your condition means that you're giving up or aren't willing to seek out a non-medicinal alternative. You hear that all of the work that you and your doctors have done, the tests, the procedures, the trial and error of different combinations of medications and treatments aren't enough, and that you need to try a different path. You hear that if you did give these suggestions a shot in the past, you didn't try long or hard enough, you weren't following it correctly, or you bailed and took "the easy way out."

It is frustrating to constantly hear the message that not only are you not trying hard enough to improve your own health, but that you and your doctors are not the most knowledgeable about your medical and lifestyle needs. A stranger or acquaintance took it upon themselves to say that they know more about your condition from a bit of Googling and a few books than your doctor with their experience and education, and you with your everyday, lived experience of actually having the medical condition. It is emotionally damaging to not only hear that you aren't living with your disease correctly, but to always have to educate others on why their unsolicited advice is unwanted and harmful. Unfortunately, they usually just they reply that you're overreacting and become offended that you won't take their suggestion. This only adds to the emotional pain, and very often, the physical pain of a medical condition that can be triggered by stressful situations.

My message is this: please, please do not give advice when it is not specifically requested. If someone wants information about your lifestyle, your choice, or your product, they will ask you and they will do the research. If you do give advice and somebody says that they aren't interested or asks you to stop, just respect their wishes. Nobody should be coerced into trying something they don't want to try, and if you push forward with your advice, not only would they not listen, but they may become stressed, hurt, and invalidated by your inability to respect their wishes.

Trust that disabled and chronically ill people and their medical teams are the most knowledgeable about their own health and their medical and lifestyle needs. Trust that they will seek out you or the proper sources if they're interested in what you have to offer. And out of respect for disabled and chronically ill people everywhere, please stop forcing your unsolicited advice upon those who don't want it.
In an article titled, Please Give Me Your Support, Not Unsolicited Medical Advice, Megan Klenke writes:
I would rather spend the rest of my days banging my head against a wall than to continue trying to explain to people that their essential oils and kale will not cure me. OK, I'm being dramatic, but not as much as you might think!

If you're anything like me, when you first became chronically ill (if you're reading this as someone who's sick), you possibly went through a naive stage early on in your illness. The stage where you believed the random person in an elevator who's known you for two whole minutes who said that snake oil was God's gift to the ill, or your aunt's cousin's brother's half-sister who swears by this new detox where you only eat eggs for a month and every illness ever will be reversed, or some crap like that.

But seriously, there was a period of time at the beginning of me being sick that I desperately held onto the belief that I had control and would get better, so I tried anything and everything anyone presented to me. The worst was this "joint juice" concoction my dad ordered off an infomercial that tasted worse than words can describe. Yuck.

After awhile, it became something I did out of spite. Eventually there were few things left that I hadn't tried, but when someone offered me something new, I would try it to prove to them how wrong they were.

When people constantly offer up these things, especially after I've spent time telling them my story, it doesn't come off as helpful. I know, I know. People generally mean well. Sure. I'd like to say I believe that. But there's condescension there almost always. And disbelief. And disrespect. It's a smack in the face. It's basically people saying to me that I just must not be doing enough or else I'd be better.

We as humans don't like to lose control. We don't. I certainly don't. It's not fun. We try to control every aspect of our lives. We love to plan out how every minute of everyday is meant to be spent and we think we can control that.

But the truth is, we can't control everything. We cannot always control our bodies and our health. I know it's scary to realize this, but it's true. And I think that's a big reason why one of the most common reactions people have to finding out that I'm chronically ill is to give me advice (that I didn't ask for) on how to get better (from my incurable diseases). They want to help, but they want even more to keep up the illusion of control in their world. They'd rather believe that it's essentially my fault that I'm not better because I'm not doing something right, because I don't have the proper self-control, than to acknowledge the lack of control we have over our lives.

So what all of this unsolicited advice says to me is, "I didn't listen to anything you just said because I'm scared of facing our lack of control and my mortality. I think you just don't know what you're talking about. I know better."

That's the truth of it. So the next time you're thinking about offering up unsolicited advice to someone who's chronically ill, it's probably best to just…not.
Thank you for your love, kindness, and support. Many of you have come alongside me and brought understanding and encouragement during difficult times. It is enough for me to know that people care.
About Bruce Gerencser
Bruce Gerencser, 62, lives in rural Northwest Ohio with his wife of 41 years. He and his wife have six grown children and twelve grandchildren. Bruce pastored Evangelical churches for twenty-five years in Ohio, Texas, and Michigan. Bruce left the ministry in 2005, and in 2008 he left Christianity. Bruce is now a humanist and an atheist. For more information about Bruce, please read the About page.
Are you on Social Media? Follow Bruce on Facebook and Twitter.
Thank you for reading this post. Please share your thoughts in the comment section. If you are a first-time commenter, please read the commenting policy before wowing readers with your words. All first-time comments are moderated. If you would like to contact Bruce directly, please use the contact form to do so.
Donations are always appreciated. Donations on a monthly basis can be made through Patreon. One-time donations can be made through PayPal.