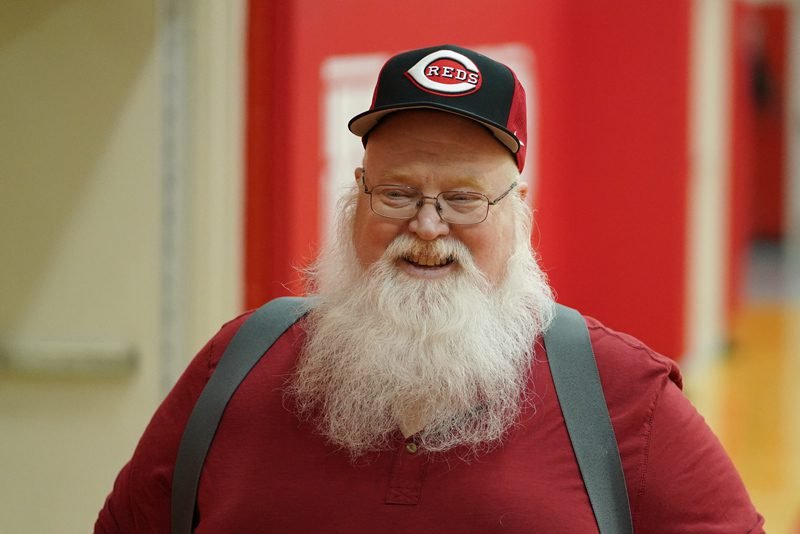 I found the following excerpt on the Reformation Charlotte blog. Transcribed by Tony Capoccia from a 1990 sermon by Fundamentalist Calvinist John MacArthur, it is clear that Mac believes Santa is a false God; and since I am Santa, that means he thinks I am S-a-t-a-n in the flesh.
Here's what MacArthur had to say about Santa Claus:
What a false, fake substitute the world puts forth at this time [Christmas 1990] for that true message. Do you remember these words? "You better watch out. You better not cry. You better not pout. I'm telling you why; Santa Claus is coming to town. He's making a list and he's checking it twice; gonna find out whose naughty and nice. Santa Claus is coming to town. He sees you when you're sleeping; he knows when you're awake. He knows if you've been bad or good, so be good for goodness sakes. You better watch out. You better not cry. You better not pout. I'm telling you why; Santa Claus is coming to town."

Now does that threaten you? That is a very threatening poem. That is intended to scare children. Now listen, if you look at the letters of Santa, you will see that Satan is hidden in Santa. When we teach a child to sing this song, we are teaching him a false theology. We are teaching him a false set of doctrine. Let me see if I can explain it to you.

First, that song teaches that Santa is a transcendent being. He lives on a higher plane. He lives on another level. He transcends time and space. He has powers equal to whom? God! Not only that, he knows everything. He's omniscient. "He knows when you're sleeping. He knows when you're awake. He knows when you're naughty. He knows when you're nice." He knows everything.

Not only that, he's everywhere. "He sees you when you're sleeping." He's not only omniscient, he's omnipresent. And he is watching to see whether you have been good or bad. And not only that, but he bestows favors. Now on what basis does Santa give his favors? What must I do to receive good things from this transcendent being, called Santa. Well it is very simple, I have to be what? Good. I can "earn" Santa's favor. If I am good, Santa will give me gifts. After all, he's making a list and he is checking it twice to make sure that we've been either naughty of nice. And on the basis on how we've been, he'll deal with us.

And if I'm not nice and good, I won't get any gifts. So I better be good for goodness sake, not to mention for my own sake or anybody else's sake. But do you want to know something about Santa? He may be transcendent, and he may be omniscient, and he may be omnipotent, and he may be omnipresent. He may be dispensing all of the good things, but you know what? You can't trust him. You can't trust him. You say, "What do you mean by that?"

It says, "He's checking to see if you are naughty or nice." And you better be good for goodness sake, because if you aren't good, you won't what? You won't get anything. You want to know something? That's not true. Plenty of times I haven't been good and I get something anyway. Every year I get something. And you want to know the truth of it? There are a lot of naughty people that get a lot and there are a lot of nice people that don't get anything.

Do you know what about Santa Claus? You can't trust him. He doesn't even stay true to his own word. He's blustering around and warning everybody to mind your manners and be good all the time; be nice and not naughty and good and not bad. And then you know what? When Christmas comes he caves in, and even when we have been naughty he gives us all that stuff. And sometimes he overlooks people that are nice. He really can't be trusted. His threats are meaningless and so are his promises. But that's good because it takes the sting out of him.

And there is another good thing about Santa; you only have to worry about him once a year. He only shows up once and you know when it is; it's always on Dec 25th, so you can get your act together just a few days before. You say, "Well where is he the rest of the time?" Oh, he's in the North Pole. Could that be heaven in Satan's little scheme? "What's he doing?" Oh, he has all these elfs around him. "What are they doing?" Whatever he tells them. Mostly, meaningless things like make toys. He is sort of inane isn't he? He threatens but never fulfills his threats. He promises but doesn't always fulfill his promises.

Is it any wonder that if I believe all that as a child, when I come to be an adult, I might have a hard time believing in a Transcendent God who does know everything, who is everywhere, who does have all power, who does keep his promises and his threats, and who does not save me and give me good gifts on the basis of my works but on the basis of His grace. If Santa has been my understanding of God, then I am in trouble. That's why I say, hidden in the letters of Santa is Satan.
Other Posts on Christmas
1983: Drafty Windows, Bubbly Water, Dead Kittens, and the Christmas from Hell
Tales From the Appalachian Foothills: The Church Christmas Tree
How Fundamentalist Christians Ruin Christmas
Christmas: A Plea To Evangelicals Who Evangelize Non-Christian Family Members
About Bruce Gerencser
Bruce Gerencser, 62, lives in rural Northwest Ohio with his wife of 41 years. He and his wife have six grown children and twelve grandchildren. Bruce pastored Evangelical churches for twenty-five years in Ohio, Texas, and Michigan. Bruce left the ministry in 2005, and in 2008 he left Christianity. Bruce is now a humanist and an atheist. For more information about Bruce, please read the About page.
Are you on Social Media? Follow Bruce on Facebook and Twitter.
Thank you for reading this post. Please share your thoughts in the comment section. If you are a first-time commenter, please read the commenting policy before wowing readers with your words. All first-time comments are moderated. If you would like to contact Bruce directly, please use the contact form to do so.
Donations are always appreciated. Donations on a monthly basis can be made through Patreon. One-time donations can be made through PayPal.