Cleveland 19, a television news channel in Cleveland, Ohio, reported this story:
A local pastor said a paving company did a shoddy job on their church driveway and will not return their calls or their emails to fix it.

Pastor Joe Dossa said they've been praying about a situation at Mount Pisgah Missionary Baptist Church.

"The Lord tells us whatsoever you do, do it heartily," said Dossa.

He tells 19 News last August he was approached by some men who told him they were from Public Paving out of Northeastern Massachusetts and could give him a discount on fixing the driveways and parking lot in Grafton.

"I thought, well, thank you Lord what a Godsend, we were thinking about asphalt and you sent an asphalt truck this way," said Dossa.

He tells 19 News they made a verbal contract, wrote a check, and then four men showed up and started the work.

He tells 19 News, right away he and others noticed that something wasn't right.

"There were some holes in the pavement. The edges weren't really true and straight, they backed their dump truck and left tire marks in the asphalt," said Dossa. "It was very uneven and of a poor quality and not laid with a machine so to speak," he said.

Dossa said they spent about $25,000 for the job. When he asked the workers to come back and fix the problems, a man who identified himself Levi Stanley told him to hire someone else to fix their work and that Public Paving would reimburse them. But Dossa said they implored Public Paving workers to come back and do the job right but said they never showed up. Dossa said Stanley kept making excuses.

"He told me after 6 months, it seems like the lot would heal itself overtime," said Dossa.
Evidently, God is not omniscient and didn't check references. Either that, or the asphalt pavers who work for Jesus are unskilled, unqualified, and con-artists. Or, as is common with preachers, this pastor was looking for the Jesus discount from Public Paving. Or maybe, just maybe, Jesus was just testing the pastor's faith.
Bruce's advice to Pastor Dossa:
Don't be a cheap ass
If something sounds too good to be true, it IS too good to be true
Get multiple bids for the paving project
You often get what you pay for
Check references
Personally look at other projects a company has done
Have a signed contract before work commences
Don't give the paver all the money up front
Or, you can just let Jesus take the wheel. How did that work out for you?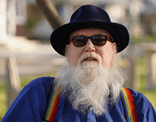 Bruce Gerencser, 65, lives in rural Northwest Ohio with his wife of 44 years. He and his wife have six grown children and thirteen grandchildren. Bruce pastored Evangelical churches for twenty-five years in Ohio, Texas, and Michigan. Bruce left the ministry in 2005, and in 2008 he left Christianity. Bruce is now a humanist and an atheist.
Connect with me on social media:
You can email Bruce via the Contact Form.
Your comments are welcome and appreciated. All first-time comments are moderated. Please read the commenting rules before commenting.