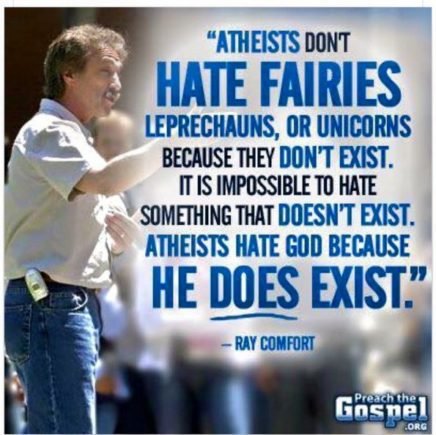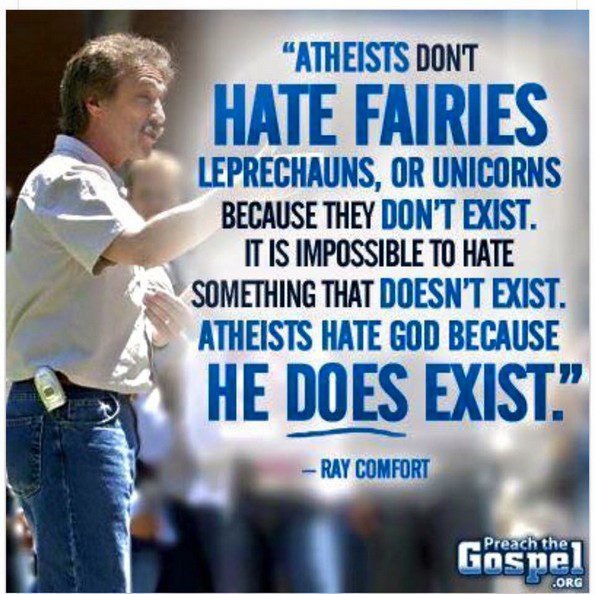 Evangelicals are fond of putting words into the mouths of atheists. They "know" the real reasons atheists don't believe in the existence of God. They claim to know our real motives, our secret desires. It is any wonder, then, that atheists tell Evangelicals to "fuck off"? When an Evangelical shares her testimony with me, I accept what she says at face value. I don't question her motivations, nor do I suggest that I know the real reason she is a Christian.
Last week, Answers in Genesis trotted out Liz Abrams as the latest Evangelical who "knows" the inside scoop about atheists. According to Abrams, deep, deep, deep in their heart of hearts, atheists believe in the Christian God.
Here's what she had to say:
Atheists claim to disbelieve in God. However, if one digs down deep, one finds that professing atheists can't really escape the knowledge of God. And this is encouraging for Christians who want to share the good news with them. Here are three ways atheists cannot escape the knowledge of God.

1. The Atheist Bears the Image of God

The atheist, like every other human being, is created in the image of God. This means he is designed for relationship with his Creator, has an inbuilt moral sensibility, and will live for eternity in either heaven or hell.

Every person has the sense that death is wrong—that we shouldn't just cease to exist. Death feels wrong because God didn't design us to die; we die because of sin. Everyone at some point or another has the longing for eternity. It wouldn't make sense for us to get that desire from an evolutionary process that requires death and suffering.

Atheists hold a variety of odd ideas that they think might enable humans to beat mortality. From uploading their consciousness to the cloud to putting their bodies in a deep freeze and awaiting the day when medical technology can revive them, some atheists try to think of any way possible to eventually get around the fact of death.

….

2. The Atheist Borrows God's Moral Standards and Logic

For Christians, the image of God gives every human being intrinsic value. But atheists have nothing that gives humans inherent value. If life is just nature's way of keeping food fresh, universal morality makes no sense. The only moral law is to do whatever helps your genes make the jump to the next generation. Does monogamy help your offspring have a better start, giving your genes a more established path forward? Does polygamy give your genes more hosts in the next generation? Does promiscuity give you even more chances at reproduction? Does locking your wife up ensure that any children she has are yours? It doesn't take that much contemplation to see that a purely evolutionary ethic would be horrific. A consistent evolutionist in this area belongs in a mental institution or prison!

Most atheists don't go around murdering people—why? Many atheists would scoff at the question and claim, "I don't need God to be good!" But their statement assumes that objective good exists. The only objective good that exists in an evolutionary world is that the fittest survive and reproduce. Why is it good to be faithful to your wife? Who gave us an inbuilt sense that it's wrong to murder and steal? Theft and murder could be evolutionarily beneficial in certain circumstances!

….

3. The Atheist Hates God

Atheists often display more than a "benign" unbelief. There is an overt hostility to Christians and things pertaining to the faith. It does not take much searching to find blasphemous literature and works of "art."

The fact that an atheist's disbelief in God sometimes becomes their entire identity shows that there is more to it than casual disbelief. Almost no one today believes Thor exists, but there aren't any anti-Thor movements. The fact that this vitriolic attitude is reserved only for the God of the Bible is revealing. There are many people alive today who believe in the Muslim god, Allah, but atheists are not nearly as strident in their opposition to a religion that is, in many ways, much more restrictive than Christianity. When an atheist starts railing against how he perceives God has been unfair or wrong from his point of view, that is as ridiculous as being disappointed that the tooth fairy didn't give him enough money under his pillow.

….

Loving Atheists

It is understandable that some Christians see atheists as our enemies. They oppose us in the public square, attempt to convert our children to unbelief, and they say some unpleasant things about Christians. But Jesus said to love our enemies and pray for those who persecute us (Matthew 5:44)—how much more should we pray for and love atheists?

So, what do we do when we encounter atheists? First, we should obey Jesus and share the good news of the gospel with them, as well as pray that God will work in their hearts. We can open our homes and build relationships with them in the hope that God will reach them through us. We should openly talk about our faith and attempt to win them. And when an atheist starts trying to convert others, we should be ready to oppose and refute them.

Being used by God to bring someone to Christ is an amazing feeling, and we know that there will be many former atheists in heaven—some are even associated with this ministry! And that is usually because a Christian cared enough about them to engage with them and persistently share the gospel.
According to Abrams:
Deep down, atheists really believe in the Christian God
Atheists are created in the image of the Christian God
Atheists borrow their morals and logic from Christianity (the Bible) and some of them belong in mental institutions or prisons for their "wrong" moral beliefs.
Atheists hate the Christian God
Abrams, of course, provides no empirical evidence for her claims. At best, she miserably tries to make a few philosophical arguments. At worst, as the presuppositionalist she is, Abrams makes bald assertions, demanding you accept them without evidence.
Abrams is being untruthful when she says "atheists hate God." I don't know of one atheist who "hates God." Why would atheists hate a being they don't believe exists? That would be downright silly. Abrams, as most Evangelicals do, confuses atheist hatred for some expressions of religion (including Islam and Hinduism) with hatred for their mythical deity. Atheists focus their hatred on Evangelical institutions, and, if warranted, Evangelical preachers. If Abrams wants to know if I hate (using the term in a colloquial sense of really, really, really dislike) Answers in Genesis, Ken Ham, and countless Evangelical churches, parachurch ministries, and preachers, the answer is a resounding YES!. My goal as a writer is to burn Evangelicalism to the ground, not because of who Evangelicals worship, but because of what they do in the name of that God. My hatred is reserved for Evangelical behavior, not their mythical deity. I focus on what is real, and what matters.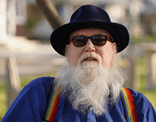 Bruce Gerencser, 65, lives in rural Northwest Ohio with his wife of 44 years. He and his wife have six grown children and thirteen grandchildren. Bruce pastored Evangelical churches for twenty-five years in Ohio, Texas, and Michigan. Bruce left the ministry in 2005, and in 2008 he left Christianity. Bruce is now a humanist and an atheist.
Connect with me on social media:
You can email Bruce via the Contact Form.
Your comments are welcome and appreciated. All first-time comments are moderated. Please read the commenting rules before commenting.