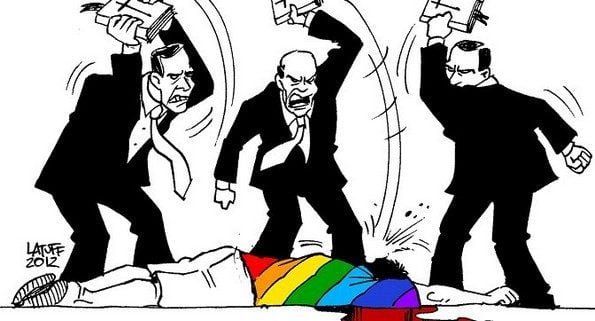 The Tampa Bay Rays' 16th "Pride Night" was held Saturday, the Florida club's annual show of support for the LGBTQ+ community.

Most Major League Baseball teams acknowledge Pride Month in some way, with the Minnesota Twins and Toronto Blue Jays including drag queens as part of their celebrations.

Tampa Bay was more muted, simply having its players wear rainbow logos on caps and sleeves for its game against the Chicago White Sox. However, several players opted out of participation, citing religious reasons.

The Tampa Bay Times reported that pitchers Jason Adam, Jalen Beeks, Brooks Raley, Jeffrey Springs, and Ryan Thompson were among those who didn't wear the logos of support.
Jason Adam, a pitcher who only tosses one way, released a statement on behalf of his fellow Jesus-loving, LGBTQ-hating homophobes:
A lot of it comes down to faith, to like a faith-based decision. So it's a hard decision. Because, ultimately, we all said what we want is them to know that all are welcome and loved here.

But when we put it on our bodies, I think a lot of guys decided that it's just a lifestyle that maybe — not that they look down on anybody or think differently — it's just that maybe we don't want to encourage it if we believe in Jesus, who's encouraged us to live a lifestyle that would abstain from that behavior. Just like (Jesus) encourages me as a heterosexual male to abstain from sex outside of the confines of marriage. It's no different.

It's not judgmental. It's not looking down. It's just what we believe the lifestyle he's encouraged us to live, for our good, not to withhold. But, again, we love these men and women, we care about them and we want them to feel safe and welcome here.
Adam would have us believe that they are not being judgmental; that he and his fellow Christian bigots love and respect LGBTQ people. Adams reveals his ignorance of LGBTQ people by saying that there is something morally wrong with their chosen gender, who they love, and who they fuck. Using Adam's logic, I could just as easily say that he and his fellow teammates aren't really Christians; that every time they play a game on Sunday they are violating the Ten Commandments. Talk about hypocrites, demanding unbelievers keep their peculiar interpretation of the law of God while they don't do the same. And does anyone think that these players are virgins or were virgins when they married? It's possible, I suppose, but I doubt it. Besides, I suspect Adam and his virile friends have looked at women or two with lust in their hearts; lust Jesus called adultery. And the Bible is clear, no adulterer shall inherit the Kingdom of Heaven. Think of all the fornicating that goes on among professional baseball players. Why hasn't Adam taken a public stand on this issue? Or, is this really all about heterosexual men who think same-sex anything is "yucky"? Don't they know Jesus was gay? After all, his disciples were all men. Just saying . . .
The players could have quietly not worn the logos. Instead, they decided to run onto the field, sans jock straps, letting their hateful, perverse religion hang out. Personally, I am not a fan of the meaningless, performative shows of support for LGBTQ people sports teams are fond of doing these days. Do we really think rainbow logos, signs, and flags at stadiums will make one bit of difference? Of course not. I suspect LGBTQ people are tired of shallow shows of support from businesses and sports teams that cause no meaningful difference in their lives.
The refusal to wear the logos is being framed as a freedom of religion issue. It's not. Players are expected to wear all sorts of garb on game days. Players often wear pro-military uniforms and logos. Imagine what the outrage level would be if some players refused to wear these things, voicing their disapproval of the flag-waving nationalism that is so prominent at baseball games these days. Yet, because this is being framed as a religious issue, we are expected to respect the players' homophobic beliefs. Change the issue to one of skin color — as was common in the 50s — should we be expected to ignore the sincerely held beliefs of racist players? Of course not.
Tampa Bay management should have released a statement calling out the players' homophobic statement. Instead, the team said nothing. Better yet, give the players a day off. After all, they are Christians. They could have spent the day in church, reflecting on WWJD?
Bruce Gerencser, 66, lives in rural Northwest Ohio with his wife of 45 years. He and his wife have six grown children and thirteen grandchildren. Bruce pastored Evangelical churches for twenty-five years in Ohio, Texas, and Michigan. Bruce left the ministry in 2005, and in 2008 he left Christianity. Bruce is now a humanist and an atheist.
Connect with me on social media:
Your comments are welcome and appreciated. All first-time comments are moderated. Please read the commenting rules before commenting.
You can email Bruce via the Contact Form.