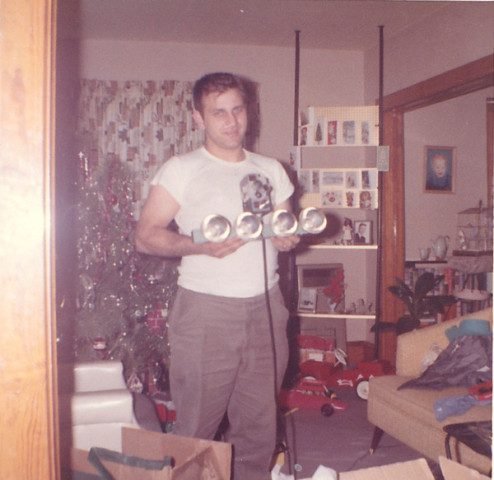 I grew up in an Evangelical Christian home. While living in California in the early 1960s, my parents got saved at Scott Memorial Baptist Church (now Shadow Mountain Community Church) in El Cajon. Tim La Haye was the pastor of Scott Memorial, at the time. LaHaye is best known for co-authoring the Left Behind books and The Act of Marriage. After a couple of years in California looking for the pot of gold at the end of the rainbow, Dad packed his family up and moved them back to Bryan, Ohio — his birthplace. I was eight years old.
We lived in a small brick home on Mulberry Street. Down the street was the Southern Baptist church we attended at the time, Eastland Baptist Chapel. Dad had an 8 mm movie camera. He was quite proud of his video masterpieces. One weekend night, Dad set up the movie screen so the Gerencser family could watch movies. We watched several movies about our move to and from California and various family events. As time crawled on, I became bored, so I started going through Dad's titled movies, hoping to find something a bit more exciting than travel clips. I came upon a movie titled Dreamy Lips.
I pulled Dreamy Lips out of the box and asked Dad what it was about. Embarrassed, he quickly said "None of your business," and quickly grabbed the movie from my hand. Movie night was officially over. It would be years later before I learned that Dreamy Lips was a stag film; that Dad had a collection of pornos.
While I find this story amusing today, it is a reminder that my parents lived a double life — as all Christians do. There was the church life, the oh, how I love Jesus life; and then there was the private life behind closed doors, one filled with contradictions and, at times, pain and heartache.
Most of Dad's movies have been lost to time. I have one that was converted to a VCR tape. I hope to have it put on DVD so my grandchildren can "enjoy" one of Bob Gerencser's famous movies.
Bruce Gerencser, 66, lives in rural Northwest Ohio with his wife of 45 years. He and his wife have six grown children and thirteen grandchildren. Bruce pastored Evangelical churches for twenty-five years in Ohio, Texas, and Michigan. Bruce left the ministry in 2005, and in 2008 he left Christianity. Bruce is now a humanist and an atheist.
Connect with me on social media:
Your comments are welcome and appreciated. All first-time comments are moderated. Please read the commenting rules before commenting.
You can email Bruce via the Contact Form.