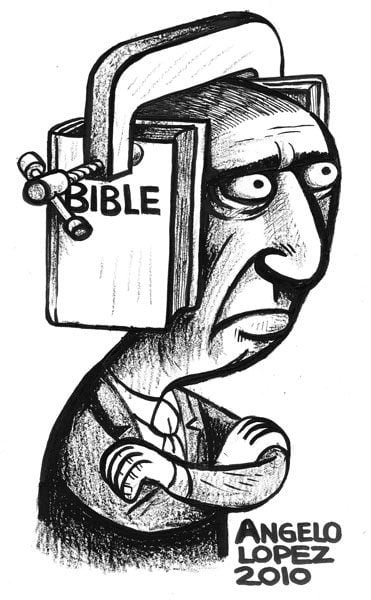 By DebbieLynne Kespert, The Outspoken Tulip: Discipling Women For Discernment Through Doctrine, Why I Can't be Convinced, June 6, 2023
Recently I had an amiable conversation with a non-Christian on the topic of homosexuality. We clearly disagreed, which surprised neither of us, but we parted on good terms and met a few days later having no awkwardness.
….
She asked me a question that I've thought about several times since our discussion. I didn't give her a full response at the time (and I'm not even sure it would have furthered the discussion if I had), but in pondering the situation, I determined that her question needed to be addressed among Christians.
She wanted to know how she could convince me that her position on homosexuality is right.
My short answer had merit, actually — I simply said that she couldn't. In a way nothing more needed to be said. As a non-Christian, she wouldn't have accepted that I stand on the Bible as my reason for viewing homosexuality as a sin. Years ago, when I cited the authority of Scripture as the reason for another position I held, she dismissed my convictions by saying, "Well — I don't believe the Bible." It didn't matter to her if I believed the Bible, apparently. She just wanted it made clear that she rejected its authority.
And that's fine. I don't expect any non-Christian to accept Scripture as God's Word. Only the Holy Spirit can show someone that He speaks through the Bible. All I can do is pray that He will open her eyes to the fact that the Bible indeed has the authority to say what is and isn't sin.
Those of us who are Christians, however, need to be sure that Scripture is our bottom-line reason for any position we take. As I said, the world won't accept the Bible as a valid authority, but we know that no higher authority exists. For that reason, we must base everything we believe on God's Word, confident that the Bible accurately reflects His perspective.
….
Admittedly, some arguments for homosexuality, women's rights, abortion and cohabitation seem powerfully compelling, They can really tug at your heartstrings and make you feel guilty for standing firmly on Biblical convictions. I've also experienced that false guilt.
But as Christians, we don't have to let the world's emotional manipulation bully us into compromise. Rather, we can rest assured that God has spoken and that we can trust His judgments over the judgments of the world. We'll become increasingly unpopular, to be sure. but we'll be planted on the solid rock of Christ's words.
….
So I can't be convinced to change my stance on homosexuality because I've based my stance firmly on what God says in His Word. Unless someone convinces me that I can't trust the Bible, I can't be convinced to abandon my position.
Bruce Gerencser, 66, lives in rural Northwest Ohio with his wife of 45 years. He and his wife have six grown children and thirteen grandchildren. Bruce pastored Evangelical churches for twenty-five years in Ohio, Texas, and Michigan. Bruce left the ministry in 2005, and in 2008 he left Christianity. Bruce is now a humanist and an atheist.
Connect with me on social media:
Your comments are welcome and appreciated. All first-time comments are moderated. Please read the commenting rules before commenting.
You can email Bruce via the Contact Form.