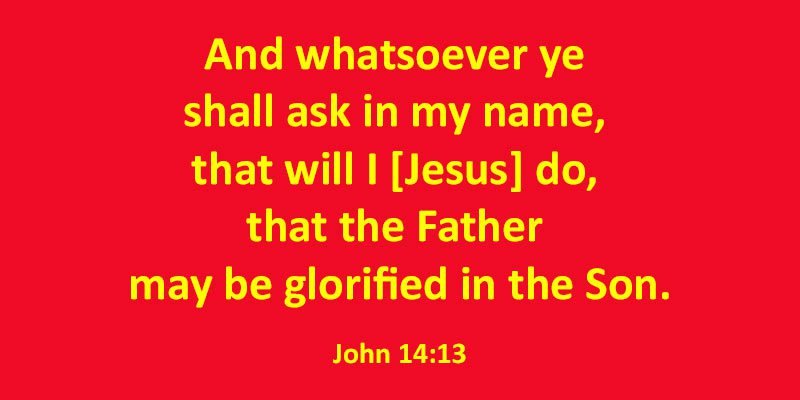 Evangelicals believe the words printed in red in the New Testament were uttered by Jesus himself. Thus, in John 14:13, Jesus says to his followers: whatsoever ye shall ask in my name, that will I do, that the Father may be glorified in the Son. Jesus' unambiguous statement makes it clear that whatsoever Christians prayerfully ask in his name, he will do. Awesome, right? Mark 11:24 records Jesus saying: Therefore I say unto you, What things soever ye desire, when ye pray, believe that ye receive them, and ye shall have them. Jesus' statement in Mark 11:24 is even more extreme. Whatsoever Christians desire and pray for, if they will really, really, really believe that God will give it to them, Jesus will affirmatively and fully answer their prayers. If only this were true, why I might become a Christian again. I have a lot of things that need fixing in my life. I am more than happy to let Jesus take the wheel! But, alas, the Jews buried the steering wheel with Jesus in an undisclosed location, so I am on my own.
Decades ago, Independent Fundamentalist Baptist (IFB) evangelist John R. Rice wrote a book titled, Prayer: Asking and Receiving. Rice, the long-time editor of the Sword of the Lord newspaper, believed that "getting" what you wanted from God was as simple as praying and asking God to deliver. Granted, Rice, and others who followed in his footsteps, had all sorts of explanations for "why" God failed to come through, but these Fundamentalist men of God sincerely believed that getting what they needed in their ministries and personal lives was but a prayer away. Rice believed that the primary hindrance to answered prayer was "sin." He advocated praying for forgiveness as soon as you become aware that a behavior or action is a sin. "Keep your sin lists short," Rice said. The Bible says in 1 Thessalonians 5:17: Pray without ceasing. Rice believed that Christians should always be in a spirit of prayer, ever-ready to shoot a prayer up to God. In Asking and Receiving, Rice wrote:
The normal Christian life is a life of regular, daily answer to prayer. In the model prayer, Jesus taught His disciples to pray daily for bread, and expect to get it, and to ask daily for forgiveness, for deliverance from the evil one, and for other needs, and daily to get the answers they sought.
For many years, IFB churches, parachurch ministries, and education institutions grew numerically and financially. In the minds of many IFB Christians, this proved Rice's contention that prayer was believers asking and God delivering. Today, the vast majority of these churches, ministries, and schools are shells of what they once were. Many of them have closed their doors. What are we to make of their precipitous decline? Did Rice's prayer formula no longer work? Or, perhaps, it never did work, and answered prayers came from and through human instrumentality, not God.
In the 1980s, I pastored a rapidly growing IFB congregation. Starting with 16 people, in four years the church grew to 200. I thought, at the time, that God had answered my prayers. I pleaded with God to save the lost, stir the saints, and cause Somerset Baptist Church to be a lighthouse in the community. And for five or six years, it seemed God was coming through every time I asked him to do so. Not that I was ever satisfied. I remember Rice saying, "It is not wrong to have a small church — for a while." I attended numerous IFB preacher's conferences and Sword of the Lord conferences in the 1970s and 1980s. The theme was always the same: building large churches for the glory of God. I was never, ever happy with the numbers. I took it personally when people skipped church. How dare they miss out on what Bruce — uh, I mean God — was doing at Somerset Baptist. I would learn, over time, that it wasn't God that "blessed" my ministry, it was me and a handful of dedicated volunteers. One day, I looked behind the vending machine IFB preachers called God, and I noticed it was unplugged. Prayer wasn't asking and receiving. At best, it was asking, asking, and asking, and then acting accordingly. I found that it was humans, not God, who answered prayers; that I was asking "self" for this or that, and "self" gave me what I asked for.
Rice went to his grave believing: "According to the Bible, a genuine answer to prayer is getting what you ask for." If he had any doubts, he never uttered them in public. While John 14:13 and Mark 11:24 are clear – that if Christians ask, they will receive – evidence on the ground is clear: God doesn't answer prayer. Either God can't answer prayer because he doesn't exist, or Christians live such sinful lives that their God has turned a deaf ear to their petitions. My money is on the former.
The next time an Evangelical says to you, THE BIBLE SAYS __________, ask him about John 14:13 and Mark 11:24. Does your own version of THE BIBLE SAY __________? Ask him if Jesus meant what he said in these verses. The answer that comes next will likely prove to be long on obfuscation and theological gymnastics and short on, The B-i-b-l-e, yes that's the book for me. I stand alone on the Word of God, the B-i-b-l-e. BIBLE!
How did your pastors and churches handle verses such as John 14:13 and Mark 11:24? Please share your thoughts in the comment section.
Bruce Gerencser, 66, lives in rural Northwest Ohio with his wife of 45 years. He and his wife have six grown children and thirteen grandchildren. Bruce pastored Evangelical churches for twenty-five years in Ohio, Texas, and Michigan. Bruce left the ministry in 2005, and in 2008 he left Christianity. Bruce is now a humanist and an atheist.
Connect with me on social media:
Your comments are welcome and appreciated. All first-time comments are moderated. Please read the commenting rules before commenting.
You can email Bruce via the Contact Form.