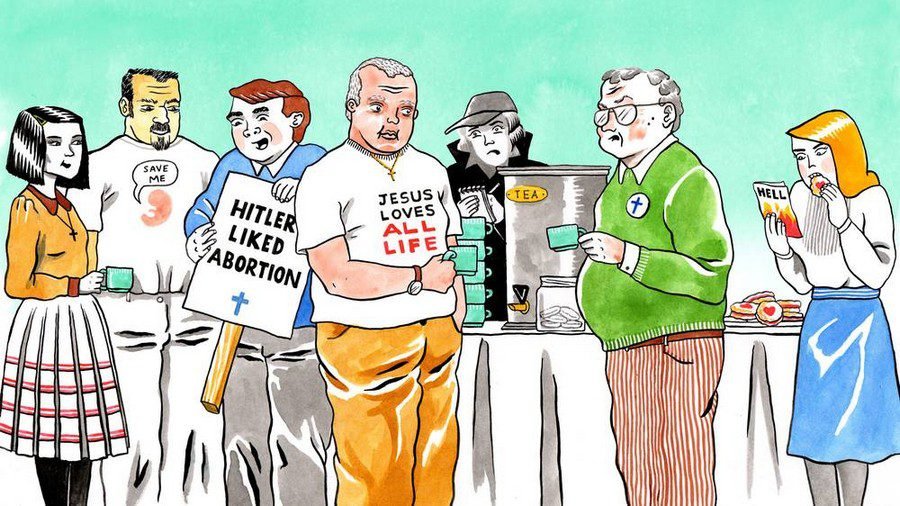 In the post, Why I Hate Jesus, I wrote four sentences about abortion. Here's what I said:
This Jesus, no matter the circumstance, demands that a woman carry her fetus to term. Child of a rapist, afflicted with a serious birth defect, the product of incest or a one night stand? It matters not. This Jesus is pro-life.
That's it.
Yesterday, a man who I assume is an Evangelical Christian left the following comment (which he later deleted) about these four sentences:
I would argue with you on only one point. You say this "Jesus" is pro-life and demands that a child be carried to full-term, regardless of handicap or disability of the child. Another man argued for only perfect babies being born. His name was Adolf Hitler. If you weren't a "perfect" child, you were put in a hospital by your very own parents, and "caring" doctors would look over you, until it was time for you to get clean. They brought you to a shower room where you undressed, were hurded [sic] into a room full of shower heads and…. given the Nazi history…. You know the rest. "Loving" parents? "Caring" doctors? Throw away babies that are "damaged" goods, and what? Throw away children who are? Throw away teens who are? Throw away adults who are? After all, it's for the "greater good" of society.

I'm sorry, but as an autistic child whose mother was told, "put him in the loony bin", I take offense at that. My mother refused, and she raised me, gave me the best care, put me in the best special ed program she could find. Today I am a college graduate with a computer science degree, a successful career, a wife and two children who are honor students. "Damaged" goods? Some people would challenge you on that.

If you can argue for abortion on the argument that the child is "defective", then who is safe? Are you? Could you crash your car tomorrow, put your head through the windshield and be brain dead for the rest of your life? (a la Terri Scheivo [sic]?) Should they kill you then? What if you "recover" to the point where you have the mind of a 3rd grader, but still have all of your feelings, emotions, likes, tastes and hurts? Should they still kill you because you're not "perfect"? Should they kill people over 70 because they're not "productive" members of society anymore? Where does it end? How "perfect" does society have to be? Where does the quest for a perfect society's interference with the individual right to life, liberty and persuit [sic] of happiness end?

You can like or hate Jesus given the hypocrisy of modern Christianity, which is a stench! But please dispense with your utopian, perfect society model of Karl Marx or Lenin or Hitler or whoever your favorite "wordly" philosopher is. While I may agree with you about the "modern" Jesus, I acknowledge that there is a Devil, and this philosophy comes straight from him out of the pits of Hell.
All I could do is sigh and shake my head.
Bruce Gerencser, 66, lives in rural Northwest Ohio with his wife of 45 years. He and his wife have six grown children and thirteen grandchildren. Bruce pastored Evangelical churches for twenty-five years in Ohio, Texas, and Michigan. Bruce left the ministry in 2005, and in 2008 he left Christianity. Bruce is now a humanist and an atheist.
Connect with me on social media:
Your comments are welcome and appreciated. All first-time comments are moderated. Please read the commenting rules before commenting.
You can email Bruce via the Contact Form.