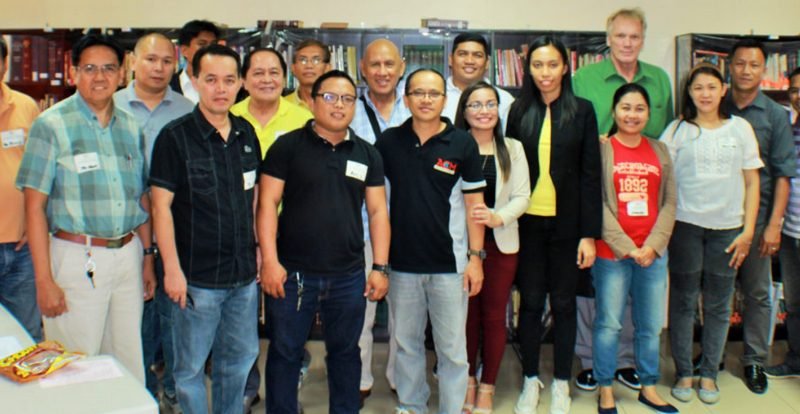 Over the past week, Dr. David Tee, a Fundamentalist preacher whose real name is Derrick Thomas Thiessen, unleashed two vitriolic rants about transgender women on his blog. You can read his posts and my response here and here. Showing his inability to feel shame, Thiessen unleashed yet another post today about transgender women.
The Netherlands just happens to be the most recent country to say: The best-looking woman is…. a MAN.[Subjectively, beauty is in the eye of the beholder. There is no objective standard for "best-looking woman (or man.) ]
If this problem was not so serious [It's not, but Tee is convinced, despite evidence to the contrary, that transgender women (and LGBTQ people in general) are an existential threat to Western civilization Transgender demographics], we [I] would be laughing not only at this contestant but all those who support it. What partial;y [sic] bothers [how is someone partially bothered?] us [me] is that the real women [heterosexual] in this and other contests are not feeling insulted by this decision. [Maybe because they aren't homophobic bigots as Tee is?] Nor are the rest of the women in the world.
This is a very serious insult [No, I suspect most women think being called a bitch or cunt to their face is a serious insult.] made against [heterosexual] women. To think that a man pretending to be a woman is declared the most beautiful [beauty is not the only criterion for winning a beauty contest.] in the Netherlands or other countries that allow fake [transgender] women to enter these contests.
We [I] saw the 1st runner-up and there is no way [again, beauty is in the eye of the beholder] that the 'winner' was more beautiful than her. [Why is Tee watching beauty pageants to start with? Personally, I am not a fan. Is not Tee lusting by looking at other women in this matter? Besides, I thought inner beauty is what Evangelicals valued most?] It is a travesty and a tragic turn of events to allow a pretender [transgender woman] to get the throne [crown]. However, we [I] cannot laugh because [I get a boner every time I watch a beauty pageant] this [transgender] person and many like him [her] as well as their [her] supporters are just thinking about evil and doing evil just like it was in the days of Noah. [Evidently, Tee is a mind reader. He is usurping God, is he not, when he says he knows what is in the hearts of transgender women and their supporters? Of course, there was no such thing as the "days of Noah." Genesis is fiction, David. How many times do I need to tell you this?]
They [Transgender women] are also not getting the mental health therapy [because many of them don't need it. And those who do have a hard time paying for it or finding a therapist trained in their specific needs.] Because the liberals, democrats, and others on the left champion the so-called [actual, constitutional] rights of these mentally ill [everyday, ordinary people], they are barred from receiving the proper help [Biblical counseling, reparative therapy, casting out of demons].
No [bigoted, homophobic] Christian should be happy with this situation as these contests insult your wives, daughters, mothers, and sisters. They also rob those and other women of opportunities and awards that are rightfully theirs. [What, to win a fucking crown or get their 15 minutes of fame? I have a wife, sister, daughters, and daughters-in-law. Not one of them thinks a beauty pageant-winning transgender woman has robbed them of anything. Tee is projecting his homophobic bigotry on heterosexual women.]
It is not Christian love, loving your neighbor, or loving others as Jesus loved [Jesus had absolutely nothing to say about LGBTQ people. Tee knows this, but he projects his homophobic bigotry on Jesus too.] when you support these mentally ill people [transgender women]. Then allow them to practice their delusions in public as well as include them in events they have no right entering.
Supporting these people is not making a healthy society but destroying it.
"They treat us as monsters." They are monsters for only a monster would mutilate their bodies [gender reassignment surgery] and let their delusions rule their lives. [Many transgender people never have gender reassignment surgery.] Only monsters would ruin events for innocent real women and erase women from society. [OMG! Transgender women are "erasing" heterosexual women from society? Compare the number of transgender women in America — less than one percent — to the number of heterosexual, lesbian, and bisexual women. Why, this is akin to saying Mauritius is an existential threat to the United States.]
But as Christians, we are to treat them like we want to be treated thus these people need to be sent to therapy [forced reeducation camps], and barred [locked up in prison] from entering mainstream society until they are cured of their delusions. They are not to be supported in this manner but housed, fed, and treated like human beings who are sick and in need of a doctor.
At no time can we support their desires because those desires are sinful, wrong, and not biblical [The United States and Western society, for the most part, are secular. What the Bible says plays no part in law and governance.] They harm innocent women through their inclusion and demands to be included and seen as women [the record is skipping, David. Bump the record player]. There is nothing Christian in them that can be supported. [Of course, the same can be said about Tee; a man who abandoned his family; a man who fled the United States to avoid legal problems; a man who didn't pay child support for his child; a man who routinely shows no evidence of the fruit of the Spirt and daily ignores and disobeys Jesus' teachings on how to treat transgender women.]
They need proper spiritual help to overcome these fantasies. They also need to be banned from all things related to women. [Jesus, talk about being all Hitler-like about transgender women.] The reverse is true if there are women pretending to be men. [Tee wants all transgender people to be incarcerated until they are "cured."]
While we [I] do not condone hate messages or threats [liar, liar, pants on fire], we [I] also do not like these people forcing their delusions on society. [Using Tee's illogical logic, how are transgender women any different from Evangelicals who try to force their delusions on society? Should we have them arrested and incarcerated until they are cured of their delusions?] Or forcing society to accept their pretend identities are normal. They are not normal but deep cries for help.
Including them in these and other female events is NOT providing the help they need. We need to protect our women from this psychological invasion of those who cannot accept themselves for who they are and how God made them.
The LGBTQ preferences are sinful, not normal, not biblical and not to be supported or accepted. The only thing we can do with and for these people is to treat them as Jesus would and get them the correct help they need [and arrest and incarcerate them until they see the "light."]
— end of quote —
Please share your thoughts in the comment section. This should be fun! 🙂
Bruce Gerencser, 66, lives in rural Northwest Ohio with his wife of 45 years. He and his wife have six grown children and thirteen grandchildren. Bruce pastored Evangelical churches for twenty-five years in Ohio, Texas, and Michigan. Bruce left the ministry in 2005, and in 2008 he left Christianity. Bruce is now a humanist and an atheist.
Connect with me on social media:
Your comments are welcome and appreciated. All first-time comments are moderated. Please read the commenting rules before commenting.
You can email Bruce via the Contact Form.