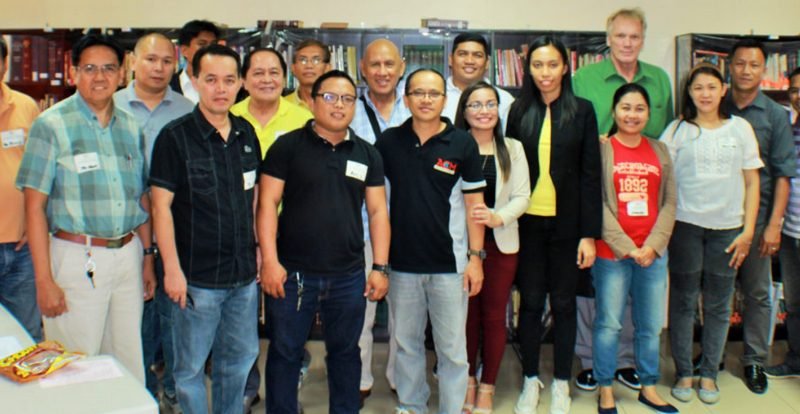 Yesterday, Dr. David Tee, a Fundamentalist preacher whose real name is Derrick Thomas Thiessen, unleashed a vitriolic rant about transgender women on his blog. You can read his post and my response here. Showing his inability to feel shame, Thiessen unleashed yet another post about transgender women — one more awful than the first.
Two days ago we wrote an article called 'Let's Cut the Bull' and as usual we got a response from one of the two people [Bruce Gerencser and Ben Berwick] we use as examples. But we are not going to deal with his complete response [because we have no defense for our hateful words], just one sentence.
That sentence tells everyone that he and the other guy do not do research, listen to the news, or in any way pull their heads out of the sand to see what is going on in the real world. We include both here because we have had to deal with the same problem from both of them– they do not do any real or honest research before speaking. [Please read Thiessen's complete post if you want to see his "research." What you will find is a list of anecdotes.]
please provide empirical evidence for the claim that transgender women are materially hurting heterosexual women and girls (BG website)
Those words were placed in brackets or parenthesis if you like the more technical term, behind these words- We cannot sit on the sidelines on this issue as they are hurting you if they hurt your wife or your female children [Thiessen provided no empirical evidence that this is systemically happening — just a handful of anecdotes].
There is a deep cost to women [please provide empirical evidence for this claim] by allowing men pretending to be women to exist in normal society. We will have to deal with this in two parts as one is physical harm which has reached the news frequently.
The other is more psychological as fake [transgender] women continue to do damage to real [heterosexual] women and girls.
….
We do not want to use the word transgender here because these men are not real women and should not be identified as being able to make a transition that is impossible to make. [Picture Thiessen standing on a corner, ears stopped up and hands over his eyes, saying, "I don't see any transgender people. He is deliberately ignorant of what is right in front of him. Transgender people have always existed, going as far back as the third century. Some scholars argue that eunuchs in the Bible are intersex people. I wonder if Thiessen read Transgender History and What Does the Bible Say About Transgender People? My money is on NO! Thiessen's typical "research" is seeking out articles that prove his point or agree with him. Fundamentalists don't do actual scholarly research. Their minds are already made up. Certainty breeds arrogance, and the result is Thiessen's anti-transgender posts.]
….
Men are stronger than [some] women no matter what changes they have made to their bodies. it is not Christian [Bible verse, please] to support this inclusion in female athletics. [I agree. Let's have an actual discussion about transgender women participating in athletics with biological women. Of course, Thiessen doesn't want to have a discussion. All he wants to do is preach. If he would bother to pay attention, he would find out that many transgender women have their own misgivings about participating in sports with biological women. Thiessen can't know this because he's never spoken to an actual transgender person.]
….
This damage can be as devastating [please provide empirical evidence for your claim] as physical damage done by fake [transgender] women. Women have had it rough since the beginning of time [thanks to misogynistic men such as Thiessen] and this so-called better modern era [Derrick pines for the good old days of the 1950s] where equal rights [evidently, Thiessen thinks women shouldn't have equal rights] have been established is not doing any better than when women were considered property. [Did Thiessen really say women are no better off today than when they were chattel property? Really? I mean, really?]
The effort to be 'inclusive' has only succeeded in proving that [some] biological men are biologically stronger than [some] women. It has done nothing but harm women in a variety of ways [which are? Come on, Derrick, unleash your inner bigot]. You will not find one Bible verse condoning or giving permission for this type of inclusion [and we won't find Bible verses for all sorts of human behaviors].
….
Other psychological abuses that fake women do to real women come through bullying [bullying takes place in every cohort].
….
They [biological women] are outcasts and pariahs [I am rolling on the floor laughing at this absurd statement] as the fake [transgender] men and women have chosen an abnormal path that cannot be accepted as normal or right. The only reason the fake [transgender] women and their supporters fear real [heterosexual] men and women is because the truth of the latter destroys the delusions of the former and makes them realize that they have been deceived.
….
The fake [transgender] men and women are forced to see that they are not who they pretend to be and then must deal with the truth. The author of that quote was deceived by the outward appearance of the fake [transgender] men and women she met in San Francisco.
We [I] say deceived because even bad people can be nice. One guy, and we [I] forget where we [I] read this account but it is not original with us [me], said that when he got a job as a corrections officer in one prison one of his thoughts was he would be able to tell child molesters from regular criminals and people.
He was surprised at how nice and polite those child molesters were and how easy it was for them to be accepted as normal men and fit into regular society. Being nice and kind is not always a sign of a Christian as evil does masquerade as angels of light as the Bible says. [In other words, transgender people might be nice and kind, but in their hearts, they are like child molesters.]
….
This issue is not about a threat to one's identity but about how completely wrong it is to allow these fake [transgender] men and women to think the way they do and then let them into normal society like nothing is wrong. [Thiessen believes transgender people should be arrested and incarcerated (and perhaps, executed). He does not believe the same about heterosexual rapists and child molesters. He thinks all they need to do is repent and get right with God.]
….
Sure, a woman can take chemicals to boost their testosterone and strength, as well as mutilate their bodies to look like a man. BUT that act does not change the truth or reality.
There are only 2 genders and only 2 gender identities. [Again, Thiessen deliberately confuses biological sex and gender. This is what happens when the Bible is your science textbook.] You are either a man or a woman and neither can change that fact. Not only is this biblical as the Bible tells us God made male and female only, but it is also proven scientifically [this is a lie].
Science backs the Bible in this case. Those who think they can change their gender and those that support this delusion are the ones with the problem. They need help [Jesus] and it is up to the Christians to not only provide the truth but also provide the correct spiritual help to lead these deceived people back to reality.
It is not Christian to allow these [transgender] people to harm women, invade women's athletics and other events and it is definitely not Christian to go along with this deception. Christians should recognize this as a spiritual problem [please provide Bible verse that says being transgender is a "spiritual" problem. I can provide Bible verses, Derrick, that say divorce, failing to provide for your children, and abandoning one's family are sins. I will be glad to share them with you if they are not in your Bible.] that needs the correct spiritual effort to heal these deceived groups of people.
….
Telling someone they are deceived and wrong, as well as doing the wrong thing is not a phobia or fear of something. Nor is it bigotry. It is trying to get those who adopt this trend to see the truth about themselves and what God has done at creation. [Thiessen is responding to me calling him a homophobe and a bigot. I stand by my words.]
Just as a side note, the lead-in that caught our attention is wrong. trans women are not real women. They are fake women who have a mental illness that is spiritual in nature and they are in need of help.
….
The so-called trans women do not have one body part [come on, Derrick, say it: penis or vagina] or process [what is a process?] that a real woman has. They [transgender women] are never going to be woman no matter how much money they spend on cosmetics and surgery. The reverse is true for those women trying to be men through this trend.
— end of quote —
Please share your thoughts in the comment section. This should be fun! 🙂
Bruce Gerencser, 66, lives in rural Northwest Ohio with his wife of 45 years. He and his wife have six grown children and thirteen grandchildren. Bruce pastored Evangelical churches for twenty-five years in Ohio, Texas, and Michigan. Bruce left the ministry in 2005, and in 2008 he left Christianity. Bruce is now a humanist and an atheist.
Connect with me on social media:
Your comments are welcome and appreciated. All first-time comments are moderated. Please read the commenting rules before commenting.
You can email Bruce via the Contact Form.