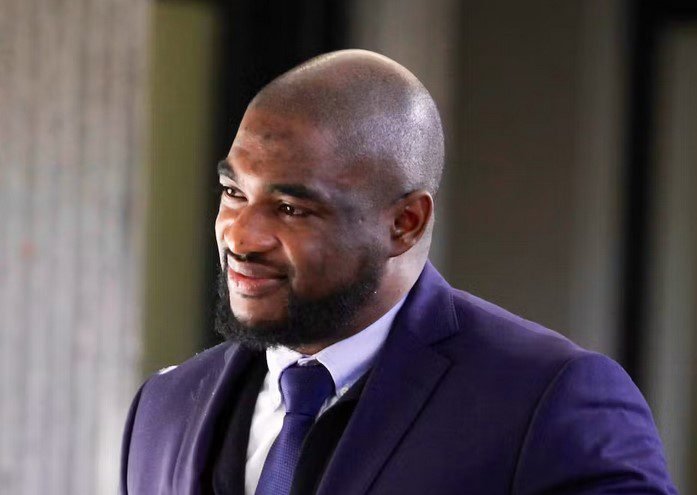 The Black Collar Crime Series relies on public news stories and publicly available information for its content. If any incorrect information is found, please contact Bruce Gerencser. Nothing in this post should be construed as an accusation of guilt. Those accused of crimes are innocent until proven guilty.
Michael Fisher, a youth pastor at Emmanuel Baptist Church in Hammonds Plains, Nova Scotia, was tried, convicted, and sentenced to twenty-seven months in prison for sexually assaulting a minor teen girl.
In 2019, CBC reported:
A former youth pastor at a Halifax-area Baptist church has been found guilty of sex charges involving a victim who was 17 at the time of the crimes.

Nova Scotia Supreme Court Justice Darlene Jamieson delivered her verdict Monday in the case of Michael Oliver Fisher, who was found guilty of sexual assault and sexual interference.

The victim is 29 now and testified against Fisher, 40, at his trial last month.

The woman told the judge that she considered Fisher to be a mentor and spiritual adviser. The two first met when she was 14.

At that time, Fisher was the youth pastor at Emmanuel Baptist Church in Hammonds Plains, northwest of Halifax.

It wasn't until she turned 17 that they had a series of sexual encounters from January to July 2008 at his apartment in New Minas and at a house in the Halifax area.

Fisher testified in his own defence and disputed the notion that he was in a position of trust over the girl. He also said she initiated all of the sexual activity.

Jamieson had doubts about Fisher's testimony.

"I find large portions of Mr. Fisher's evidence to be inconsistent, implausible and evasive," the judge said in her decision.

"For example, in relation to questions as to whether he considered himself an adult after two years of college in Bermuda and four years of university in Halifax [when he was age 25], his response was that he wouldn't classify himself as an adult or as a youth and that he would not use such terminology."

After the verdict, Crown prosecutor Rick Woodburn said the trial was not a "credibility contest."

"But when you looked at Mr. Fisher, you found him to be very evasive and not truthful in his answers," said Woodburn outside court.

"And on the other hand, the complainant was very credible and quite accurate with her memory of the events that took place."
In November 2020, Fisher was convicted and sentenced to twenty-seven months in prison.
A former youth pastor at a Halifax-area Baptist church has been sentenced to 27 months in prison for sexual interference involving a 17-year-old girl.

At his trial, the court heard that Michael Oliver Fisher began grooming the girl when she was just 14 and by the time she was 17, contact between the two involved kissing, massages, nudity and eventually sexual assault.

The victim, who is now an adult, testified it was her first sexual experience and she had assumed that the first man she kissed would be the man she would eventually marry. Fisher, 41, is 12 years older than the woman.

The offence occurred in 2008 when Fisher was a youth pastor at Emmanuel Baptist Church in Hammonds Plains, N.S. He was fired from that job and subsequently lost a job as a youth counsellor at St. Francis Xavier University in Antigonish, N.S., when the charges were laid.

Fisher was found guilty last December. The sentencing was delayed almost a year by an accident involving one of the lawyers, an illness and COVID-19.

Prior to his sentencing Tuesday in Nova Scotia Supreme Court, Fisher addressed the judge.

"Everything about my involvement was wrong," he told Justice Darlene Jamieson. "My choices placed her in a situation she should never have been in.

"I feel ashamed of what I did and how ignorant I was."

Fisher's lawyer had suggested that the victim had started the behaviour by kissing him. Jamieson dismissed that idea.

"He cultivated the relationship and used his position to sexually exploit a young person," the judge said in her sentence. "Her participation simply does not matter."

The woman testified at Fisher's trial, but did not return to court for his sentencing. Instead, she had a victim impact statement read into the record by the Crown.

"I felt like the shell of a person whose worth and innocence had been taken," she wrote. "Michael ensured that I isolated myself by telling me to keep everything with him a secret."

….

In addition to the prison term, Fisher's name will be placed on the national sex-offender registry for 20 years and his DNA will be recorded in a national data bank.
In 2021, Fisher appealed his conviction.
Saltwire reported at the time:
A former Upper Hammonds Plains pastor is appealing his conviction and sentence for sexually exploiting a member of the church's youth group.

Michael Oliver Fisher, 42, was found guilty in Nova Scotia Supreme Court in Halifax in December 2019 on charges of sexual exploitation and sexual assault, for engaging in sexual activity with the girl over a five-month period in 2008, before she turned 18.

Justice Darlene Jamieson sentenced the Dartmouth man to 27 months in prison on the sexual exploitation charge last November after staying the other charge.

The judge said Fisher used his position of trust as youth pastor at Emmanuel Baptist Church to build a relationship with the girl starting when she was 15.

"It is clear that Mr. Fisher groomed (her) in order to sexually exploit her," Jamieson said. "Mr. Fisher, as her youth pastor, youth leader and mentor, was responsible for (her) well-being when she was with him. … He was responsible for leading her on the right path, not on a path to satisfy his own sexual desires."

Fisher told the court at sentencing that he knew everything about his involvement with the girl was wrong and he was sorry for his actions.

"I know that my choices placed her in a situation that she should never have been in, as someone who was not a grownup," he said. "They resulted in great pain to her and her family and so many other people over the years, and I regret that she had to deal with that."

But in his notice of appeal filed in the Nova Scotia Court of Appeal, Fisher threw his trial lawyer, Michelle James, under the bus.

Most of his 14 grounds of appeal allege ineffective representation or, as he calls it, "misrepresentation."

Fisher claims his lawyer was unprepared for trial and neglected to prepare him for the hearing "despite multiple asks" or call witnesses to rebut Crown evidence.

He criticizes the lawyer's cross-examination of the complainant and says she neglected to "seriously consider" her motive.

Fisher says the lawyer also didn't seriously consider his concerns about whether he was fit to take the stand at trial because his father was undergoing amputation at the time, and his concerns about "potential biases of the court."

He claims the judge placed an "undue burden of proof" on his testimony.

Fisher, who filed his notice of appeal from the Springhill Institution, is asking that his conviction be overturned and a new trial ordered. If the conviction stands, he does not specify how he wants the sentence changed.

A date has yet to be set for the appeal to be heard.

The complainant's identity is protected by a publication ban. She testified at trial that she met Fisher at the church when she was 14, joined the youth group when she was 15 and began attending its leadership meetings after she turned 17.

She said she had late-night and early-morning video chats and phone calls with Fisher and told the court she trusted him with everything and considered him a gift from God. He began telling her he had feelings for her, loved spending time with her and wanted to hug her.

While cuddling and watching a movie in February 2008, she said she gave Fisher a light kiss on the lips and it was like an explosion happened. She said the relationship quickly progressed to full nudity, sexual touching, oral sex and, by May 2008, intercourse.

Fisher was working part time at the church while attending university. He became a full-time employee in June 2008 after graduating from Acadia Divinity College and was ordained in November 2009.

The church fired Fisher in 2014 after receiving a complaint from the young woman. She went to police in 2016 and Fisher was charged in 2017.

At sentencing, prosecutor Rick Woodburn recommended three years in prison. James requested a conditional sentence of 12 to 15 months.

The judge said a conditional sentence would not provide adequate denunciation and deterrence. "Incarceration is the only suitable way to express society's condemnation of Mr. Fisher's conduct," she said.

She ordered Fisher to register as a sex offender for 20 years and prohibited him from having firearms for 10 years. He also had to provide a DNA sample for a national databank.
The disposition of Fisher's appeal is unknown.
Bruce Gerencser, 66, lives in rural Northwest Ohio with his wife of 45 years. He and his wife have six grown children and thirteen grandchildren. Bruce pastored Evangelical churches for twenty-five years in Ohio, Texas, and Michigan. Bruce left the ministry in 2005, and in 2008 he left Christianity. Bruce is now a humanist and an atheist.
Connect with me on social media:
Your comments are welcome and appreciated. All first-time comments are moderated. Please read the commenting rules before commenting.
You can email Bruce via the Contact Form.