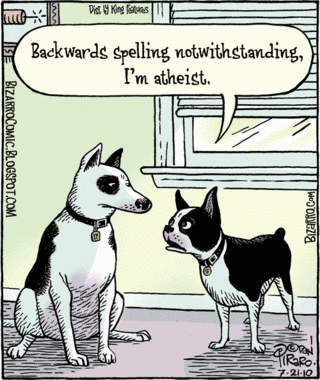 Most atheists tend to skew to the left socially and politically. However, that doesn't mean all atheists are liberals/progressives. Atheists are not a homogenous group. There's a diversity of opinions on all sorts of things. Some atheists voted for Donald Trump and think his present legal troubles are a witch hunt. Other atheists are hardcore libertarians. Atheists as a demographic comprises all sorts of people with diverse beliefs.
In recent years, I have noticed a rise in conservatism among atheists. Just today I read a rant by an atheist who attacked "wokeism," particularly transgender ideology and people who refuse to stand for the playing of the National Anthem. This particular atheist believes that there's no such thing as transgender people. Another atheist was glad the U.S. women's team lost their World Cup match. Why? Many of them refused to participate in singing the national anthem. Jesus, some of them didn't put their hands over their hearts!
Many atheists have had to deal with Evangelicals who deny that they are atheists; that atheists don't really exist. Want to piss an atheist off? Just tell her you deny and reject her self-identification. When someone tells me she is an atheist, agnostic, Christian, Buddhist, or some other self-identifying label, I believe her. If someone tells me he is gay, bisexual, pansexual, heterosexual, asexual, or transgender, I believe him. How someone identifies himself doesn't materially affect me in any way.
Yet, some atheists refuse to live and let live. They revere Richard Dawkins, Bill Maher, and J.K. Rowling for their stands against "transgender ideology." While it is certainly true that transgender people are more visible now in the United States, this does not mean this is something new. Transgender people have always lived among us. Much like the other letters in the LGBTQ acronym, transgender people have long had to live in the shadows. It seems some atheists don't like the fact that transgender people are no longer willing to suffer in silence, locked in a prison not of their own making. I am sixty-six years old. Throughout my lifetime, various people groups have rebelled against being marginalized and being treated as less than or inferior. Once they gain some semblance of justice and equal protection under the law, these marginalized people have no intention of returning to their closets. And that's exactly what some atheists advocate. They want icky transgender people to voluntarily return to their closets — out of sight, out of mind. And if transgenders refuse to do so? Conservative atheists support politicians, policies, and laws that will force them to do so.
It seems that these anti-trans atheists don't care if their words and actions cause harm to transgender people (and their families). No longer interested in thoughtful discussions around the intersection of transgender people and sports/medicine, these atheists call names and post memes. One atheist said that anyone who thinks biological sex and gender are not one and the same is anti-science.
Other atheists view themselves as flag-waving patriots, not much different from the faux patriots found among Trump supporters. Some of these atheist patriots voted for Trump twice — an action I will never understand. These atheists demand all Americans stand and sing the Star Spangled Banner — that people who refuse to do so are unAmerican. Some of them even think everyone should put their right hands over their hearts and say the Pledge of Allegiance — maybe skipping the mention of God. Evidently, freedom of expression and free speech doesn't apply when it comes to masturbating to American imperialism.
I don't say the Pledge of Allegiance, nor do I sing the Star Spangled Banner. Often, I don't stand for either. The reasons for this are many (and not the primary focus of this post), but to suggest that my refusal to mouth a Christian nationalist pledge and sing a War of 1812 song means I am unpatriotic is laughable.
One atheist suggested that the women's soccer team "embarrassed" the United States on a world stage by refusing to fully participate in the national anthem ritual. I didn't feel embarrassed one bit, and I suspect many other Americans didn't either. How about we have serious discussions about a plethora of embarrassing American actions and inactions that should cause thoughtful people to hang their heads in shame? Quite frankly, there's not a lot to cheer about these days. Maybe you disagree. Fine, but suggesting that I am not patriotic or that I am not a loyal American if I don't support your political and social agenda is not only absurd, it is un-American.
I have lost readers over the years due to my politics. Not much I can do about that. I am not going to change what I believe. I am a committed liberal/progressive/socialist/pacifist. I'm convinced that these political views best fit with my humanist beliefs. I am sure some readers will disagree with me. That's fine. What pisses me off is when these disagreements are turned into attacks on my character. The same goes for my support of transgender people. If I dare suggest that they have the same rights and freedoms as other Americans, I am somehow supporting an immoral agenda. That these attacks come from atheists is troubling, but not surprising. There's a rightward drift among some atheists and that will bring me into increasing conflict with them. This is unavoidable. Atheists are growing into a diverse cohort, and that will bring disagreement and conflict. What matters is how we interact and engage with people with whom we have political and social disagreements. Unfortunately, we live in the era of memes, and not friendly, thoughtful discussion.
Bruce Gerencser, 66, lives in rural Northwest Ohio with his wife of 45 years. He and his wife have six grown children and thirteen grandchildren. Bruce pastored Evangelical churches for twenty-five years in Ohio, Texas, and Michigan. Bruce left the ministry in 2005, and in 2008 he left Christianity. Bruce is now a humanist and an atheist.
Connect with me on social media:
Your comments are welcome and appreciated. All first-time comments are moderated. Please read the commenting rules before commenting.
You can email Bruce via the Contact Form.