The Black Collar Crime Series relies on public news stories and publicly available information for its content. If any incorrect information is found, please contact Bruce Gerencser. Nothing in this post should be construed as an accusation of guilt. Those accused of crimes are innocent until proven guilty.
Leonard Eley, pastor of Storm Shelter Ministries in Laurel, Delaware, stands accused of soliciting nude photos from a runaway child.
A Delaware pastor allegedly paid a runaway child for several nude photos of herself, and authorities suspect he may have done the same with other minors.

Leonard Eley, 62, who heads Storm Shelter Ministries on U.S. 13 in the Sussex County town of Laurel, used $200 of church funds to pay the child electronically through CashApp, and paid her cell phone bill, authorities said in court records. The child, whose age was not disclosed, was a former member of the church, police said.

Only one alleged victim is specified in Eley's arrest affidavit and indictment but Mat Marshall of the Attorney General's Office said that based on interviews with witnesses, authorities suspect there are more victims.

Eley faces charges of sexual solicitation of a minor, two counts of possession of child pornography, and theft by false pretenses.

Laurel police began investigating in late July after calls to hotlines run by the state's Internet Crimes Against Children Task Force and the Division of Family Services that reported a child was possibly "being sexually trafficked."

The pastor was arrested then just on the solicitation charge, and released on a $30,000 secured bond. A Sussex County grand jury indicted Eley on all four charges on Nov. 28, and this week authorities announced the alleged crimes in a news release.

….

In one exchange, Eley told the girl she "has too much clothes on in one picture,'' and asked her to remove some and send another picture. He added that he "is sending $50 on CashApp," the detective wrote.

In another text exchange, Eley asked her to do the same thing, promised to send $150 this time, and that "no one will ever see the pictures but him,'' the affidavit said.

Eley also asked her numerous times to "delete the messages" between them, Whitehouse wrote.

The child told authorities she did what he asked, and received $200, Whitehouse wrote, adding that he "observed CashApp receipts" sent from Eley to the child.

The indictment said the money came from "church donations made to the Storm Shelter Ministries CashApp Account."

WHYY News reached Eley by phone Wednesday, but in response to queries, the pastor said "no" three times and then hung up.

Whitehouse wrote in the arrest affidavit that "pastor eley" was listed as a contact in the girl's cell phone, and the number matched Eley's number.

The girl's phone also included a "selfie" photo sent from Eley's number that matched his driver's license picture, Whitehouse wrote.

Whitehouse reviewed several texts between Eley and the child, the affidavit said.
When detectives confronted him, police said Eley confessed to asking and paying for the pictures. He told police he had PTSD from a traumatic brain injury he encountered in the military. He cited his PTSD as the reason he requested the pictures. Police said they captured Eley's confession on a body cam.

Detectives said Eley instructed the victim several times to delete the conversations between them and made other lewd statements to her.

Storm Shelter Ministries was incorporated in September 2005, but its listed status is "unknown," according to Bizapedia. The church's Facebook page is currently unavailable.

The child is the only victim mentioned in Eley's arrest affidavit and indictment, but based on interviews with witnesses, authorities believe there are more.

The Delaware DOJ continues seeking more information from the public and is asking for help identifying more victims.

Authorities released Eley from custody on a $30,000 secured bond. In November, a Sussex County grand jury indicted Eley on all four charges.

Eley remains out on bond as he awaits his court date. He has not entered a plea yet.

His arraignment will be in early January.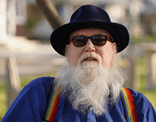 Bruce Gerencser, 65, lives in rural Northwest Ohio with his wife of 44 years. He and his wife have six grown children and thirteen grandchildren. Bruce pastored Evangelical churches for twenty-five years in Ohio, Texas, and Michigan. Bruce left the ministry in 2005, and in 2008 he left Christianity. Bruce is now a humanist and an atheist.
Connect with me on social media:
You can email Bruce via the Contact Form.
Your comments are welcome and appreciated. All first-time comments are moderated. Please read the commenting rules before commenting.