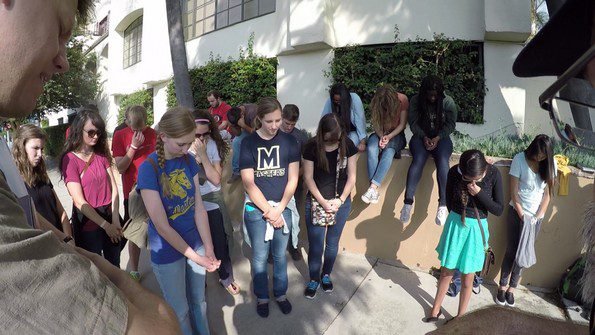 Tony Miano is a bombastic, arrogant street evangelist associated with John MacArthur and Grace Community Church in Sun Valley, California. Miano's direct oversight pastors are Mike Riccardi and a former friend of mine, Phil Johnson .   Miano, a retired police officer and best buds with Ray Comfort, believes God has called him to be an open- air evangelist and itinerant preacher. A hardcore Calvinist, Miano makes no bones about the fact he considers the Arminianism preached in many Evangelical churches to be a false gospel. Miano, like his pastors John MacArthur and Ray Comfort, thinks he has the corner on the truth market. Those who believe differently are ignorant, poorly taught, or wicked, vile, unregenerate, reprobate atheists such as myself.
Last week, Miano took a group of 20 students from MacArthur's The Master's College to "minister" to women at Family Planning Associates in Mission Hills, California, a women's health facility that performs abortions.  Miano calls his abortuary work a 'ministry of presence'. That's right, a ministry of presence.  In truth, it is a ministry of harassment, a ministry of forcing one's religious beliefs on another. Miano, hoping to corrupt the minds of another generation of young Evangelicals, spent the day training The Master's College students in the fine art of harassing women who came to the Family Planning Associates (FPA) for service and care. Here's what Miano had to say:
The Lord has allowed a wonderful team of Christian men and women to form and to engage in loving people in action and truth, outside the Family Planning Associates abortuary, in Mission Hills, CA. Today the team and I were blessed beyond words to be joined by more than 20 students from The Master's College.

This group of young adults was exceptional. Mature; submissive; teachable; respectful; servant-minded–and the list goes on. The students held signs and prayed. They effectively engaged in a ministry of presence.

A number of students, as well as regular members of the team, testified at the end of the morning of seeing people in cars, fitting the profile of those seeking to abort a child, making repeated passes by the abortuary, but never entering the parking lot. While tragically babies were murdered at the abortuary this morning, we left confident that the Lord used us to turn several abortive parents away–allowing unborn children to live for at least another day.
Note carefully what Miano said: the students were submissive, respectful, and teachable, Evangelical lingo for easily persuadable. Force-fed the pro-life lie and anti-Planned Parenthood talking points, these students were perfect candidates for Miano's abortuary ministry. The students were taught by Miano the fine art of profiling a woman seeking an abortion and, applying their learning, succeeded in turning women away from getting needed health care. While Miano calls this a ministry of presence, it really is a legal means of harassing women under the guise of doing the Lord's work. While Miano can report to his supporters that several babies got to live another day, numerous women turned away from FPA out of fear, not wanting to be accosted by the religious crazies in front of the facility.
Only in America do we allow fundamentalist religious zealots to stand between patients and their doctors when receiving medical care. Pro-life groups have carved out special legal exceptions that allow them to harass women and doctors, the same legal exceptions used by Westboro Baptist Church to harass the families of fallen soldiers. Whatever a person might believe about abortion, a woman should have the right to seek medical care without being harassed by God's appointed agents of righteousness. If a person thinks abortion is murder, fine don't have an abortion, but don't impede those who think differently. Unfortunately, while abortion through the second trimester is still legal in every state, Republicans and Christian fundamentalists have worked to enact state laws that have made it increasingly hard to get an abortion, while at the same time refusing to support methods and practices that would drastically reduce the need for abortion. They will not rest until Roe v. Wade is overturned and women are once again forced to seek out illegal abortions. For those of us who think every woman has a right to control her own body and have an abortion if she desires one, we must continue to push back at laws and regulations that we know will only result in increased suffering and death.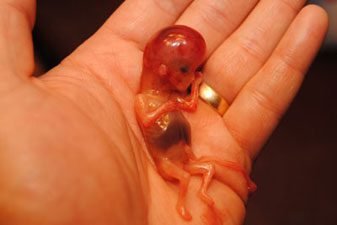 People like Miano aren't really as interested in saving life as much they are interested in being right. For pro-life Evangelicals, the most important issue is what the Bible supposedly says about life, death, and abortion and making sure that everyone, Evangelical or not, is forced to play by their interpretation of an ancient religious text written by unknown authors thousands of years ago. In what other medical realm do we allow such a text to hold weight? Its antiquity alone invalidates its message and medical worth. Since 88% of all abortions occur within the first trimester and 98.8% of abortions occur before viability, the issue is not really about the life of fetus as much as it is the continued attempt to control women and their reproduction. I wish more Americans would understand that the difference between zealots like Tony Miano and the Muslim fundamentalist in the Middle East is quite small. While in many places the Muslim has the force of the law and is able to regulate everything from what a woman wears to when she can and can't have sex, the Mianos of the Christian world lack the force of law to compel women to live according to their puritanical laws and regulations. They continue to chip at the edges of the establishment clause and the separation of church and state, but make no mistake about it they'll not rest until the Christian flag flies over the White House. This is why we must continue to expose, fight, and push back. We must not rest until people understand that freedom of religion also means the freedom FROM religion, and a woman seeking an abortion has every right not to be harassed by a fundamentalist Christian abortuary ministry team and students from a fundamentalist Christian college. Perhaps, it is time to recognize that the first amendment needs some tweaking; that just like a person can't shout FIRE in a crowded theater, neither should religious zealots be permitted to harass women seeking out medical care.
You can read my thoughts on abortion:
Abortion Facts, Lies, and Contradictions
25 Questions for Those Who Say Abortion is Murder
A Few Thoughts on Abortion and The Planned Parenthood Videos
I've written about Miano previously when he sent out the following tweet after the Nepal earthquake: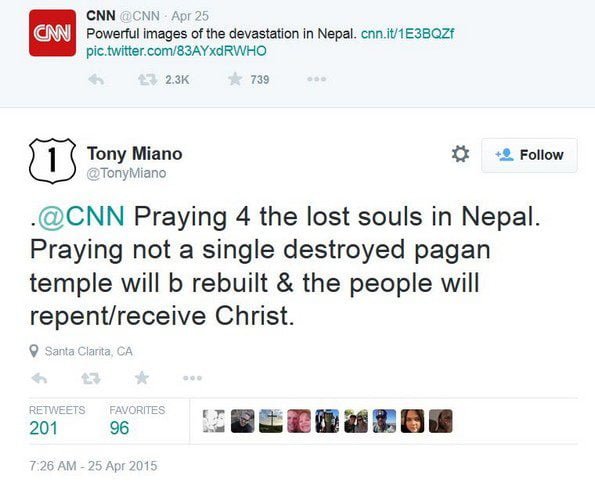 See Tony Miano Rejoices Over Earthquake in Nepal
121615
[signoff]