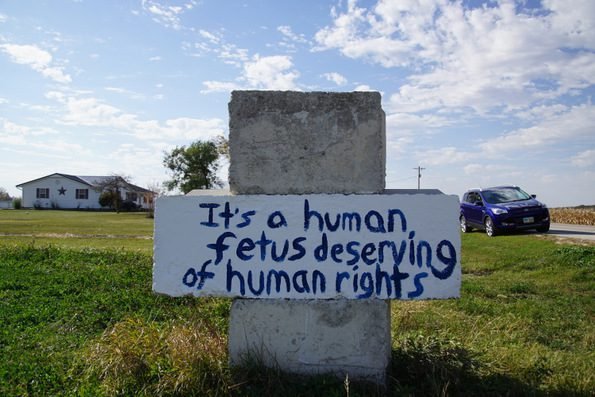 Imagine for a moment a banker, automobile dealer, racecar driver, and a career criminal get together to plan a bank robbery. The banker will provide blueprints for the bank and the combination for the safe. The automobile dealer will provide a fast getaway car. The racecar driver, putting his NASCAR skills to work, will drive the getaway car. The career criminal will be responsible for actually robbing the bank. Is only the career criminal culpable for the bank robbery? Or does material participation in this criminal enterprise make each participant guilty of the crime? I think all of us would agree that every person who played a part in the crime is criminally liable.
Evangelicals believe that abortion is murder. From the moment of conception, according to pro-lifers, that which grows in the womb of the mother is a human being who deserves complete protection under the law. Imagine my surprise then, to hear Evangelicals distance themselves from Donald Trump's recent statement that women who have abortions should be punished. Granted, Trump later walked this comment back, but his first comment accurately reflects taking pro-life dogma to its logical conclusion.
If abortion is murder, then every person who materially participates in the killing of the zygote/fetus is equally culpable. Pro-lifers are quite willing to use the force of law to prosecute doctors who perform abortions. Some Evangelicals even go so far as to say that performing an abortion is a capital crime worthy of the death penalty. In past years pro-life zealots have murdered abortion doctors. Many within the pro-life movement think that such murders are justifiable homicide. In 2005, Polly and I attended a church where one of the church members wanted to have a moment of silence on the February 6th birthday of pro-life hero Paul Hill. You may remember that Hill murdered abortion doctor John Britton and his bodyguard James Barrett. He was executed by the state of Florida on September 3, 2003. According to pro-lifers, abortion doctors are no different from the Nazi or Japanese doctors who experimented on prisoners of war during World War II. Abortion doctors are no better than serial killers, men and women who — according to pro-lifers — place no value on human life.
But what about abortion clinic staff? Are the nurses who materially participate in abortion procedures criminally liable? How are they in any way different from the banker, automobile dealer, and racecar driver in the story above? And surely the woman having the abortion is the bank robber in the story above. She is the one who decides to abort her fetus. She is the one who makes the appointment, goes to the clinic, takes off her clothes, puts on a hospital gown, lies on a table, and allows the abortion doctor — with his nurse assisting — to terminate the pregnancy. Surely the woman is criminally responsible for the murder of her unborn child.
Why all the Evangelical angst and dancing around the issue when asked if women should be punished for having abortions? This issue seems quite clear to me. If life begins at conception and abortion is murder, then the women making choices to kill their babies — regardless of whether they take abortion-inducing drugs or have surgical procedures — are guilty of premeditated homicide. Some Evangelicals try to avoid the logical conclusions of their abortion equals murder beliefs by suggesting that women having abortions are in some way or the other mentally or emotionally incapable of understanding what they are doing. I think most women who have abortions would be quite offended by such false assertions. While certainly deciding to have an abortion can be and often is a difficult decision for women to make, to suggest that women are somehow unable to rationally make this decision is ludicrous. For whatever reason, women choose to have abortions. It is their legal right to do so. Our law recognizes that women have a fundamental right to control what happens to their bodies — even though that right is currently under vicious attack by pro-life zealots.
It is time for pro-lifers to own their beliefs. The last 10 years have seen an unprecedented assault on women's rights. Realizing that it is unlikely that they will ever overturn Roe V Wade, pro-lifers have turned to the states to advance their draconian anti-abortion laws. These new laws have been so successful that in some states it is almost impossible for women to find an abortion provider. Pro-lifers will not rest until fertilized eggs are granted the same constitutional rights as 30-year-old women. I do not think for a moment — once they successfully outlawed abortion — that they will continue to view women who have back alley abortions as victims. As has been clear over the past 25 years — at least to me — many Evangelicals will not rest until they have turned the United States into a Christian theocracy. Once they have gained this power, they will use it just as ruthlessly as ISIS and other violent theocratic groups. Quite frankly, Evangelicals cannot be trusted with our civil liberties. Bound by the Bible and its teachings, they have no recourse but to push God's laws into every aspect of American life. It is for this reason that people who value secularism, humanism, and freedom must oppose theocratic Evangelicals at every turn.