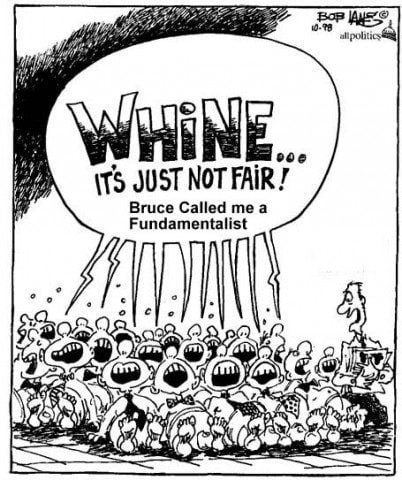 I am often accused by readers of misrepresenting Evangelicals in my writing; that my descriptions and criticisms of Evangelicalism don't apply to a reader's sect, their church, or to them personally. I have heard, more times than I can count, Evangelicals say: my church is different, my pastor is different, my denomination is different, my college is different, I'm DIFFERENT, DIFFERENT, DIFFERENT! While it is certainly true that not all Evangelicals are the same, often the alleged differences are little more than the differences between ice cream flavors. Same basic ingredients with different flavors and toppings. Evangelicals can whine, bitch, moan, and complain about my writing, but the fact remains that I was part of the Christian church for 50 years, an Evangelical pastor for 25 of those years, have Evangelical family members — including pastors, evangelists, and missionaries — and closely follow the machinations of the Evangelical community. I am confident that I have a good handle on Evangelical beliefs and practices.
Over the years, I have perused the doctrinal statements of numerous Evangelical sects, churches, and parachurch organizations. The agreement I find in these documents allows me to conclude what it is that Evangelicals believe. Add to that the fact that I pastored six Evangelical churches, and I think I have a good handle on the "faith once delivered to the saints."
But, Bruce, Evangelicals don't agree with one another one a host of theological beliefs! I understand that, but such differences are tangential to the cardinal doctrines all Evangelical profess to believe. Thus, Charismatics speak in tongues, Baptists don't. Holiness Christians believe in entire sanctification, Baptists don't. Some Evangelicals are Calvinists some are Arminians, and others are Calminians. Evangelicals are all over the place when it comes to eschatology and ecclesiology. Some believe baptism is required for salvation, others don't. The list of differences is extensive. See, Bruce, you are proving my point! No, actually, I am not. If you look underneath these peripheral differences — often called "distinctives — you find unity of belief:
The inspiration, infallibility, and inerrancy of the Bible
The sinfulness, depravity of man
The deity of Christ
The virgin birth of Christ
The blood atonement of Christ for man's sin (usually subscribing to the substitutionary atonement theory)
The resurrection of Christ from the dead
The second coming of Christ
Separation from the world
Salvation from sin by and through Christ alone
Personal responsibility to share the gospel with sinners
Heaven and Hell are literal places
Anyone who claims to be an Evangelical yet denies one or more of these cardinal doctrines is Evangelical in name only. The fringe of the Evangelical tent is littered with pastors, professors, and congregants who hold all sorts of liberal/progressive Christian beliefs, yet refuse to own what they are. And I get it. Towards the tail end of my ministerial career, my beliefs were definitely not Evangelical. Yet, Evangelicalism was home. It was all that I had ever known. I couldn't bring myself to abandon my metaphorical family, even though I was liberal/progressive belief-wise. Even today, 12 years removed from walking away from Christianity, I still, at times, miss my family. Not Jesus, not the ministry, but the social connection I had with many loving, wonderful people.
Often, Evangelicals think I am misrepresenting them when I have the audacity to claim that Evangelicals are Fundamentalists. This argument alone has led all sorts of objections from Evangelicals who scream from rooftops, I AM NOT A FUNDAMENTALIST! However, as I show in my post, Are Evangelical Fundamentalists? Evangelicals are inherently Fundamentalists both theologically and socially. There's simply no way to be an Evangelical and not be a Fundamentalist.
Well, Bruce, I don't care what you say, I am an Evangelical, and I am not a Fundamentalist! You can self-identify any way you want, but just because you do so doesn't change the fact that your theological beliefs and social practices are Fundamentalist. If you walk, talk, and act like a Fundamentalist, you are one.
I get it. Evangelicalism is the most hated religious group in America. Thoughtful, kind, generous Evangelicals hate what Donald Trump and his merry band of culture warriors have done to our country. However, is the answer to stay on the deck of the Titanic as it rolls into the sea? If you are truly not a Fundamentalist, then join up with sects and churches that reflect your progressive/liberal beliefs and practices. Stop enabling the Evangelical monster. Let it die the death it so richly deserves.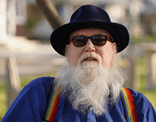 Bruce Gerencser, 64, lives in rural Northwest Ohio with his wife of 43 years. He and his wife have six grown children and thirteen grandchildren. Bruce pastored Evangelical churches for twenty-five years in Ohio, Texas, and Michigan. Bruce left the ministry in 2005, and in 2008 he left Christianity. Bruce is now a humanist and an atheist.
You can contact Bruce via email, Facebook, Twitter, or YouTube.
Your comments are welcome and appreciated. All first-time comments are moderated. Please read the commenting rules before commenting.