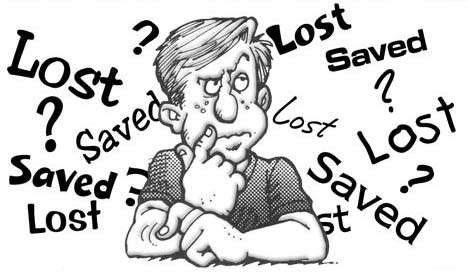 Yes.
No.
Maybe.
What do I mean by the word "saved"? Delivered. Redeemed. Set free. Born again. Regenerated. Bought by the blood. Justified (looked at by God just as if I never sinned).
The Bible says:
That if thou shalt confess with thy mouth the Lord Jesus, and shalt believe in thine heart that God hath raised him from the dead, thou shalt be saved. For with the heart man believeth unto righteousness; and with the mouth confession is made unto salvation. (Romans 10:9,10)

For by grace are ye saved through faith; and that not of yourselves: it is the gift of God: Not of works, lest any man should boast. (Ephesians 2:8.9)

For this is good and acceptable in the sight of God our Saviour; Who will have all men to be saved, and to come unto the knowledge of the truth. (1 Timothy 2:3,4)

Who hath saved us, and called us with a holy calling, not according to our works, but according to his own purpose and grace, which was given us in Christ Jesus before the world began (2 Timothy 1:9)

He that believeth and is baptized shall be saved; but he that believeth not shall be damned. (Mark 16:16)
Oops. Scratch that last one. Don't want to start a war between the Baptists and the Campbellites (Churches of Christ); sects who famously fight over the Greek word eis (for) in Acts 2:38. The Baptists believe people are baptized eis (because) their sins have been remitted, but the Campbellites — who were excommunicated by the Baptists for preaching baptismal regeneration — believe people are baptized eis (for, in order to) have their sins remitted. Neither group believes the other is "saved."
Most Christians interpret the aforementioned verses, and others, in a basic, generic way:
I am a sinner. Jesus Christ died on the cross for my sins. Three days later Jesus resurrected from the dead. Believing this message to be true, I admit I am a sinner, I repent (turn from or change my mind) of my sins, and, by faith, I trust Jesus to forgive me of my sins and save me. I am trusting Jesus to save me and keep me until I die. By putting my faith and trust in Jesus, I know I will go to heaven when I die. (1 Corinthians 15:1-4)
There are three basic schools of thought when it comes to salvation. I know there are various shades of each of these. Please, spare me the emails and comments that say I didn't properly describe YOUR TRIBE. This post is not a doctoral thesis on "Christian Soteriology Through the Ages."
Once Saved, Always Saved
There is the "once saved, always saved" school. According to this school of thought, once a person is saved, he can never be un-saved. No matter what the person does, no matter how the person lives, he is saved forever. A person can stop attending church, stop doing ANYTHING that remotely suggests that he is a Christian, yet "once saved, always saved." One noted Evangelical writer, R.B. Thieme, even said that a person could go to the altar and be saved and then leave the church, curse God, and live like a heathen the remainder of his life . . . it matters not, "once saved, always saved."
This is the soteriological belief of most Baptists and Evangelicals. Salvation becomes "fire insurance." People don't want to go to Hell, so they get saved. Whew, that's over. Next! How 'bout them Cowboys!
Coupled with this belief is the notion that the believer will be rewarded someday for doing the right things in this life. 2 Corinthians 5:10 says:
For we must all appear before the judgment seat of Christ; that every one may receive the things done in his body, according to that he hath done, whether it be good or bad.
So, people might be "once saved always saved" but if they don't live right, they will lose their Heavenly rewards. The nature of this loss of rewards is never clearly defined. Maybe their mansions won't have indoor plumbing or satellite TV? (John 14:1-6)
Some "once saved, always saved" believers realize that their version of salvation really looks bad. They know their brand of salvation makes it looks like they are preaching a "live like hell, still go to heaven" gospel.
To counter this, they teach that Christians who live carnally (worldly, fleshly) will be chastised (beaten, corrected) by God in this life. If a carnal Christian is not chastised, it is proof that he was never "really" saved. The Bible says in Hebrews 12:8: But if ye be without chastisement, whereof all are partakers, then are ye bastards, and not sons.
Countless once-saved-always-saved Baptists have told me that I am still a Christian. No matter what I do, no matter what I believe, I can never, ever lose my salvation. I suppose if this is the case, then there will be a lot of atheists in Heaven.
Conditional Salvation, Arminianism
Arminian sects believe in conditional salvation. Arminian sects include Freewill Baptists, Methodists, Wesleyans, Churches of Christ, Seventh Day Adventists, Church of the Nazarene, Pentecostals, and others.  They believe a person is saved by grace, but kept by works (works they perform by and through the power of God, so it is really all of grace). In this school of thought, people can only know they are saved in the present moment. Their future salvation is conditioned on them doing the right things.
A believer can do certain things that will result in the loss of salvation. Some Arminian groups believe you can only lose your salvation one time. In other words, "once saved, once lost, always lost."
The Bible says in Hebrews 6:4-6:
For it is impossible for those who were once enlightened, and have tasted of the heavenly gift, and were made partakers of the Holy Ghost, And have tasted the good word of God, and the powers of the world to come, If they shall fall away, to renew them again unto repentance; seeing they crucify to themselves the Son of God afresh, and put him to an open shame.
Other Arminian groups believe a person can repeatedly be saved, lost, saved, lost, saved. They often talk about a line that is crossed, when a person goes from a state of grace to being lost again. I have asked repeatedly over the years exactly where that line is, and no Arminian can tell me. I have been told by more than one Arminian preacher, "You just KNOW when you have crossed the line."
Arminians have no problem explaining my life. It is quite simple to them; I once was saved, and now I am lost.
Perseverance (Preservation) of the Saints, Calvinism
The final school of thought is the Calvinistic school. Calvinist groups such the Presbyterians, Reformed Baptists, some Southern Baptists, Sovereign Grace Baptists, and Episcopalians, to name a few, adhere to what is commonly called the five points of Calvinism (which were actually articulated as a reply to the Arminians). Point number five is the perseverance (preservation) of the saints.
The perseverance of the saints is "once saved, always saved" with a twist. Calvinists believe salvation is a work done totally by God. From start to finish, it is God who does it all. A person cannot believe, exercise faith, or do anything apart from God giving them the power to do so. Those whom God saves, God keeps. Now, God only saves a certain number of people. God knows exactly how many he will save. They are the elect. They have been predestined to salvation. No one but the elect will be saved. Everyone else need not apply.
The God who saves is the God who causes believers to persevere to the end. If they don't persevere to the end, then that is proof they were never saved to start with.
After hearing my deconversion story, Calvinists conclude I never was saved. I didn't persevere. I had received common grace, but not God's special, saving grace. In other words, God toyed with me, and then said "fuck you, go to Hell." The contradiction in their conclusion is that they cannot know if I might yet persevere in the future. Perhaps, I am just going through an atheist phase, and I will return to Christianity at some later point and time.
Calvinists cannot know for sure they are saved. They can HOPE they are. They can constantly examine their lives to see if they are availing themselves to the means of grace, but until they die, they cannot know for sure they have made it to the finish line. They MUST persevere to the end to be sure. They are hoping God comes through for them, but they won't know for sure until the end. After all, they too could be deluded. They too could be following a false Christ. Perhaps God is just toying with them too, and they will end up bunking in Hell with atheists such as Christopher Hitchens, Steven Hawking, Steve Gupton, Gandhi, Bruce Gerencser, and all those who preached the false gospel of Arminianism.
Imagine a person going from church to church trying to find out the one true Christian message of salvation. You would think Christians could agree on the most basic of truths: salvation.
But they don't.
I am convinced that Christians better hope that God is a universalist. If not, Hell is going to be filled with Christians.
Bruce Gerencser, 66, lives in rural Northwest Ohio with his wife of 45 years. He and his wife have six grown children and thirteen grandchildren. Bruce pastored Evangelical churches for twenty-five years in Ohio, Texas, and Michigan. Bruce left the ministry in 2005, and in 2008 he left Christianity. Bruce is now a humanist and an atheist.
Connect with me on social media:
Your comments are welcome and appreciated. All first-time comments are moderated. Please read the commenting rules before commenting.
You can email Bruce via the Contact Form.