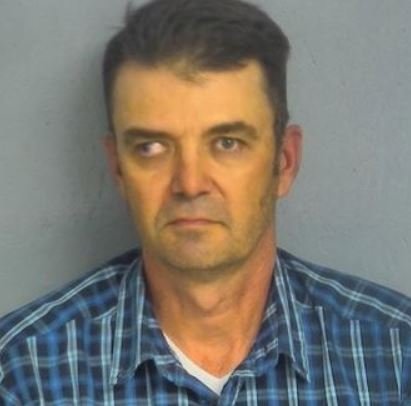 This story is about two criminals — a school janitor convicted of statutory sodomy and his pastor who said the man was a Christian with good character. The child molester will serve time in prison, but his partner in crime, his pastor, will continue to serve up religious bullshit without facing any consequences. The man's pastor is a criminal in the sense that he sells forgiveness from God as a way to reboot your life, no matter what you have done. I have no doubt that this pastor thinks that since Jesus has forgiven the child molester, so should everyone else. Slap him on the wrists, judge. Jesus has forgiven him and he promises to never, never sexually molest children again.
Karl Lawrence, a former school janitor, was convicted last week of two counts of statutory sodomy.
The Springfield News-Leader reports:
A Greene County jury convicted a former janitor at Willard Public Schools of two counts of statutory sodomy last week.

Karl David Lawrence, 51, sexually abused a girl twice in 2012.

During Lawrence's sentencing hearing, prosecutors said Lawrence abused multiple children over several years.

None of the abuse had any apparent connection to Willard Public Schools, where a district spokeswoman said Lawrence worked from 2006 to 2014.

Lawrence was charged in 2016, four years after the abuse of the girl took place.

According to a probable cause statement filed by Republic police, three girls accused Lawrence of sexually abusing them in Republic and in Florida.

The statement said one girl disclosed that when she was 12 or 13, she was in a garage in Republic when Lawrence came up behind her, put his hand down her pants and touched her genitals.

According to the statement, the girl said Lawrence "stuck his fingers inside me" a different time and she told him to stop.

Lawrence allegedly replied: "Why?"

The girl said Lawrence grabbed her breasts often, according to the statement.

Family of both the victim and Lawrence attended the sentencing hearing Thursday, filling three pews in the courtroom.

Dawn Diel, an assistant Greene County prosecuting attorney, said Lawrence has "fooled his family for all these years."

The first person to testify at the sentencing was the victim, who prosecutors say is now 18.

"I am scared all the time," the victim said, her voice breaking. "I have been diagnosed with severe anxiety. I get panic attacks. My mom has tried to help me though it."

She said she has been put on medication for anxiety.

"When I see headlights behind me, I think they're following me," the victim said. "I feel like I'm always going to be scared because of what happened to me."

Several people took the stand on behalf of Lawrence.

His mother called him "one of the most caring, loving people in the world."

His wife, who broke down crying multiple times, said they got married in 2013, a year before the allegations surfaced.

"He's a wonderful husband. He's a wonderful father," Lawrence's wife said. "He provides for us. He takes care of us."

She started crying.

Lawrence's pastor testified that Lawrence and his wife are faithful attendants of church and Bible study. The pastor described Lawrence as a "man of good character."

….

"The fact that even his own family and people around him … think he has good character shows his true danger because he has that ability to manipulate and he was able to create such devastation in plain sight," Chapman said. "Every day that he's out, children are going to be at risk."

The jury recommended a sentence of 15 years on both counts of statutory sodomy.

….