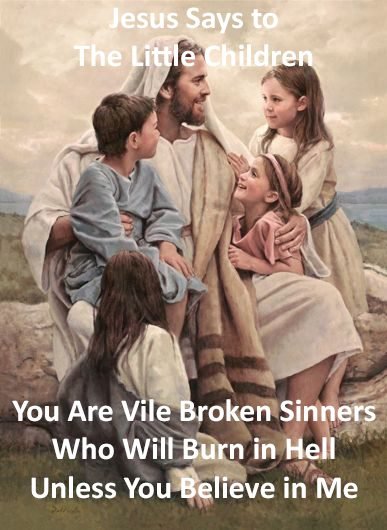 My dear friend Zoe wrote a short post today about child-friendly faith. Zoe rightly questioned whether teaching children there is a Hell and that they will spend eternity being tortured by God for believing the wrong things is a child-friendly faith. Most Christian sects teach that there is a Heaven to gain and a Hell to shun; that the only way to avoid eternal punishment and damnation is to believe on the Lord Jesus Christ (Acts 16:31) — trusting that he will forgive your sins, save you, and give you a home in Heaven after you die. Even the uber-liberal Episcopal Church, in its Thirty-Nine Articles of Faith, officially believes there is a Hell, and the only way to avoid Hell is to repent of your sins and put your faith in Jesus.
Evangelicals are what I call the Hell Party. Either believe (and do) the right things or you will go to H-e-l-l. While it is true that preaching on Hell is less frequent today, Evangelicals still believe that Hell is a real place, and that non-Christians will spend eternity there after they die.
The statement of Faith for the National Association of Evangelicals states:
We believe in the deity of our Lord Jesus Christ, in His virgin birth, in His sinless life, in His miracles, in His vicarious and atoning death through His shed blood, in His bodily resurrection, in His ascension to the right hand of the Father, and in His personal return in power and glory.

We believe that for the salvation of lost and sinful people, regeneration by the Holy Spirit is absolutely essential.

….

We believe in the resurrection of both the saved and the lost; they that are saved unto the resurrection of life and they that are lost unto the resurrection of damnation.
Evangelicals believe that humans are sinners by nature; spiritually broken, sick, and diseased the moment they come into this world. Through preaching, along with children's church programs, junior church, Sunday school, and youth group, Evangelical children are frequently reminded of the fact that they are sinners headed for Hell unless they put their child-like faith in Jesus. From birth to death, Evangelical church attendees are told that Hell awaits those who refuse the saving grace freely offered by Jesus (Calvinists reserve salvation for only the elect). As an Evangelical pastor for twenty-five years, I preached countless sermons on Hell. My churches' junior churches and Sunday schools were staffed by people who understood the importance of scaring the Hell out of children. We believed that the sooner we reached children with the gospel, the better. It was not uncommon for church children to make professions of faith while they were still in kindergarten or primary school. The longer salvation was delayed, the greater opportunity Satan had to get his hooks into them.
One church I pastored, Somerset Baptist Church, had a large bus ministry. Every week, scores of children were bused to the church so trained workers could evangelize them. Hundreds of children made professions of faith — often repeating the act one or more times. In 2020, I wrote a post titled Should Parents Choose a Religion for Their Children? Here's an excerpt from this post:
In the type of Baptist churches in which my wife and I grew up, children are sent to Sunday school and children's church so they can be exposed to the church's teachings on Heaven, Hell, Jesus, salvation, death, and God's judgment. Children are often emotionally and mentally coerced into asking Jesus into their hearts. Children's church teachers will often ask their young pupils: do you want to go to Hell when you die? or how many of you want to go to Heaven when you die? What young, immature and impressionable child doesn't want to avoid the flames of Hell or enjoy the wonders of Heaven?

In many ways, Evangelicals who evangelize children are like door-to-door salesmen selling their customers on the importance of owning their product and the danger of putting off a buying decision to another day. Years ago, I sold Kirby vacuüm cleaners. I would praise the virtues of the grossly overpriced vacuum, trying to get prospective customers to see how much better their lives would be if their households owned a Kirby. If the positive approach failed to work, I'd resort to the methods meant to show them how poorly their current vacuüm was working. I'd even go so far as to use my demo Kirby vacuüm to sweep the prospective customer's bed, showing them all the dead skin and "mites" the mighty Kirby removed from their bed. The goal was always to get the customer to make an impulsive decision. And this is exactly what happens in many Evangelical churches. Uninformed children are wowed with the wonders of Heaven and threatened with the horrors of sin and Hell. Most children who are exposed to these kinds of sales techniques will "choose" to get saved.

Once children are saved, their parents and churches continue to indoctrinate them in their sect's particular teachings. Remember, these children do not have the rational capacity to make this choice, nor have they been exposed to alternative religions. Are confirmed, initiated, or saved children really making an informed decision to believe the central tenets of Christianity? Of course not. They lack the requisite intellectual skills necessary to make such a decision. Wouldn't it be better to expose children to a variety of religions, along with humanism and atheism, and allow them to make a reasoned choice of which to follow when they are old enough to do so?
I have many regrets from my days as an Evangelical pastor, especially how my preaching psychologically harmed people. No amount of saying "I'm sorry" will change the fact that my words harmed children and adults alike. Children, in particular, were emotionally scarred by my sermons on original sin, God's wrath and judgment, and Hell. You see, church children believed that I loved them, and I only wanted what was best for them. And, from an Evangelical perspective, I did. However, years later, I know that berating children over their "sins" and threatening them with God's judgment and Hell if they didn't pray the sinner's prayer is child abuse. I have had enough conversations with adults who were children in one of the churches I pastored to know that I caused them harm. All I know to do is profusely apologize and use my writing to expose what really goes on within the four walls of Evangelical churches.
Let me be clear, teaching children they are broken (sinners) and in need of fixing (salvation) lest they are consigned to Sid's Toy Shop (Hell) is child abuse. There is nothing child-friendly about such preaching and teaching. Why does such abuse continue, you ask? Most church children have parents who were raised in Evangelical churches. They, too, were psychologically abused by pastors, evangelists, Sunday school teachers, and youth leaders. What do we know about abuse? Adults who were abused tend to abuse their children. If parents came of age hearing sermons about original sin, Hell, and salvation through Christ alone, their children experiencing these same things doesn't seem wrong or abusive. Thus, the abuse cycle continues generation after generation.
A child-friendly faith is one that that doesn't teach children they are broken; that doesn't threaten them with God's judgment; that doesn't put the fear of God into them by warning them that they will burn in Hell (or be annihilated) if they don't believe the right things.
In the aforementioned 2020 post, I wrote:
While it is naïve to expect Christian parents to keep their children away from their tribe's religion, society should require them to not unduly indoctrinate their children. That we don't reflects the fact that we give Christianity a pass on almost everything when it comes to children. We allow Christian parents to pull their children out of public schools so they can be indoctrinated by evangelists, posing as teachers of knowledge, for their particular sect's beliefs. We also allow Christian parents to homeschool their children. Millions of American children are homeschooled or attend Christian private (and parochial) schools. These children are taught reason-defying myths such as the virgin birth of Jesus, the resurrection of Jesus from the dead, and wine and crackers miraculously turning into Jesus' blood and flesh once they are prayed over. They are regularly reminded that they are sinful, broken humans in need of forgiveness and salvation, and that Heaven awaits them if they believe, and Hell awaits if they don't. These types of teachings do incalculable emotional harm to children, often resulting in low self-esteem or psychological problems.

Worse yet, these children are taught lies about the natural world they are very much a part of.  Many Evangelical homeschool parents and private schools teach children that the earth is 6,023 years old, evolution is a lie, and the teaching of the Bible accurately reflects the one and only way to understand the world. While parents and teachers will most likely teach their wards science, they often teach a Christianized version that repudiates biological evolution. They also, thanks to a literalistic reading of the Bible, reject most of what cosmology, archaeology, and geology tell us about the age of the earth and the universe. As a result, children who have embraced this kind of indoctrination are crippled intellectually. Ask any secular college or university professor how difficult it is to reason with children who have been indoctrinated with Fundamentalist Christian beliefs. The intransigence of these students is heartbreaking. Stunted intellectually, they often go through life ignoring vast swaths of human knowledge because it does not fit the narrow confines of what they were taught as a child. Of course, this is EXACTLY what Christian churches and their leaders desire: intellectually-neutered people who continue to look to them for answers.
How did the preaching and teaching you heard at church as a child affect you later in life? Did you lack self-esteem? Were you afraid of God? Did your fear going to Hell? Please leave your thoughts in the comment section.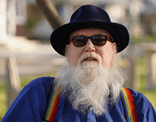 Bruce Gerencser, 64, lives in rural Northwest Ohio with his wife of 43 years. He and his wife have six grown children and thirteen grandchildren. Bruce pastored Evangelical churches for twenty-five years in Ohio, Texas, and Michigan. Bruce left the ministry in 2005, and in 2008 he left Christianity. Bruce is now a humanist and an atheist.
You can contact Bruce via email, Facebook, Twitter, or YouTube.
Your comments are welcome and appreciated. All first-time comments are moderated. Please read the commenting rules before commenting.