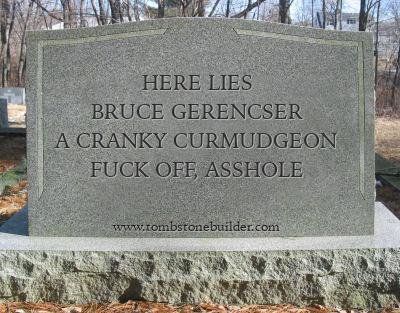 Recently, an Evangelical preacher had this to say about me:
Yes, we called BG [Bruce Gerencser] a quitter as that was a common theme throughout his life. He quit on high school, college, his church, Jesus, and, as we see. anything to do with Christian behavior towards others.

When they quit, they spend their time hiding from God, and the truth no matter who brings it across their path. They are all the same and if you want to understand why Jesus said not to cast pearls before swine, it is because they will trash and reject it without using an open mind.
This so-called man of God, a defender of the One True Faith®, loves to call me a "quitter." According to him, "quitting" is leaving. This preacher is my age, and I know he has, using his definition, "quit" a few times himself. This man has combed through my life with a nit comb, finding every time I left _________, seeing this as proof I am a quitter. In his mind, a "quitter" is a failure; one who has failed to run/finish the race (as determined by this preacher).
As a ministerial student at Midwestern Baptist College in Pontiac, Michigan — an Independent Fundamentalist Baptist (IFB) institution — I heard countless sermons on "quitters." Dr. Tom Malone, the chancellor of Midwestern, was famous for lambasting quitters in his chapel sermons. Other chapel speakers did the same. The message was clear: don't be a quitter; God doesn't use quitters; your life will never amount to anything; you are a failure if you quit.
One chapel speaker, "Dr." Charles Whitfield, even called me out personally for quitting. I had dropped his hermenuetics class, and that — for some inexplicable reason — infuriated him. While he didn't mention me by name, the details of his harangue made it clear who he was talking about.
Infamous IFB pastor, the late-Jack Hyles, wrote a poem titled "Don't Quit." It said:
When the cup is turned to wormwood,
And the wormwood turns to gall;
When your walking turns to stumbling,
And the stumbling to a fall;
When you've climbed above the mountains,
Yet the Alps rise rough and tall;
DON'T QUIT.
When the path ahead is crooked,
And the road's too rough to tread;
When the best upon the table
Is replaced by sorrow's bread;
When you've crossed some troubled waters,
Yet a Marah's just ahead; (Exodus 15;16)
DON'T QUIT.
When the vultures have descended
And disturbed your downy nest;
When sweet fruit has changed to thistle,
While the thorns disturb your rest;
When a deep to deep is calling,
And when failure seems your best;
DON'T QUIT.
When the Lord has cleansed the table;
Then He takes away the fat;
And the best wine has been taken,
Till you find an empty vat;
When another fills the throne room
Where once you proudly sat;
DON'T QUIT.
When your health is feeling sickly,
And the medicine tastes bad;
When your fellowship is lonely,
And your happiness is sad;
When your warmth is getting colder,
And in clouds your sunshine's clad;
DON'T QUIT.
When you find your wins are losses,
And that all your gains are lacks;
When ill things never come alone,
And your troubles run in packs;
When your soul is bruised and battered
From the Tempter's fierce attacks;
DON'T QUIT.
Be not weary in well doing,
For due seasons bring the grain;
He who on the Lord hath waited
Shall never run in vain;
The just man falleth seven times,
Yet riseth up again;
DON'T QUIT.
We left Midwestern in early 1979. As we were loading up our Uhaul trailer, preparing to move to my hometown, Bryan, Ohio, a dorm roommate of mine stopped by and pleaded with me not to "quit," saying, "God will NEVER use you!"
Seven years later, Dr. Malone was preaching at the Newark Baptist Temple in Newark, Ohio — an IFB church pastored by Jim Dennis, Polly's uncle, a 1960s Midwestern grad. (Please see The Family Patriarch is Dead: My Life With James Dennis.) My father-in-law, a 1976 Midwestern grad, proudly told Malone about the church I was pastoring; how fast it was growing; how souls were being saved under my ministry. Before starting to preach, Malone recognized several notable preachers in the crowd — a common practice at IFB conferences and preacher's meetings. Malone told the crowd I was in attendance, saying, "If Bruce had stayed any longer at Midwestern, we would have ruined him." Everyone laughed, and I took his words as validation of the work I was doing for God.
With these things in mind, let me circle back around to what the aforementioned preacher said about me:
[Bruce] quit on high school, college, his church, Jesus, and, as we see. anything to do with Christian behavior towards others.
This preacher mentions five things I have done and experienced in my life that justify him calling me a "quitter." I want to respond to each of these things, showing the context behind these events. I will then add a sixth point.
High School
Did I graduate from high school? No. My parents divorced when I was fourteen. Two months later, both of them remarried. Mom married her first cousin, a recent parolee from the Texas penal system. Dad married a nineteen-year-old girl with a toddler. In the spring of 1973, hoping to avoid bill collectors, Dad had a household goods auction, packed up our clothing and meager belongings, and moved us to Tucson, Arizona. After finishing tenth grade at Rincon High School in Tucson, I hopped a Greyhound Bus and moved back to Bryan, Ohio to live with my mom. Two months later, I moved to Findlay, Ohio so I could attend Findlay High School and Trinity Baptist Church, both of which were places of happiness, security, and safety for me. After living with a church family in Mount Blanchard for a couple of months (and attending Riverdale High School) I started living with Gladys Canterbury, a matronly woman at the church. I became a ward of the court so Gladys could receive money for keeping me and I would have medical, dental, and vision insurance. I was sixteen.
In May of 1974, weeks before I turned seventeen, I decided to move back home. I missed my mom. Knowing that Gladys (and the church) would not allow me to move, I secretly planned my escape. For a week, I would, unknown to Gladys, stay home from school and plan my move. Finally, the day arrived. Mom pulled into the driveway of Gladys's southside home, got out of the car, and helped me load my few worldly possessions into her car. Ninety minutes later, I was back home, ready to enroll for my senior year at Bryan High School.
As a student at Findlay High, I didn't miss one day of school. In fact, I got out of school every day at 11:30 am, and walked or rode my bike to my job as a busboy at Bill Knapps on West Main Cross St. I would work the lunch shift and then sit in the side dining room eating my employee meal — man, I loved their burger basket — and then working on my homework. Afterward, I would work the evening shift. I worked 25 or more hours each week.
In August of 1974, Mom and I went to Bryan High so I could enroll for school. Two weeks later, the school called to inform us that Findlay High was denying me credit for eleventh grade; that I would have to enroll as a junior, not a senior. Findlay High said that because I missed the last two weeks of school, they were denying me credit for my junior year. Never mind the fact that I never missed a day of school up until moving home. Never mind the fact that I was a good student. Mom and I consulted a local attorney, David Newcomer. We thought at the time, "surely Findlay High School can't do this." Newcomer told us that we could sue the school, but it would take years to settle such a lawsuit.
Livid over the prospect of having to retake eleventh grade, I "quit" school. My dear friend Dave Echler had also quit school. This certainly played a part in my decision to quit. Mom pleaded with me not to drop out of school, but after seeing my mind was made up, she signed the necessary form so I could quit.
Yes, I am a high school dropout, but a "quitter" in the sense that this Evangelical preacher is using the word? No.
College
Polly and I married in the summer of 1978, between our sophomore and junior years. Polly started attending Midwestern while she was a senior at Oakland Christian School. Polly was one smart cookie, a pretty cookie, a sexy cookie, okay, a "Godly" cookie too. 🙂 Polly, who would soon graduate second in her class, was permitted to attend Midwestern the second half of her senior year.
After getting married, Polly and I moved to an upstairs apartment on Premont St. in Waterford Township. In September, we started classes at Midwestern, excited that we were halfway through college. In less than two years, Mr. and Mrs. Bruce Gerencser would move to a town somewhere in the United States and start a new IFB church, planning to spend our lives winning souls to Christ and teaching Christians the inspired, inerrant, infallible Word of God. Remember what they say about best-laid plans?
We planned to wait until we were out of college to have children. But, unfortunately, "God" had other plans. Six weeks after we married, Polly informed me that she was pregnant. That's what you get when two young, immature virgins marry, having little information about how "things" work. Eschewing birth control pills and condoms, Polly used an ineffective spermicidal foam.
Polly cleaned the homes of a Bloomfield Hills rabbi and their daughter, that is until brutal morning sickness made that impossible. I worked a full-time job at Deco Grand, making parts for GM's diesel motors. Keep in mind, we were carrying a full load of classes at Midwestern, along with attending church three times a week and fulfilling the required evangelism requirements for students. I also taught Sunday school and held church services Sunday afternoon at a drug rehabilitation center in Detroit.
In January 1979, I was laid off from my job at Deco Grand. I had not worked there long enough to draw unemployment. Unable to find employment that would allow us to stay in school, we decided to drop out for a semester, hoping to reenroll after our son was born in May. We went to the school to talk to "Dr." Levy Corey about dropping out. We thought Corey, one of our favorite preachers would understand. Instead, he counseled us NOT to leave school. "Just trust God. He will provide," Corey said. Several weeks later, behind on the rent and facing threats of having our utilities shut off, we decided to leave Midwestern and return to Bryan. We lived, for a time, with my sister. I took a job with General Tire, and when they moved me to third shift, I "quit" and took a union job at ARO. I made $8 an hour, with superb insurance. When Jason was born in May, we didn't pay a dime.
One month after we moved to Bryan, my sister's pastor, Jay Stuckey, offered me an unpaid job as his assistant. I worked my ass off helping the church grow, reaching a high attendance of 500 our last Sunday there.
Yes, I didn't graduate from Midwestern. But, was I a "quitter" in the sense this Evangelical preacher uses the word? No. Life happens, and after Polly got pregnant and I was laid off, we did what we could to keep a roof over our head and the lights on. We may have left college, but we spent twenty-five years serving congregations in Ohio, Texas, and Michigan.
Churches
This preacher writes as if I pastored one church and then quit. Instead, I pastored seven churches. One church I pastored for eleven years, another for seven. I also worked as my father-in-law's assistant for two years, growing the youth department to fifty students (over half of the church's Sunday attendance). I also pastored four churches for short periods of time. (Please see What Happened to the Churches I Pastored?) Interestingly, every one of these pastorates was seven months long. I know, odd, right?
Was I a "quitter" in the sense that this preacher is using the word? Of course not. Pastors leave churches all the time. The reasons for doing so are many. Sure, some of my departures were acrimonious. Could I have done better or been more patient? Absolutely. I have never denied that certain character traits of mine made it difficult for me to work with bullheaded, argumentative, controlling church members. I warned the last church I pastored, Victory Baptist Church, a Southern Baptist church in Clare, Michigan, that I would not fight with them. Five months later, my hope for love, joy, and peace turned into ugly, soul-killing warfare. I left this church for the sake of my mental health. I was burned out, tired of endless conflict and pettiness. Did I "quit"? No, I resigned. You know, like people do when they leave a job for another one. Wait until this preacher finds out how many jobs I have worked over the years. 🙂 I have an advanced degree in leaving jobs and finding another. Could I have done differently? Sure. But a "quitter"? Nope.
Jesus
Did I "quit" on Jesus? Perhaps the real question is this: "did Jesus quit on me"? Did the church quit on me? Did my family, former parishioners, and colleagues in the ministry quit on me after I left the ministry and later left Christianity? Or maybe, just maybe, I decided that the central claims of Christianity weren't true; that Jesus was not virgin-born, did not work miracles, and lies buried in a grave somewhere near Jerusalem. Or maybe, just maybe, I decided the Bible was not the inerrant, infallible Word of God; that the Bible is littered with mistakes, contradictions, and errors. Or maybe, just maybe, I visited 125 Christian churches and concluded that the teachings of Jesus were nowhere to be found; that churches were social clubs instead of places that ministered to the "least of these." Or maybe, just maybe, I divorced Jesus. Having given him thirty years to show up and reveal himself, I decided that Jesus wasn't walking through the door. Wanting to move on in my life, I divorced Jesus and entered a polyamorous relationship with reason, skepticism, and common sense.
To Jesus, I say, "Here I am, Lord. You know where I live. Show up on my doorstep, invite me to lunch (and pay the bill), and show me your miracle-working power, and I will believe." I suspect Jesus ain't coming to my house and hanging out. How can he? He's dead.
Christian Behavior
This Evangelical preacher thinks I have "quit" on "anything to do with Christian behavior." Of course, I have. I'm not a fucking Christian. "Language," Bruce. Fuck off, asshole. 🙂 That said, I am a loving, kind, thoughtful person. Ask Polly, our six children, or our thirteen grandchildren. Ask my lifelong friend mentioned above. The only people who think I am a bad person are those who can't square my story with their theological beliefs. Unable to do so, they attack my character. Those who matter to me know what kind of man I am. I am confident that Bruce, the Atheist is a far better "Christian" than this Evangelical preacher. I don't go to Christian blogs or websites and attack their owners. I have NEVER engaged Christians outside of this blog or on social media after they have left a comment.
I make no apology for operating this blog. I make no apology for what I write. Have I become less polite and longsuffering towards Evangelical zealots? Guilty as charged. (Please see I Make No Apologies for Being a Curmudgeon.) After thousands of emails, blog comments, and social media messages from Evangelicals, I am tired of their attacks and character assassinations. I try to ward off their emails, comments, and messages (please see Comment Policy and Dear Evangelical), but they continue to harass me anyway. The contact form for this site states:
If you would like to contact Bruce Gerencser, please use the following form. If your email warrants a response, someone will respond to you as soon as possible.

Due to persistent health problems, I cannot guarantee a timely response. Sometimes, I am a month or more behind on responding to emails. This delay doesn't mean I don't care. It does mean, however, that I can only do what I can do. I hope you understand.

To help remedy this delay in response, my editor, Carolyn, may respond to your email. Carolyn has been my editor for five years. She knows my writing inside and out, so you can rest assured that if your question concerns something I have written, Carolyn's response will reflect my beliefs and opinions — albeit with fewer swear words.

I do not, under any circumstances, accept unsolicited guest posts.

I am not interested in buying social media likes, speeding up my website, or having you design a new blog theme for this site.

I will not send you money for your ministry, church, or orphanage.

If you are an Evangelical Christian, please read Dear Evangelical before sending me an email. If you have a pathological need to evangelize, spread the love of Jesus, or put a good word in for the man, the myth, the legend named Jesus, please don't. The same goes for telling me your church/pastor/Jesus is awesome. I am also not interested in reading sermonettes, testimonials, Bible verses, or your deconstruction of my life. By all means, if you feel the need to set me straight, start your own blog.

If you email me anyway — and I know you will, since scores of Evangelicals have done just that, showing me no regard or respect — I reserve the right to make your message and name public. This blog is read by thousands of people every day, so keep that in mind when you email me whatever it is you think "God/Jesus/Holy Spirit" has laid upon your heart. Do you really want your ignorance put on display for thousands of people to see? Pause before hitting send. Ask yourself, "how will my email reflect on Jesus, Christianity, and my church?"

Outside of the exceptions mentioned above, I promise to treat all correspondence with you as confidential. I have spent the last fourteen years corresponding with people who have been psychologically harmed by Evangelical Christianity. I am more than happy to come alongside you and provide what help I can. I am not, however, a licensed counselor. I am just one man with fifty years of experience as a Christian and twenty-five years of experience as an Evangelical pastor. I am more than happy to lend you what help and support I can.

Thank you for taking the time to contact me.
Yet, Evangelicals send me emails anyway. I am grateful that what I have written above on the contact page has warded off many blood-sucking vampires. But, I still get lots of emails from fangers (shout out to True Blood fans). Further, zealots ignore my commenting policy. After I ban them, they continue to try to comment. Take Elliot. While he has stopped trying to comment or email me, he had tried to access this site 386 times since July 9, 2021 — more than six times a day. Elliot can't read this, but maybe someone will tell him, Nah, baby, Nah.
Have I ever gone too far when responding to arrogant, nasty, self-righteous Evangelicals? Yes. Readers who have been with me since 2007 — looking at you Michael, Zoe, and Andrew — remember my oh-so-famous response to Iggy of Montana. Iggy told me that he "knew me better than I knew myself." After a contentious back and forth, I blew up. Scorched earth time. Some people will say I have gone too far when I rewrite the deleted comments of the Evangelical preacher who thinks I am a quitter. (He is permanently banned, yet he still tries to comment, ignoring my commenting policy.) Other people love my rewrites. Sometimes, humor is all you have left when dealing with smug bullies.
Death
I am sick. Really, really sick. I have fibromyalgia, gastroparesis, and osteoarthritis. In late July, I wrote a post titled Health Update: I'm F**ked:
Over the past four months, I've had excruciating pain in the middle of my back, left side, and under my left arm, into my shoulder, and down my arm. The pain is so severe that it affects everything I do. Some days, I can hardly use my left arm (and I'm left-handed)

I had X-rays. Normal. CT scan. Normal. And now an MRI of my thoracic spine. NOT normal. I have:

Disc herniation (T7,T8)

Disc herniation (T6,T7)

Central spinal canal stenosis (T9/T10, T10/T11)

Foraminal stenosis (T5,T6)

Disc degeneration/spondylosis (T1/T2 through T10/T11)

Facet Arthropathy throughout the spine, particularly at T2/T3, T3/T4, T5/T6, and T7/T8 through the T12/L1 levels.

Hypertrophic arthropathy at T9/T10
Every day is a struggle. Some days, I wonder if I can go on. So far, my reasons for living (my family, writing, and the Cincinnati Reds) give me the strength to live another day. There might, however, come a day when I can no longer endure the pain. And when that day comes, I may choose to end my life. Am I "quitter" for saying, "I've had enough. I can't bear the pain any longer"? I am sure that If I take the death with dignity path, the Evangelical preacher who is the focus of this post will likely write a post that says, "Bruce Gerencser, The Quitter is Dead. Now He Knows Hell is Hot, God is Real, and I'm Fucking Right." I hope the readers of this blog will give him a collective middle finger. I hope you will tell people that Bruce Gerencser was a survivor, that he did what he could. Finally, I will leave it to my family, friends, and the people who have walked the path with me to measure my life, to give testimony of how the "quitter" Bruce Gerencser made a difference in their lives. (This last section is not a plea for help. This is just me talking out loud with my friends.)
This Evangelical preacher means for the word "quitter" to be a pejorative term; to cause psychological pain. What he calls "quitting," I call life. A well-lived life? That story is still being written.
Bruce Gerencser, 66, lives in rural Northwest Ohio with his wife of 45 years. He and his wife have six grown children and thirteen grandchildren. Bruce pastored Evangelical churches for twenty-five years in Ohio, Texas, and Michigan. Bruce left the ministry in 2005, and in 2008 he left Christianity. Bruce is now a humanist and an atheist.
Connect with me on social media:
Your comments are welcome and appreciated. All first-time comments are moderated. Please read the commenting rules before commenting.
You can email Bruce via the Contact Form.