Many atheists, humanists, and progressives look at the declining attendance numbers for Evangelical churches and wrongly conclude that Evangelicalism as a movement is dying. Numerically, Evangelicalism is dying, as an increasing number of younger adults exit stage left never to be seen again. As baby boomers continue to die off, their numbers are not being replaced by younger people. Instead, more and more people in their 20s and 30s are self-identifying as atheists, agnostics, or nones (people who are indifferent towards organized religion). Based on the sheer volume of articles I see on this subject from Evangelical "experts," it is clear that churches and pastors are alarmed over attendance losses.
If we wait long enough, Evangelicalism will die from self-inflicted wounds. Unable to leave off their penchant for waging war on people different from their tribe, there will come a day when Evangelicalism as we know it will no longer exist. However, by then the damage caused by these Evangelical culture warriors, along with their Catholic and Mormon compatriots, will be irreversible. Evangelicals have traded piety, holiness, and commitment to preaching the gospel for raw, naked political power. Evangelicals are the power and money behind Trumpism, Qanon, 1/6 Insurrection, and countless attempts to destroy sixty years of social progress. The goal is to return the United States to the 1950s.
Evangelicals harnessed incrementalism to advance their agenda This fact is aptly illustrated in their frontal assault on reproductive rights. It is widely believed by conservatives and liberals alike that the Supreme Court will soon reverse Roe v. Wade, giving states the right to totally outlaw abortion. This outcome was birthed forty years ago when Jerry Falwell and Paul Wyrich started the Moral Majority. Year by year, Evangelicals chipped away at reproductive rights, using an incrementalist approach to strip women of their right to choose.
Next on the Evangelical agenda are issues such as legally recognizing fertilized human eggs as persons, outlawing same-sex marriage, banning interracial marriage, criminalizing homosexuality, and a host of other culture war hot button issues. Who do you think is behind the outrage over LGBTQ-friendly books in schools, critical race theory, Disney, and socialism? Evangelicals, that's who. No longer believing there is a separation between church and state, Evangelicals, if left to their own devices, fully intend to establish a Christian theocratic state. Your Evangelical neighbors might be friendly, smile when they see you, and seem to all around nice people, but make no mistake about it, behind closed doors and at church on Sundays, they shout hallelujah and amen when their preachers call on them to take back America for the Christian God.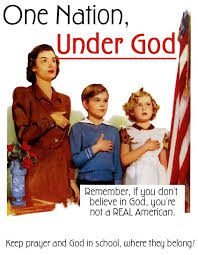 I was born in 1957, an era drastically different from today. Evangelicals look at the 50s and sigh, wistfully wanting a return to the "good old days." Knowing they currently control the levers of power, Evangelicals are working tirelessly to return us to the days when President Dwight Eisenhower and the U.S. Congress added "under God" to the Pledge of Allegiance and put "In God We Trust" on our money. And make no mistake about it, this "God" is the Christian God of the Bible.
I grew up in a world where there was one God — the Christian God — homosexuality, abortion, and birth control were illegal, LGBTQ people were deeply closeted, Blacks knew their place, and the only thing Mexicans were good for was picking our crops. Christian morals and ethics were expected and demanded. School days began with the Pledge of Allegiance, Christian prayer, and readings from the Protestant Christian Bible. Patriarchalism and complementarianism were the norms. Divorce, sex before marriage, and pregnancy outside of marriage were frowned upon. This is the world Evangelicals want to return to.
It remains to be seen whether the Evangelical horde at the gate can be repelled. I am not optimistic. Liberals and progressives seem clueless about the real and present danger we face from Evangelicals. Our constitutional republic is weak, if not failing. Evangelicals know this and are using this weakness to advance their theocratic agenda. Their goal is Jesus on the throne in Washington D.C. and the Bible as the lawbook of the land. And when this happens, freedom is lost and people die.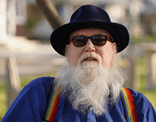 Bruce Gerencser, 65, lives in rural Northwest Ohio with his wife of 44 years. He and his wife have six grown children and thirteen grandchildren. Bruce pastored Evangelical churches for twenty-five years in Ohio, Texas, and Michigan. Bruce left the ministry in 2005, and in 2008 he left Christianity. Bruce is now a humanist and an atheist.
Connect with me on social media:
You can email Bruce via the Contact Form.
Your comments are welcome and appreciated. All first-time comments are moderated. Please read the commenting rules before commenting.