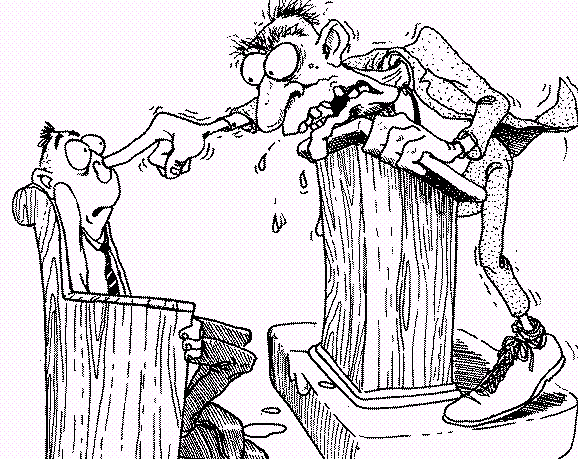 Dr. David Tee — who is neither a Doctor or a Tee — mounted his Internet pulpit recently to opine on why people leave Christianity. Here's an excerpt from his post:
People have all sorts of excuses and they have all sorts of motivating triggers that help them make a decision. One thing that bothers us about the reasons they give is that there is no reason to throw the baby out with the bathwater.

Yet, these people who have turned away from different religions, mostly those that claim to be Christian., have decided to toss all of their faith away instead of moving to a different church (non-cultic) that meets their needs and shows them what Christianity is all about.

We are not going to list the reasons here. . .

Your eternal destination is on your shoulders, it is your responsibility, not the other people in the church.

Yes, many people do not follow Jesus and act in a way that is consistent with biblical instructions or commands. But you get to rebuke them if they err. using other people's behavior to leave the church, Christ, and other religious organizations is simply making an excuse for your decision and failing to take responsibility for that momentous occasion.

Most of the reasons read like excuses. They have little legitimacy and point the finger towards the idea 'I do not like what you did so I will punish you by leaving the church.' Not a very smart or common sense decision.

….

But as we said, most are excuses and it looks like people did not want to be in the church anyway and were looking for a face-saving way to leave the church.

Evil is hard at work in destroying people so it is somewhat understandable why these illogical and non-common sense decisions were made. People seem to like doing knee-jerk reactions when it comes to church and religion overall.

What is ironic is the fact that you do not see people saying the same type of things about how non-believers or non-religious people treated them and their families. If they like to be treated well why then do they not leave unbelief when they or their families are treated in horrendous ways?

….

However, leaving the church or your faith over those incidents is not a smart thing to do. Those decisions say a lot about the people making those excuses:

#1. They are not looking to God to meet their needs. They are looking at pastors, etc and when they do not get what they want they take it out on God and punish him.

#2. They are holding the pastors and churches to a standard they do not hold themselves to. Are those people who deserted the faith, etc., doing what they expect other religious people to do?

#3. They are selfish and only want a one-way street their way.

#4. Their own claims to be a believer were not based on a strong foundation and they were weak, toppled over the first situation that provided negative input. They were superficial believers and probably like the seeds that were scattered on rocky or hard soil according to the parable Jesus told.

#5. They do not give God much credit or really cared about him. They were turned off of God for very petty acts that could have been overcome with prayer and a change in churches. This does not say much about them and their commitment to God or their religions.
Tee's real name is Derrick Thomas Thiessen, so I will use his legal name in the remainder of his post.
Thiessen's post is a theological trainwreck. Thiessen supposedly has a Bible college education and was a pastor, but many of his posts reveal that his theology can be best described as paint-by-number; except for the fact that when a number corresponds to a particular color, Thiessen uses whatever color he wants; regardless of how doing so makes the painting look. Thanks to his literalist, inerrantist, "it means what it says" view of the Protestant Christian Bible, Thiessen has beliefs that are, at times heterodox, or even heretical. I have concluded that he doesn't really understand the Christian gospel, as he vacillates from salvation by grace to salvation by works to salvation by right beliefs to an admixture of these beliefs. I don't doubt that Thiessen is a Christian, but damn, I'm not certain that he understands the gospel or has an in-depth understanding of Christian — particularly Evangelical — soteriology. While it would be fun to shred Thiessen's theological beliefs, I am more concerned about the lies he continues to spread about people who left Evangelical Christianity and embraced atheism, agnosticism, paganism, or non-Christian religions. I say "lies" because Thiessen has been reading my writing for several years. He has written uncounted posts about me personally, Ben Berwick, and the readers of this blog. His unhealthy, creepy obsession with me is well known. No matter how many times I tell Thiessen that I am NOT interested in hooking up with him, he continues to write about me, uttering lies and half-truths as effortlessly as does disgraced congressman George Santos.
I have repeatedly talked about the reasons why I deconverted. I have, time after time, responded to Evangelical apologists who, much like Thiessen, think they know the "real" reasons people walk away from Christianity; people who attack the character of the deconverted and malign their motives for doing so. These scurrilous attackers of former Evangelicals often pontificate on the whys of deconversion without meaningfully and extensively talking to those who have actually deconverted. God condemns such behavior in Proverbs 18:13: Answering before listening is both stupid and rude.
Thiessen says that people like me are excuse-makers; that we blame others for our loss of faith; that the church hurt us, so we left, with feelings hurt, never to return. Thiessen later says that those who leave Christianity are selfish, people who want their way, and when they don't get it, they take it out on God and punish him (there's some of that famous Thiessen theology). Thiessen suggests that people who deconvert are superficial Christians or even fake believers; that they never cared much for God or gave credit to him (for what, exactly, Thiessen doesn't say).
I ask you, dear readers, do Thiessen's reasons for why people leave Christianity reflect why you are no longer a Christian? Thiessen knows better. He knows exactly why people deconvert. I have explained this to him numerous times in my writing and email responses to him. It is evident, at least to me, that Thiessen is not an honest interlocuter; that his goal is to demean and defame, and not honestly and humbly understand.
What do you think about Thiessen's post? Please share your erudite thoughts in the comment section. I am sure "Dr." Tee will appreciate your responses. I would suggest that you comment on his blog, but he doesn't allow comments.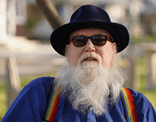 Bruce Gerencser, 65, lives in rural Northwest Ohio with his wife of 44 years. He and his wife have six grown children and thirteen grandchildren. Bruce pastored Evangelical churches for twenty-five years in Ohio, Texas, and Michigan. Bruce left the ministry in 2005, and in 2008 he left Christianity. Bruce is now a humanist and an atheist.
Connect with me on social media:
You can email Bruce via the Contact Form.
Your comments are welcome and appreciated. All first-time comments are moderated. Please read the commenting rules before commenting.