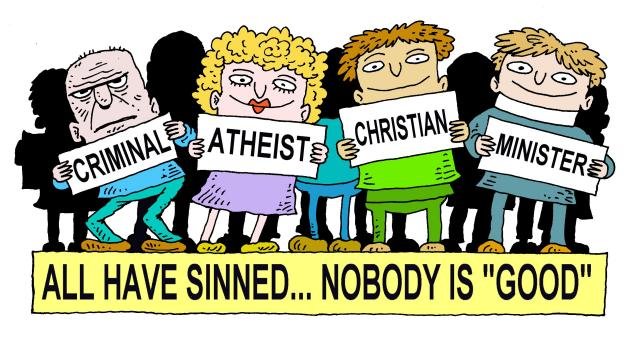 Evangelicals believe that all humans are born sinners, at variance with God, and headed for Hell unless they repent of their sins and put their faith and trust in the atoning work of Jesus Christ and his resurrection from the dead. Evangelicals get their view of humanity straight from the Bible — a collection of books they believe is the inspired, inerrant, infallible Word of God. In their minds, the Bible is different from all other books. Divine in nature, perfect, and true, the Bible reveals to us God, the "human condition," and what all of us must do to have right standing with the Christian deity and avoid eternal damnation in Hell. According to Evangelicals, atheists and other non-believers deliberately reject the truths of the Bible because they desire to live sin-filled lives. Never mind the fact that Evangelicals also live sin-filled lives. You see, they have an out — Jesus. No matter what terrible things they do, forgiveness and restoration are but a prayer away:
If we [Evangelicals] confess our sins, he [Jesus] is faithful and just to forgive us our sins, and to cleanse us from all unrighteousness. (I John 1:9)
No bad behavior (sin) is beyond God's forgiveness. King David committed adultery and had the woman's husband murdered so he could have her for his own, yet he is called a "man after God's own heart." (Acts 13:22) We need only turn to the modern-day fall-from-grace/forgiveness stories of men such as Ted Haggard, Jimmy Swaggart, Jim Bakker, David Hyles, and countless other "fallen" Evangelical preachers to see how the process works. Those of us who were once Evangelicals have first-hand experience with the sin/forgiveness, wash/rinse/repeat process by which we procured continued right-standing with God. Daily and twice on Sundays, we confessed our sins to God and asked for his complete, total, buried-in-the-deepest-sea forgiveness:
He will turn again, he will have compassion upon us; he will subdue our iniquities; and thou wilt cast all their sins into the depths of the sea. (Micah 7:19)

Come now, and let us reason together, saith the Lord: though your sins be as scarlet, they shall be as white as snow; though they be red like crimson, they shall be as wool. (Isaiah 1:18)

The Lord is merciful and gracious, slow to anger, and plenteous in mercy. He will not always chide: neither will he keep his anger for ever. He hath not dealt with us after our sins; nor rewarded us according to our iniquities. For as the heaven is high above the earth, so great is his mercy toward them that fear him. As far as the east is from the west, so far hath he removed our transgressions from us. (Psalm 103:8-12)

There is therefore now no condemnation to them which are in Christ Jesus, who walk not after the flesh, but after the Spirit. (Romans 8:1)
And each and every time, God — or so we believed anyway — granted us forgiveness. Catholics had the confessional, and we Evangelicals had the altars, prayer meetings, and devotional times. In fact, forgiveness was so readily available that all we had to do is send up a quick prayer to Jesus. We could be at work, driving our cars, or cleaning up after masturbating to porn; it mattered not. All God required was for us to say "my bad, Jesus, I'm sorry, please forgive me." And just like that our sin slates were wiped clean. Awesome, right?
Evangelicals believe they are hopeless and helpless apart from God's grace. While Evangelicals often present themselves as superior to atheists, agnostics, Buddhists, Muslims, pagans, and other non-believers, when confronted with their own "sinfulness" they reply, "I'm just a sinner saved by grace!" According to their doctrine, the only thing that keeps Evangelicals from spending eternity in the Lake of Fire with Hitler, Mother Teresa, Christopher Hitchens, Barack Obama, and Bruce Gerencser is the moment in time they repented of their sins and asked Jesus to save them. Evangelicals see themselves as sinners who just so happened to have pushed the right button on the Eternal Hell Fire Insurance Policy® Dispensing Machine.
The Apostle Paul in Romans 3 reminded Christians and unbelievers alike of their true nature. Here's how Paul describes the "human condition":
None of us is righteous (vs. 10)
None of us understands (vs. 11)
None of us seeks after God (vs. 11)
None of us does good (vs.12)
All of us have sinned and come short of God's glory (vs. 23)
Paul goes on to describe the "human condition" this way:
Their throat is an open sepulchre; with their tongues they have used deceit; the poison of asps is under their lips: Whose mouth is full of cursing and bitterness: Their feet are swift to shed blood: Destruction and misery are in their ways: And the way of peace have they not known: There is no fear of God before their eyes.
Paul in Romans 3 and other places reminds Christians that the only difference between them and non-Christians is faith (Ephesians 2:8,9 and Hebrews 11); faith in Jesus as the propitiation for sin (Romans 3:25 and 1 John 2:2); faith in the God-man who died on the cross for our sins (Romans 5); faith in the Jesus who promised to forgive us of every sin — past, present, and future.
Is it any wonder Evangelicals live such schizophrenic lives? On one hand, God commands them to live morally, ethically, and righteously, and even commands them to be as perfect as their Father in Heaven is perfect (Matthew 5:48). Yet, on the other hand, they are repeatedly reminded by Paul and other Biblical authors that it is impossible for them to keep, follow, and practice that which God commands. Thinking this way leads to all sorts of emotional stress. Evangelicals may be "sinners saved by grace," but their behavior suggests that their lives are long on sin and short on grace. One need only read the Black Collar Crime series to see how such thinking affects Evangelicals. So-called men of God — pastors, deacons, evangelists, Sunday school teachers, and worship leaders — praise the wonders of God's grace on Sundays, all while they are fucking their secretaries, sexually abusing boys and girls, seducing church teenagers, and otherwise engaging in behaviors that most people consider wrong. "Oh Bruce," Evangelical apologists say, "these stories are the exception to the rule!" Really? You might want to read Is Clergy Sexual Infidelity Rare? before defending God's spokesmen. You might also want to talk to pastors who are willing to be honest about their own "sinful" behaviors and that of their congregations — that which has been confessed to them in secret.
"Fine, Bruce," Evangelicals say. "Are atheists any better?" To that question I reply, yes and no. Atheists don't believe in "sin." Most atheists reject Evangelical moralizing about "sin" and instead focus on good and bad behavior. While atheists certainly have smaller "sin" lists, they do believe that certain behaviors can be categorized as good or bad, along with many behaviors being neither good or bad. Most atheists are humanists, and their humanism gives them a moral, ethical, and practical foundation for living one's life. Atheists recognize that some of their brethren are despicable human beings, every bit as bad as the men of God detailed in the Black Collar Crime series. They also recognize that humans are capable of doing good without the help of imaginary deities.
If atheists reject the Christian view of the "human condition" and forgiveness, how then do they deal with bad behavior? I can't speak for all atheists, but I can share how I and other atheists I personally know handle personal acts of bad behavior. When we act inappropriately or cause harm to others, we confess it, ask forgiveness from whomever we harmed, and if necessary, make restitution. We recognize that none of us is perfect, and we can, at times, say and do things that hurt others. We own our behavior and vow to act better going forward. If our bad behavior has caused material or social harm, we make amends. One of the reasons I write about the things I do is because I believe I have a moral and ethical responsibility to own past bad behaviors; that the harm I caused to congregants must be atoned for; that the harm I caused to my wife and children must be made right. Simply put, wrongs must be made right. I can't undo the past, but I can own past bad behaviors, and vow to be a better man, husband, and father. I will, most certainly, fail in this endeavor, but each day of my life I will try to be a better person than I was the day before. No magical wiping of the slate clean, no religious incantations to a mythical God, just an honest, heartfelt commitment to being good. Is that not all that any of us can do?
To Evangelicals I say, leave your harmful religion behind. Humanism provides a far better way to live one's life. And it's a lot less stressful and a hell of a lot more fun.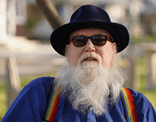 Bruce Gerencser, 65, lives in rural Northwest Ohio with his wife of 44 years. He and his wife have six grown children and thirteen grandchildren. Bruce pastored Evangelical churches for twenty-five years in Ohio, Texas, and Michigan. Bruce left the ministry in 2005, and in 2008 he left Christianity. Bruce is now a humanist and an atheist.
Connect with me on social media:
You can email Bruce via the Contact Form.
Your comments are welcome and appreciated. All first-time comments are moderated. Please read the commenting rules before commenting.