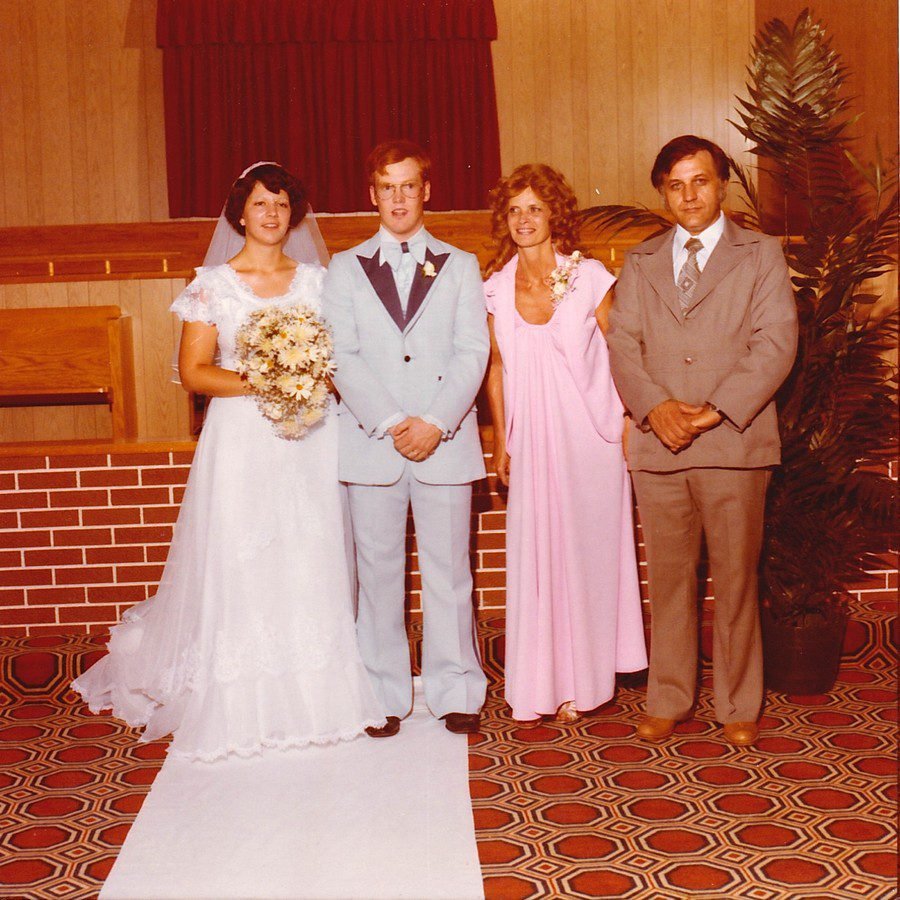 It is a hot July day in 1978. Soon Bruce Gerencser and Polly Shope will be married at the Newark Baptist Temple — an Independent Fundamentalist Baptist (IFB) church pastored by Polly's uncle Jim Dennis (please see The Family Patriarch is Dead: My Life With James Dennis). Her father, Lee Shope is the church's assistant pastor.
Bruce and Polly faced much adversity from Polly's mom leading up to their big day. Polly's mom didn't like Bruce, so she had spent the past two years trying to ruin their relationship. She miserably failed, and today was the day when a youthful, immature twenty-one-year-old Bruce and an equally youthful, naive nineteen-year-old Polly would stand before God, family, and friends and pledge their troth.
Bruce and Polly asked Mark Bullock, a fellow student at Midwestern Baptist College, to be their soloist. He agreed. The couple asked Mark to sing two songs: We've Only Just Begun by The Carpenters and Wedding Song (There is Love) by Noel Paul Stookey. Both were secular songs.
Little did Bruce and Polly know that secular songs were not permitted at the Baptist Temple. They had a niggling idea that maybe, just maybe they were pushing the envelope with their song choices, but no one asked, so Mark sang the songs Bruce and Polly requested. Afterward, they learned that Polly's uncle and others in the church were outraged over their use of "worldly" music.
This was their first act of defiance.
Over the next forty-five years, Bruce and Polly faced a plethora of contentious moments with Polly's mom, Jim Dennis, and the Newark Baptist Temple. Bruce and Polly were Baptist Fundamentalists, but they never seemed to "fit." For a time, they attended the Baptist Temple. In 1981, they left the church to help Polly's dad start a new IFB church in nearby Buckeye Lake. Bruce and Polly would remain there until July,1983, when they moved thirty minutes south to start a new IFB congregation in Somerset. The couple would serve God hand in hand at Somerset Baptist for eleven years. Bruce and Polly moved to Texas in 1994, returning to the Newark area later that same year. As they licked their wounds from a vicious experience as co-pastor of Community Baptist Church in Elmendorf (please see I am a Publican and a Heathen — Part One), Bruce and Polly made the decision to not attend the Baptist Temple. Instead, they took their six growing children to Fallsburg Baptist Church, a nearby IFB church pastored by Bruce's best friend Keith Troyer. Needless to say, this move did not go over well with Polly's family. Yet another conflict added to the growing pile of conflicts between the couple and Polly's IFB family. Bruce and Polly were IFB, but it was becoming crystal clear that they intended to march to the beat of their own drum.
Seven months later, Bruce and Polly had their 14'x70′ mobile home moved to Alvordton, Ohio so Bruce could assume the pastorate of Olive Branch Christian Union Church. After a short stay at Olive Branch, Bruce and Polly started a new Baptist church five miles south of Alvordton in the rural community of West Unity. The church later dropped its Baptist name, renaming itself Our Father's House — a non-denominational congregation. They would remain there for seven years.
By now, Bruce was having serious health problems. After a short pastorate at a Southern Baptist church in Clare, Michigan, Bruce and Polly decided to move to Yuma, Arizona in hope that the weather there would help Bruce's pain and debility, His sister, married to a cardiologist, lived in Yuma at the time. While the couple thoroughly enjoyed their time in Yuma, the pull of family proved to be too much. Once again, Newark came into their lives. The couple moved back to Newark, thinking Polly's mom and dad needed their help. Unfortunately, Polly's parents didn't want their help.
Bruce and Polly spent seven months in Newark, attending various Christian churches, none of which were IFB. Their unwillingness to attend the Baptist Temple caused more conflict with family. One preacher, Art Ball, wrote Bruce and told him, "Bruce, you know there is only one church in town, the Baptist Temple." Bruce replied that there was a lot of family water under the proverbial bridge that Art knew nothing about, so, no, they would not be attending the Baptist Temple.
Bruce and Polly left Newark in July 2005 and moved back home to rural northwest Ohio so they could be close to their children. In 2007, they bought a home in Ney, Ohio, where they live to this day.
Over the past fifteen years, Bruce and Polly have returned to the Baptist Temple four times for funerals: the death of Jim Dennis (Polly's uncle); Polly's dad; Linda Dennis (Polly's aunt); and several weeks ago, Polly's mom. Each visit brought memories of family conflict and trauma. Good times too, to be sure, but no amount of good can wipe away the harm done by Polly's IFB family. It is what it is.
Bruce and Polly knew Mom's funeral would be a difficult time for them — and it was, and remains so to this day. Much ugliness happened at the end of Mom's life; ugliness that destroyed what little relationship they had left with their IFB family and the Baptist Temple.
Bruce and Polly, now forty-five years older than when they recited their vows on that hot summer day long ago, were the first people to sit down in the church auditorium. No one from the church, outside of Mom's best friend and Polly's cousin and her IFB preacher husband, spoke to them. Sitting all around them were people who had known them for decades. Not one word of sympathy from anyone. Even the church's pastor, Mark Falls, ignored the grieving couple. Bruce and Polly knew why, but still, why was there no compassion? That's for the fine Christian folks at the Baptist Temple to answer.
Perhaps Bruce and Polly's chickens had come home to roost. The funeral was the period at the end of a forty-five-year sentence.
At the appointed time, Pastor Falls mounted the pulpit and began the service — five minutes about Polly's mom and thirty-five or so minutes about Jesus. Tis what the aged atheists expected. Bruce and Polly had talked about how to handle the IFB sermon they knew was coming. Both figured they could grit their teeth one last time and get through the sermon. Sure enough, Falls preached about Hell, Heaven, salvation, and death. In a sermon riddled with theological errors, Falls turned his attention to the unsaved in the room. Everyone in attendance was Christian, except for the Gerencser children and their spouses, grandchildren, and Grandpa and Nana. It was clear who Falls was preaching at. In the closing moments of his diatribe, Falls fixed his eyes on Bruce, the outspoken atheist and the pain in his ass, and preached at him. In a split second, forty-five years of trauma came bubbling to the surface. Bruce, sitting three rows from the front, said, loud enough for the bully in the pulpit to hear, Bullshit! Preach at someone else! (As of the publishing of this post, the church has removed the video of the funeral from YouTube.)
Defiance. That's what Bruce and Polly Gerencser will be remembered for by the Newark Baptist Temple, Pastor Falls, and their IFB family. Why couldn't we just believe in the tribal deity and play by the rules? Why did we have to be so stubborn? Why couldn't we just submit and obey?
Previous posts about our IFB family and the Newark Baptist Temple
Sometime this year, I plan to write a series titled How the Newark Baptist Temple Affected Our Lives for Sixt Years. Stay tuned.
Bruce Gerencser, 66, lives in rural Northwest Ohio with his wife of 45 years. He and his wife have six grown children and thirteen grandchildren. Bruce pastored Evangelical churches for twenty-five years in Ohio, Texas, and Michigan. Bruce left the ministry in 2005, and in 2008 he left Christianity. Bruce is now a humanist and an atheist.
Connect with me on social media:
Your comments are welcome and appreciated. All first-time comments are moderated. Please read the commenting rules before commenting.
You can email Bruce via the Contact Form.