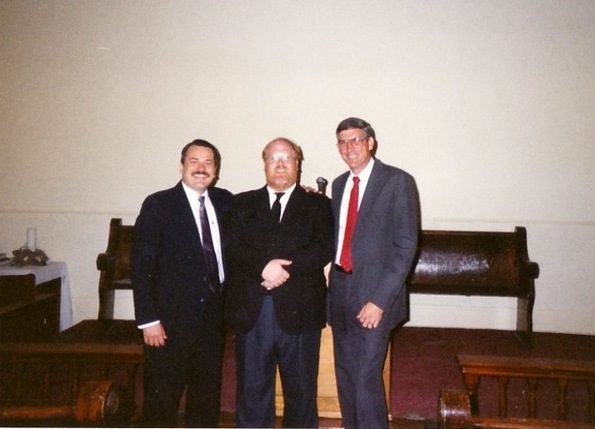 Moreover if thy brother shall trespass against thee, go and tell him his fault between thee and him alone: if he shall hear thee, thou hast gained thy brother. But if he will not hear thee, then take with thee one or two more, that in the mouth of two or three witnesses every word may be established. And if he shall neglect to hear them, tell it unto the church: but if he neglect to hear the church, let him be unto thee as an heathen man and a publican. (Matthew 18:15-17)
Should church members be allowed to leave the church without permission? Bobby Jamieson, writing for 9Marks, answered the question this way:
…I think the biblical answer is a resounding "No." Here's why: When your church made that person a member, you were declaring to the world that this person belongs to the kingdom of Jesus. By regarding this person as a member, your church affirmed that he is indeed a "brother" in Christ…

…So what's the problem? Hebrews 10:24-25 commands us not to forsake assembling together. Therefore, any professing Christian who quits going to church is living in habitual, unrepentant sin. And the way a church addresses unrepentant sin is not by merrily sending that person on his way, but by removing their affirmation of "member" and "brother". When the player quits showing up on game day, the team has to take back his jersey.

So pastors, just as you pay careful attention to the front door of your church, keep a close eye on the back door, too. Make sure that the sheep can't simply open the gate themselves and disappear from sight. Refuse to allow people to resign into thin air, both for the sake of your church's witness to the gospel and for the good of every single sheep—especially those who tend to wander off."…
The purpose of the aforementioned quotation will become readily apparent once you have read this series.
In July of 1983, I started the Somerset Baptist in Somerset (later Mt. Perry), Ohio. I pastored the church until March of 1994. In the late 1980s, I became quite disenchanted with the Independent Fundamentalist Baptist (IFB) church movement. I came to the conclusion that the IFB gospel was a bastardized, corrupt gospel that made no demands of those who said they were followers of Jesus Christ.
Through the writings of Charles Finney, I came to see that repentance — a turning FROM sin and a turning TO Christ, — was an essential component of the Evangelical gospel. In 1989, I read John MacArthur's book, The Gospel According to Jesus, and this fundamentally changed my soteriology (theology concerning salvation).
I began to read books written by the Puritans: men such as Thomas Watson and John Owens. I also read the works of men such as John Bunyan, Charles Spurgeon, JC Ryle, AW Pink, Andrew Fuller, and Martyn Lloyd-Jones. I also began listening to Calvinistic preaching tapes from the Chapel Tape Library.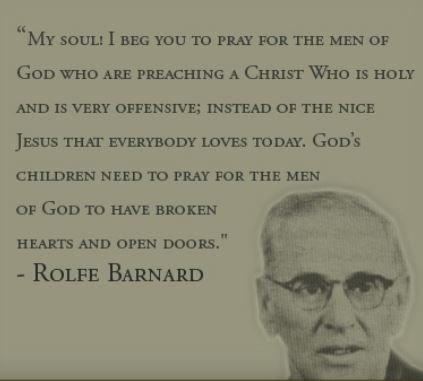 One preacher's taped sermons really got my attention, those of the late Rolfe Barnard. Barnard was a fiery Southern Baptist preacher of the Calvinist gospel. I listened to his sermons over and over, and it became clear to me that I had been preaching a false gospel. I also felt that my college professors and mentors had lied to me. Why had they never shared with me the "sovereign grace" gospel?
In a sermon titled, Seeking the Lord, Rolfe Barnard said:
. . .This generation would like to get to heaven, but they just haven't got time. They had time to make a profession and join a church, but they just haven't got time to seek the Lord. When I started to preach 36 years ago, people would come hear me preach and I could keep a crowd for a while, and in that way somebody would listen to the Word of God. And since no man has saving faith, and God has to give it to men, He gives it as men hear His Word, and after a while they say "that's God talking".

You must hear the law of God preached long enough for God to reveal to you that you are a guilty lost sinner before you will be interested in hearing the good news of the Gospel of Christ. If God can get you lost, He will save you. If God can get you to sit still long enough to let a little of His Word sink in and grant you repentance and faith, He will save you. If you don't have time to seek the Lord till He is pleased to reveal Himself to you and speak peace to you, why you will just live on a little while, then go to hell. You haven't had time to hear what is being said.

A personal confrontation of the soul by a gracious redeeming God; this leads to repentance and faith, this leads to the terminating of a self-centered existence, and the beginning of a Christ indwelled life. You will lay down the arms of rebellion and run up the white flag of surrender. That's what it means to be saved. I don't know how long it will take you to get there, but it would be time well spent if you got to Christ . . .
In a sermon titled, A Lack of Repentance Preaching has Filled Modern Churches with Hypocrites, (link no longer active) Barnard said:
. . . I am dead certain that the mess we are in religiously and spiritually now, the love-sick so-called "church" people, the sickly sentimental crop of so-called "believers" who are enthusiastic about a fair or a frolic but are conspicuously absent from prayer meeting — I am sure that this is due to the fact that our churches are full of people who are not born right . . .

Somehow or another they got into our professing churches without ever having come face to face with the holy demands of a Holy God, and being brought in the face of those demands to the place of throwing up all hands of self-effort and self-confidence and turning one's self over lock, stock and barrel to the Sovereign Christ. Somehow or another they have missed the main business. Somehow or another they got in what we call the church without turning in abhorrence and in utter conviction against sin, without turning from their sin to obedience unto God.

And, of course, their lives fail! If we dodge this step [repentance], we miss out on salvation! . . .
As a result of the aforementioned books and tapes, I embraced five-point Calvinism. At the time, I thought God had taken the blinders off my IFB-darkened eyes. In classic, there is no middle ground, charge Hell with an empty squirt gun fashion, I became a vocal proponent of Calvinism. This change in soteriology, and later a change in ecclesiology (doctrines concerning church polity, discipline) and eschatology (doctrines concerning end times), destroyed whatever connections I had with pastors and churches in the IFB church movement.
I spent my last five years as pastor of Somerset Baptist Church radically changing and restructuring the church. I stopped giving altar calls, and I went from preaching topical/textual sermons to preaching expository sermons. Instead of choosing a new and different text each week, I began preaching systematically through various books of the Bible. I preached over one hundred sermons from the gospel of John.
It was not uncommon for me to spend several full days each week studying and preparing a sermon. This study and preparation became the focus of my ministry. Calvinism appeals to people such as myself, those who love reading and enjoy intellectual pursuits. I also came to see that I had a duty to reach the members of Somerset Baptist Church with the TRUE gospel, the gospel of sovereign grace. I feared that many of the church members were unsaved. I spent the first half of my time at Somerset Baptist getting congregants saved, and I spent the last half trying to get them unsaved.
I began traveling to preaching meetings at Calvinistic churches. At these meetings, I met men such as Don Fortner and Henry Mahan. Mahan would later come to Somerset Baptist and hold a meeting. I also began associating with Reformed Baptist pastors. Men such as Al Martin and Walt Chantry were prominent voices in the Reformed Baptist movement, as were men associated with the Southern Baptist Founder's Group (now called Founders Ministries). Al Mohler is a prominent member of the Founder's Group.
Every month, I would travel seventy miles to a General Association of Regular Baptist Churches (GARBC) church in Mansfield, Ohio, pastored by Mark Furman, so I could attend a meeting of like-minded Calvinistic pastors. This meeting was called The Pastor's Clinic. Several pastors would present papers on a particular theological subject, we would discuss the papers, and then eat lunch before heading for home. I found the meetings intellectually stimulating, and they helped assure me that the Calvinistic gospel was the TRUE gospel.
Under my leadership, Somerset Baptist Church began a tape lending library similar to that of the Chapel Library. We sent preaching tapes free of charge to anyone who requested them. I also began publishing a monthly newsletter titled, The Sovereign Grace Reporter. This newsletter was sent to hundreds of Calvinistic and non-Calvinistic pastors. The newsletter incited rage among my non-Calvinistic friends and their outrage ruined a fifteen-church Youth Fellowship I had started years before. I knew that the newsletter would provoke some of the pastors, but I didn't care. I thought, they need to hear about the TRUE gospel.
I lost almost all of my professional connections, save a friendship I had with Keith Troyer and another (ironically) with Polly's uncle James (Jim) Dennis. At the time, Keith was pastor of the Fallsburg Baptist Church in Fallsburg, Ohio and Jim was the pastor of the Newark Baptist Temple in Heath Ohio.
Jim Dennis was not a five-point Calvinist in the classic sense of the word, but his soteriological beliefs were closer to the Calvinistic position than the one-point Calvinist/Arminian position of the IFB church movement. Keith Troyer was a young pastor when I met him. I am about ten years older than he is. I began to give Keith books written by Calvinistic writers, and, for a time, he was greatly influenced by me and the books I gave him. Many of my former ministerial colleagues believe that I had a negative influence on Keith. Whatever influence I may or may not have had, Keith is not a Calvinistic pastor. He currently pastors Grace Baptist Church in Greenville, Pennsylvania. With both of these men, I could freely talk about Calvinism. Both men would later come and preach for me, not only at Somerset, but at Our Father's House in West Unity, Ohio (which was originally named Grace Baptist Church).
Through the publication of the Sovereign Grace Reporter, I came into contact with men such as Andy Sandlin and Pat Horner. Both Sandlin and Horner were originally part of the IFB church movement. Sandlin, for many years, was associated with Rousas Rushdoony and the Chalcedon Foundation. Horner was a sovereign grace Baptist pastor who pastored Community Baptist Church in Elmendorf, Texas.
While Andy and I had a much more casual relationship, Pat and I began to develop a friendship. Over time, Pat become comfortable enough with me that he invited me to speak at his church's annual Bible conference in March of 1993. At this conference, I came into contact with numerous sovereign grace Baptist pastors. Both Polly and I were overwhelmed by the friendliness and vibrancy of Community Baptist Church.
Over the course of the summer of 1993, Horner and I continued to keep in touch. Pat eventually asked if I would consider coming to Elmendorf to be the co-pastor of the church. He knew I was beginning to "feel" that my work in Somerset was done and that perhaps God was leading me to go somewhere else. He also knew that I was gifted when it came to evangelism, and he hoped I could help with planting new churches, along with starting a Christian school. After considering Pat's offer for several weeks, I came to the conclusion that God wanted me to stay in Somerset. I called Pat and declined his offer.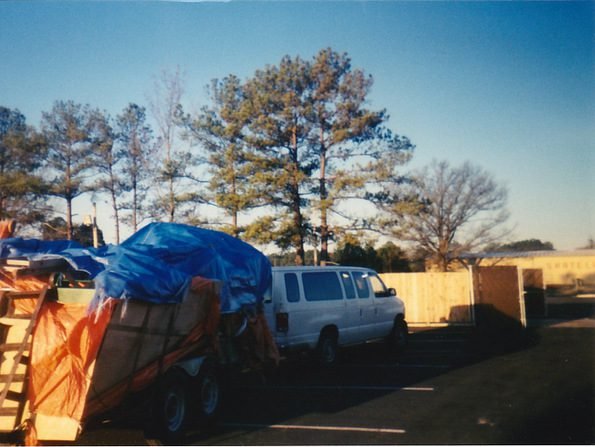 A few weeks later, I was sitting in my office and suddenly a flood of emotion came over me. I began weeping uncontrollably. My thoughts turned to the church in Texas and Pat's offer. And, in that moment, I changed my mind and decided to accept the offer to become the co-pastor of Community Baptist Church in Elmendorf, Texas.
I called Pat and asked him if the offer was still open. He said, yes, and a few weeks later Polly and I drove to Texas to meet with the church elders and the church family. They overwhelmingly agreed that I should come to Texas and become the co-pastor of the church. In March of 1994, men from Community Baptist Church came to Ohio, helped us pack up our furniture and goods, and we moved 1,400 miles to a new and exciting ministry opportunity.
What should have been a wonderful time for my family and me, over the course of seven months, turned into a disaster that resulted in me resigning from the church and Pat Horner and the church excommunicating me.
To this day, Pat Horner and the Community Baptist Church (now pastored by Kyle White) consider me unsaved — a publican and a heathen.
In the next post in this series, I will discuss how we settled into the work of the ministry at Community Baptist, and how my conflicts with Horner ultimately led to me resigning, being excommunicated, and moving my family back to Ohio.
Part One — Part Two — Part Three — Part Four — Part Five
Bruce Gerencser, 66, lives in rural Northwest Ohio with his wife of 45 years. He and his wife have six grown children and thirteen grandchildren. Bruce pastored Evangelical churches for twenty-five years in Ohio, Texas, and Michigan. Bruce left the ministry in 2005, and in 2008 he left Christianity. Bruce is now a humanist and an atheist.
Connect with me on social media:
Your comments are welcome and appreciated. All first-time comments are moderated. Please read the commenting rules before commenting.
You can email Bruce via the Contact Form.