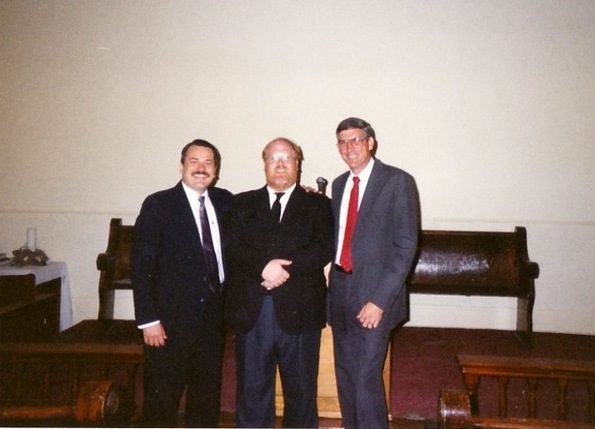 Pat Horner and I had a common theology: Calvinism. Sovereign Grace Baptist Calvinism, to be exact. Outside of that, we were very different from one another. From the way we preached to how we interacted with parishioners, we were as different as night and day. I thought it was important for me to get to know each family in the church, so I did a lot of in-home visiting. When someone was in the hospital, I would visit them. When someone had a family member die, I would attend the funeral. Pat did none of these things. He was much more standoffish than I was. This is not a criticism of him as much as it is an example of how different our personalities were.
This difference began to be a problem when parishioners started to favor me over Pat. After services, I would talk theology with the men of the church, and they found me easy to talk to. It wasn't long before Pat began to criticize me for being too familiar with parishioners. He told me that it was important to maintain a space between pastor and parishioner. I was told the same thing in college: the pastor can't be friends with anyone in the church because it will hinder his ability to minister.
Both Pat and I preached expositionally — preaching verse-by-verse, in context — but our styles were very different. I tended to be more human, earthy, and at times humorous in my preaching. Pat tended to be more dogmatic and rarely used illustrations. To him, it was all about doctrine. While I thought doctrine was important, I knew that it was also imperative for me to make a human connection with parishioners. More than once, Pat criticized my preaching for being too light or not doctrinal enough. Again, I suspect this had to do with the fact that, personality-wise, we were very different from one another. I am trying to be charitable to Pat, though I doubt he would grant me the same.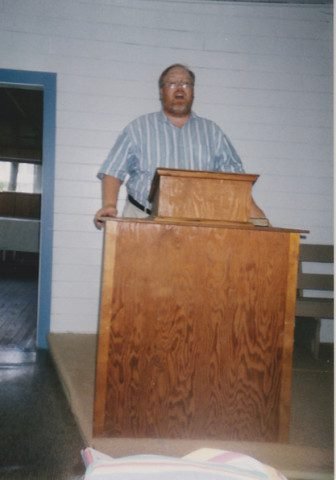 After a few months, I gathered up a few willing church members and we started new Sovereign Grace Baptist churches in Floresville and Stockdale. Every Sunday morning, we would hold a service at Floresville and then drive 20 miles to Stockdale and hold another service. We would then eat lunch together, then hold an evening service at the Floresville church. During the week, I would take groups from Community down to Floresville and Stockdale, knock on doors, evangelize, and invite people to church. While we worked hard to get the churches established, neither church did well attendance-wise.
If you have been reading this series you can likely intuit that starting these churches and spending Sundays away from Community allowed me to distance myself from Horner.
I also started a street preaching ministry and a nursing home ministry. Being a workaholic, I was busy, and I loved it. Later in the summer of 1994, I helped the church start a Christian school. There were fifty children in the school the first year. Many of the church families homeschooled before the school was started. Several teachers were hired, along with a school principal. Once the school was up and running, I had little to do with it.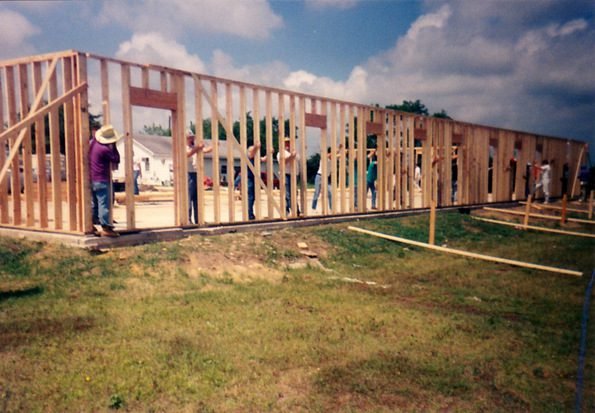 During this time, Community built a new 10,000-square-foot building. Horner had a construction background, so he was well suited for overseeing the project. A group of Calvinistic Southern Baptist church builders from Louisiana came in and helped frame, roof, and side the building. A group of undocumented immigrants poured the concrete slab, and various men in the church took care of the plumbing, electric, and HVAC.
The busy-ness of planting churches, starting a school, and building a new building helped me distance myself from the increasing conflict between Horner and me. It seemed like every time we got together there was conflict, and we bickered like two old married people. Neither of us was a shining example of temperance, deference, or respect. In the fall of 1994, I realized that things were not going to work out for me at Community, so I talked to Horner and the elders about it. Things quickly went south — like Mexico-City-south — and it became evident to me that Horner and I were headed for a messy divorce.
I told Horner that we needed to sit down and talk. I asked John Sytsma, one of the elders, to join the meeting. John did his best to bring peace, but it was not to be. We got into an angry shouting match, and I finally told Pat to leave my office. The next day, Pat gathered the elders together at John Sytsma's home and had a secret meeting where I was the topic of discussion. I found out about the meeting and decided to show up. I was still co-pastor of the church, and I should have been included in the meeting.
During the meeting, Horner and I exchanged angry words and he told me that I had to stop pastoring the churches in Floresville and Stockdale and come and sit in the services at Community for a while. He told me that I was not fit to be a pastor. I suggested that I was willing to leave the church and pastor one of the new churches I had started, but Horner would have none of it. Finally, when it became apparent Horner had his mind made up, I said, Fine, I resign. Horner replied, You can't resign without our permission. My last words to him were this: Really? Watch me. A few days later, Polly and I packed everything up in a U-Haul truck and we moved back to Ohio. As we were driving down the lane from our home, the church was holding a special meeting to deal with the "Bruce Gerencser problem." Of course, Horner was the moderator of the meeting.
Several church families begged us to stay. Tim Conway had me come over to his home to talk about the matter. Conway suggested that I stay and start a new church; that several families would be willing to leave Community with me and start a new work. While I was flattered by Conway's offer, I told him that I could not be part of anything that caused a church split.
Shortly before I left, John Sytsma came to me and suggested that perhaps Horner should be the one to go. But, again, I didn't want to do anything that caused further harm to the church. Weeks later, all those that were in my corner when we moved went over to Horner's side. Imagine what would have happened to my family and me had we stayed. I knew that nothing I said or did would make a difference. As the old gambler said, You've got to know when to hold 'em, and know when to fold 'em. It was definitely time for me to fold my hand.
I am often asked, What happened? I think what happened was that two strong-willed men with very different personalities wanted to own the same piece of real estate. Since we both were quick-tempered, conflict came easily. I regret the conflict, but my time as co-pastor of Community Baptist Church taught me a lot about myself, and I left Texas a very different man. For the first time, I saw what I had become, and I didn't like what I saw. It was at this point that my Fundamentalism began to die. It was a slow death, but this was the moment when I began to see what Fundamentalism had done to me, and I knew that I needed to change. Unfortunately, Horner is still a Fundamentalist Calvinistic Baptist. In 1998, Horner left Community, started several churches, and last I heard he was working a secular job and doing mission work in (Nepal?) India. Speaking of Horner (and John Sytsma), Lynn Tagawa, editor of A Stone of Remembrance: The 35th Anniversary of Community Baptist Church (2018), states:
During this time [2003-2008] the church experienced the great loss of Pat Horner and John Sytsma from its membership, along with the long time responsibility of overseeing their missionary endeavors.
Why they left is not mentioned. Sytsma is currently an elder at Tim Conway's church — Grace Community Church in San Antonio.
In my next post in this series, I want to write about how the church dealt with the "Bruce Gerencser problem."  I also want to write about the vicious discipline the church (Pat Horner) used to manipulate and control parishioners.
Part One — Part Two — Part Three — Part Four — Part Five
Bruce Gerencser, 66, lives in rural Northwest Ohio with his wife of 45 years. He and his wife have six grown children and thirteen grandchildren. Bruce pastored Evangelical churches for twenty-five years in Ohio, Texas, and Michigan. Bruce left the ministry in 2005, and in 2008 he left Christianity. Bruce is now a humanist and an atheist.
Connect with me on social media:
Your comments are welcome and appreciated. All first-time comments are moderated. Please read the commenting rules before commenting.
You can email Bruce via the Contact Form.