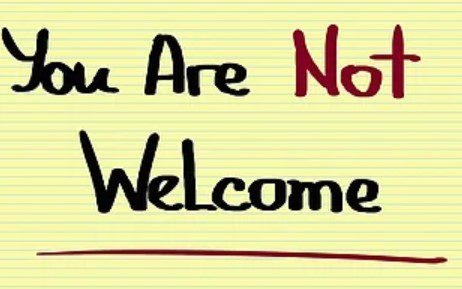 Now I beseech you, brethren, mark them which cause divisions and offences contrary to the doctrine which ye have learned; and avoid them. For they that are such serve not our Lord Jesus Christ, but their own belly; and by good words and fair speeches deceive the hearts of the simple. (Romans 16:17-18)
Paul wrote the verses above to the Church in Rome, telling them that they should "mark" those who were causing doctrinal divisions and offenses. What does the word "mark" mean? The word means to point out or pay attention to; to make congregants aware of those in their midst that do not serve the Lord Jesus Christ; those who with good words and fair speeches deceive simple people.
Two thousand years later, these verses have taken on a different meaning, especially among Evangelical Calvinists.
In Genesis 4, we find the story of Cain and Abel, especially the part where Cain murdered his brother Abel. In verse 15, God tells Cain that he was going to give him a "mark" to keep people from killing him. Some Evangelicals believe that God gave Cain black skin to differentiate him from others. Other Evangelicals believe the mark was some sort of birth defect or tattoo. Regardless, the mark was meant to make him highly visible to others.
Modern-day Evangelical Calvinists "mark" disobedient, heterodox, or heretical congregants and preachers by invoking church discipline:
 Moreover if thy brother shall trespass against thee, go and tell him his fault between thee and him alone: if he shall hear thee, thou hast gained thy brother. But if he will not hear thee, then take with thee one or two more, that in the mouth of two or three witnesses every word may be established. And if he shall neglect to hear them, tell it unto the church: but if he neglect to hear the church, let him be unto thee as an heathen man and a publican. Verily I say unto you, Whatsoever ye shall bind on earth shall be bound in heaven: and whatsoever ye shall loose on earth shall be loosed in heaven. Again I say unto you, That if two of you shall agree on earth as touching anything that they shall ask, it shall be done for them of my Father which is in heaven. For where two or three are gathered together in my name, there am I in the midst of them. (Matthew 18:15-20)
There are four disciplinary steps detailed in this passage of Scripture:
When a person commits a trespass against you, go to him alone and discuss the matter
If he doesn't hear you, take two or three witnesses with you and discuss the matter again
If he still doesn't hear you and the witnesses, tell the church
If he refuses to hear the church, then the man must be excommunicated and considered a publican and heathen (an unsaved man)
When pastors and churches have disagreements with members whom they deem rebellious, out of the will of God, or otherwise doing or saying things that are considered contrary to what is right, some Evangelical churches initiate the church discipline process. I say "some" churches because most Evangelical preachers these days just marginalize and demean "rebellious" congregants, hoping they will leave and join a different church. None of the churches I grew up in ever exercised church discipline against an erring member. Only two churches I pastored disciplined disobedient church members. One church, Community Baptist Church in Elmendorf, Texas, used church discipline as a cudgel to beat members into submission. I witnessed people being excommunicated for everything from failing to attend to church to having beliefs considered heretical. When I resigned after seven months and returned to Ohio, my fellow co-pastor brought me in absentia before the church and kicked me out of the church. (But not Polly and our children because they were under the control of demons and not accountable for their behavior.) Why? I didn't ask the church's permission to resign. From that moment until today, Community Baptist considers me marked, a publican and a heathen. You can read more about this in the series I Am a Publican and a Heathen — Part One.
I pastored Somerset Baptist Church in Mt. Perry, Ohio for eleven years. We only disciplined one church member the whole time I was there: a married man who was having an affair. He denied the charges against him, and after following the procedure laid out in Matthew 18, I called a church meeting, laid out the verifiable evidence against him — i.e., catching him in the act making out with the woman in a grocery store parking lot and seeing his car numerous times at her home all night — and called for a church vote. The congregation, including his wife, voted him out of the church. He was, from that day forward, a "marked" man; someone that should be avoided.
In retrospect, I regret kicking him out of our church. All I saw was the act of adultery instead of the "why" behind the infidelity. What the man needed was counseling. What he got was ostracization and abuse. He and his wife later reconciled. I had the privilege of conducting his funeral a few years ago. A good man, a flawed man — aren't we all?
When churches and pastors "mark" fellow Christians, they do so to marginalize them and limit their influence over others. Far too often, church discipline is used by authoritarian preachers to keep congregants in line. When the church is your "life," it can be devastating to lose the most important thing in your life. Sometimes, only one family member is disciplined, causing untold harm to marriages and families. Imagine having a disagreement with your pastor, only to find yourself under church discipline, cut off from the church, your friends, and even your family. While practitioners of church discipline will tell you that it is meant to be "restorative," more often than not discipline is punitive. It causes harm, not healing. And who is always blamed for this failure? The disciplined church member. If only he had obeyed, repented, and bowed a knee to the church's and pastor's God-given authority all would be well. Instead, he will wander the earth as a "marked" man; a publican and heathen, doomed for the fires of Hell.
Bruce Gerencser, 66, lives in rural Northwest Ohio with his wife of 45 years. He and his wife have six grown children and thirteen grandchildren. Bruce pastored Evangelical churches for twenty-five years in Ohio, Texas, and Michigan. Bruce left the ministry in 2005, and in 2008 he left Christianity. Bruce is now a humanist and an atheist.
Connect with me on social media:
Your comments are welcome and appreciated. All first-time comments are moderated. Please read the commenting rules before commenting.
You can email Bruce via the Contact Form.