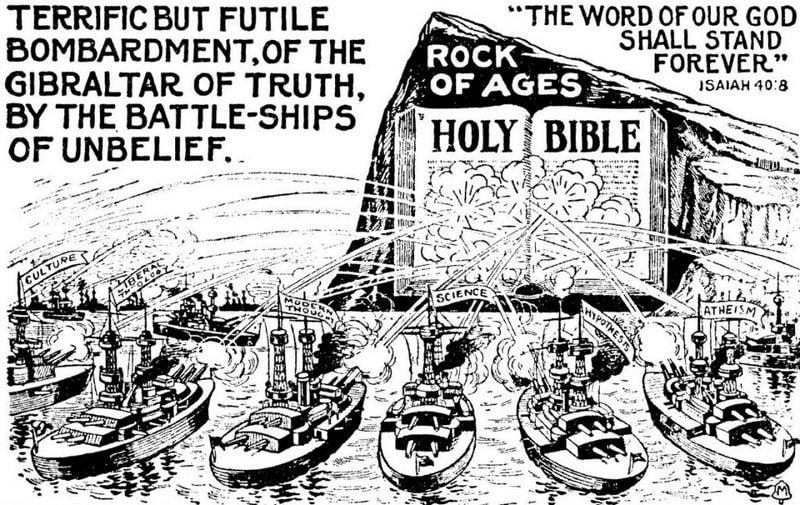 The Bible is certainly more than 3 words. What that word 'every' is telling you is that from Genesis to Revelation every word of the Bible came from the mouth of God. It did not come from the human writers God used but from God himself.
That means that the believer is to live by Genesis 1 all the way to Revelation 22. Those are the words that God has spoken to us. Those are the words we are to live by not what unbelieving science or scientists say but by what God told us in his divine book.
This also removes the option of living by interpretation. As Peter has told us, the word of God is not by private interpretation. We are to find the truth of what God is saying and live by that truth.
….
Private interpretation is not allowed with scriptures. That is one of the reasons why we have over 40,000 'Christian' denominations.
They do not live by every word that comes from God's mouth. Instead, they live by their own private interpretation or the words of unbelievers. It is time to change and get back to the truth of the Bible and get rid of all alternatives to what God has told us in the Bible.
We are to live by the words of God while we can still do science, archaeology, and study other fields of interest, those are mere tools and have no authority over God or his words. if you want to live for eternity with God, then live correctly by his words.
— Dr. David Tee, whose real name is Derrick Thomas Thiessen, TheologyArcheology: A Site for the Glory God, We Will Follow the Science, March 24, 2023
Thiessen believes that Christians should just believe the Bible as written, and never interpret its words and teachings. This is a common Evangelical belief. The Bible is considered different from all other written works. Its words are written by God, not men or women. While Evangelicals have a variety of explanations for how the Bible came to be, all of them believe the Biblical text is the words of God — inspired, inerrant, and infallible.
From 1995-2002, I pastored Our Father's House in West Unity, Ohio. One Sunday night, several new families came to visit the church. After the service, I struck up a conversation with one of the men. He asked me what I believed about a theological issue (I can't remember the exact subject). We chatted back and forth for a bit, and then I told him that I had a book that I would be glad to loan him on the subject. He replied, "No thanks. The Bible is all I need." These families didn't visit again. I suspect I was too liberal for them; you know, I read books.
Any time we read something, we are interpreting the words of the text. Words have meanings, and we must make interpretations to determine what written texts mean. Individual interpretations will vary, sometimes wildly so. I have been writing for sixteen years — millions of words. While I do my best to write in a way so people will clearly understand what I am trying to say, it is not uncommon for people to "interpret" my words differently from the way I intended. Since I am a living author, these misunderstandings can be easily corrected by just asking me, "Bruce, what did you mean when you said ___________?" On occasion, I will write something, send it off to Carolyn to be edited, and she will return it with a note that says "is this what you meant to say?" Sometimes, I reply, "yes, that's what I meant to say." Other times, I correct the text so it means what I intended to say. Carolyn has been my editor for years. She has a good handle on how I think and how I use certain words.
We, of course, don't have access to the authors of the sixty-six books of the Protestant Christian Bible. Even if I were to believe that "God" wrote the Bible, he's inaccessible. Ask him what he meant to say in this or that verse and his reply is silence. For the past 2,000 years, believers and unbelievers alike have been interpreting the Bible. The moment we read a word, verse, text, or book, we are interpreting it.
Thiessen decries the fact that there are thousands of Christian sects, each with their own interpretations of the Bible, yet is this not what he does in his own life? I question whether Thiessen is a member of a local Christian congregation. If he is, he is part of a church/sect that interprets the Bible a certain way. Theissen demands that people accept that the Bible says this or that. Is he not saying that everyone must interpret the Bible as he does?
Of course, Theissen denies that he interprets the Bible; he just believes it. Such thinking is absurd. To believe is to interpret. Otherwise, one ends up believing that one's beliefs perfectly align with what God (the Bible) says. This kind of teaching is dangerous, leading to all sorts of dangerous cultic beliefs. Evangelical misogyny, bigotry, racism, and hate rest on the notion that the words of God and the beliefs of God's chosen ones are one and the same. This is why interpretation is essential to understanding what the Bible possibly says.
The Bible is a collection of ancient religious texts written thousands of years ago. The authors are dead, so we can't quiz them about what they meant to say. All we can do is interpret their writings. We are blessed to have books, software, language tools, and commentaries to guide our understanding of the Bible. Thiessen uses these tools, so it is disingenuous for him to say he doesn't interpret the Bible. All of us are influenced by the authors we read. None of us is a blank slate free from external influence. Every book we read, every video we watch, and every podcast we listen to influences our thinking and understanding. (Even if someone says he is following the direction of the Spirit, he is interpreting what he perceives to be the Spirit's leadership.) All any of us can do is rationally and skeptically read and study the Bible, coming to reasoned, thoughtful conclusions about what the text says. Most important is humility. I may come to a conclusion about what a particular text says, but I am humble enough to know that I could be wrong.
"God said it, I believe it, that settles it," thinking has called untold harm. The Bible can be a source of blessing, encouragement, and help, but far too often it is a tool of hurt and destruction.
Bruce Gerencser, 66, lives in rural Northwest Ohio with his wife of 45 years. He and his wife have six grown children and thirteen grandchildren. Bruce pastored Evangelical churches for twenty-five years in Ohio, Texas, and Michigan. Bruce left the ministry in 2005, and in 2008 he left Christianity. Bruce is now a humanist and an atheist.
Connect with me on social media:
Your comments are welcome and appreciated. All first-time comments are moderated. Please read the commenting rules before commenting.
You can email Bruce via the Contact Form.