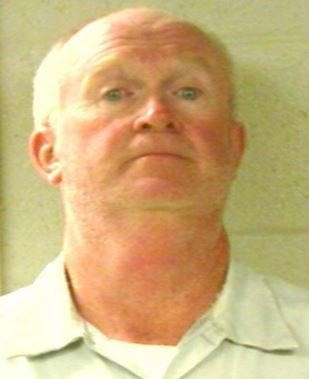 The Black Collar Crime Series relies on public news stories and publicly available information for its content. If any incorrect information is found, please contact Bruce Gerencser. Nothing in this post should be construed as an accusation of guilt. Those accused of crimes are innocent until proven guilty.
In 2017, Edwin Burgess, a bus driver for Central Christian Church in Covington, Tennessee, was accused of raping a ten-year-old girl in the church's basement
A member of a small church in Covington, Tennessee, who was also reported to be the driver of the church's bus, was arrested and charged with raping a 10-year-old girl inside the church's basement.

In an affidavit cited by FOX 13, Covington Police allege that 55-year-old Central Christian Church driver Edwin Burgess performed a sexual act on the 10-year-old girl and forced her to touch him inappropriately.

A warrant was issued for Edwin Burgess' arrest on Wednesday afternoon. Burgess, 55, lives in Covington and was a bus driver for the Central Christian Church.

Police say a mother called the police department after her 9-year-old daughter told her, "I need to tell you something."

The 9-year-old girl, who was not physically assaulted, said Burgess' alleged victim told her what happened.

Police who investigated the story said the 10-year-old told them Burgess asked her and another girl to go to the bathroom at Central Christian Church and tried to get them to play truth or dare.

Burgess dared the girls to urinate in front of him in a sink while he watched and also dared them to ride naked on the bus.

"No, because my mother would not like that," the girl replied.

Burgess allegedly responded, "No one will tell, plus the bus windows are dark so no one will see."

After the truth or dare, Burgess was allegedly alone in the church basement with a second 10-year-old victim who told police he started raping her around New Years 2017. She said the last time he raped her was about June 18 after church.

….

Jere Mason, Burgess' attorney, insisted in a statement that his client is innocent and would be fighting the allegations "vigorously."

"Edwin Burgess was extremely surprised and deeply saddened to learn of these charges being levied against him. He strongly maintains his innocence and plans to vigorously fight these charges in a court of law. Due to the type of charges levied against him it is hard for the public to remember that Edwin is innocent unless proven guilty," Mason said.

"In today's day and age with the advent of social media a person charged with these crimes is often convicted in the court of public opinion before all the facts of the case are brought to light. The attorneys of Gray Huffman Butler stand ready to seek justice for Edwin in this difficult time."
In 2018, Burgess pleaded no contest and was sentenced to 25 years in prison.
A Tipton County judge sentenced a former Covington church employee to 25 years in prison for raping a child.

Edwin Burgess, 54, was arrested for rape of a child and sexual battery in June 2017 after investigators said he sexually abused two 9-year-old girls at Central Christian Church in Covington.

On March 22, Burgess pleaded no contest to one charge of rape of a child, seven counts of aggravated sexual battery, and one count of indecent exposure.

Burgess was not granted any chance for parole.
Bruce Gerencser, 66, lives in rural Northwest Ohio with his wife of 45 years. He and his wife have six grown children and thirteen grandchildren. Bruce pastored Evangelical churches for twenty-five years in Ohio, Texas, and Michigan. Bruce left the ministry in 2005, and in 2008 he left Christianity. Bruce is now a humanist and an atheist.
Connect with me on social media:
Your comments are welcome and appreciated. All first-time comments are moderated. Please read the commenting rules before commenting.
You can email Bruce via the Contact Form.