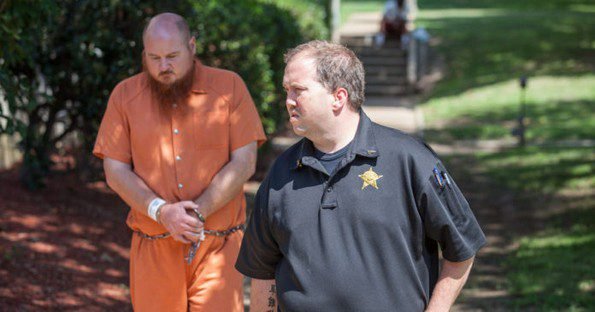 Recently, I received several emails and social media comments from Evangelicals complaining about my posting of public news reports detailing clergy sexual abuse and misconduct. One Evangelical preacher had this to say:
Do you feel some sense of gratification by posting articles exposing the "sins of evangelicals?" I have found you will search heaven and earth to publish smut on anyone who professes to be a Christian. Many of your posts are nothing but smear campaigns. You ought to be proud of yourself, pat yourself on the back, nominate yourself for an award. What a wonderful person you are. Kudos Bruce, keep up the smear campaigns, because no doubt in your heart it's all justified and makes sense. One day Mr. Bruce there will be a reckoning, a DAY OF JUDGEMENT. I will go no further, but I know this, our God offers and extends GRACE to the repentant and guilty sinner. His undeserving favor offered through Calvary!
This man, over the past two years, has left numerous comments on my Facebook page, objecting to virtually everything I post. He is an Independent Baptist, an insufferable zealot who cannot or will not make any attempt to see things from any perspective other than his own. His latest comment was on a post about the arrest of David Farren, youth pastor at Anchor Church (link no longer active) in  Texarkana, Texas. According to the Texarkana Gazette:
A youth pastor at Anchor Church in Texarkana was arrested Wednesday on three counts of sexual assault involving a teen girl. David Farren, 41, allegedly assaulted the girl when she was 16 and 17, Deputy Prosecuting Attorney Connie Mitchell said. The girl was allegedly a member of the youth group Farren headed. Miller County jail records show Farren was booked at 4:15 p.m. Wednesday. He is expected to appear before a Miller County judge Thursday for an initial appearance, at which time bail will be set. First degree sexual assault is a class A felony in Arkansas. Each of the three counts Farren is charged with is punishable by six to thirty years in prison.
Texarkana Police Department detectives conducted an investigation after they were notified of sexual assault allegations. Detectives found that Farren had been sexually assaulting a female (who was 16 years when the assaults began) over a period of four to five months in 2013. At the time, Farren was a youth director at an area church.

….

The TPD says the charge is because Farren was a youth director, it "placed him in a position of trust or authority over the victim."
TXK Today, had this to say about Farren's arrest:
David Wayne Farren, 41, appeared at the Miller County courthouse with Texarkana attorney Jason Horton for a first appearance on three counts of first degree sexual assault before Circuit Judge Brent Haltom. Horton handed the judge a motion asking that the case be sealed and that a gag order preventing police and court officials from speaking about the case be issued.

Deputy Prosecuting Attorney Connie Mitchell expressed strong opposition to the gag order. "I don't believe this case should be treated any differently than other defendants," Mitchell said. "We've not put gag orders in place in these cases before." Mitchell asked the court to order Farren to have no contact with minor females, other than immediate family. Horton responded by describing Mitchell's request as "too broad."

In response, Haltom reviewed a probable cause affidavit and noted that Farren's alleged sexual misconduct occurred in a private home, not on Anchor Church property. Mitchell pointed out that Farren's contact with the girl began when he was acting as her youth pastor. "We do believe there are additional victims that will come forward," Mitchell said. Mitchell said Farren has worked at a number of area churches heading youth groups including Heritage Baptist Church, Trinity Baptist Church and Faith Baptist Church.
As is always the case with such charges, offenders — saintly pillars of morality and virtue — are vigorously defended by family, friends, and fellow church members. Supporters, armed with anecdotal stories, assure everyone that Pastor/Preacher/Bishop/Elder/ Deacon _____________ did not/could not do that for which he has been accused/arrested/charged. As sure as the sun comes up in the morning, blinkered supporters demand that those who aren't really in the know, forgo making any judgments about the offenders. In fact, rather than consider that their religious leaders could ever do what they are accused of doing, these woefully naive people suggest that perhaps the victims are the ones who should be blamed. In the case of David Farren, the victim was 16 years old when the sexual assaults began. See, says Farren's supporters, she is almost of age. Why, I bet she came on to him or seduced him. In doing this. Farren's supporters re-victimize the girl, ignoring the fact that Farren was in a position of trust or authority over the victim. This means the victim could not have given consent, regardless of her age. Farren, as an authority figure, is duty bound to keep his hands to himself and his pants zipped up. The no-sexual-contact rules that apply to doctors, lawyers, and social workers — those who work with the public and hold their trust — also applies to clergymen. They are held to a higher standard because of the vulnerability of those serve.
Several years ago, Jack Schaap, pastor of First Baptist Church in Hammond, Indiana was accused of sexual misconduct with a teen girl he was counseling. (Please see What One IFB Apologist Thinks of People Who Claim They Were Abused.) When the accusations were made public, Schaap supporters defended his honor with comments on social media, blogs, and news sites. Even after all the facts of the abuse were made known, Schaap's defenders insisted that victim was to blame. Schaap is now serving a twelve year prison sentence for his crime.
Stories such as Schaap's and Farren's are quite common. While I have been accused of scouring the internet for "dirt" on clergymen, the truth is I don't need to do so. Using Google Alerts, I receive multiple times a day news reports about church leaders being accused/arrested/charged/convicted of sexual crimes, spousal abuse, child abuse, theft, robbery, and even murder. These reports are everyday occurrences. And here's thing: in the two years I have been posting these reports on this blog and social media, only one accuser was found to be lying.  Credulous Christians think that the way things work is that a girl walks into a police station, accusing a pastor of sexually molesting her, and the police immediately arrest the offender. This is NOT how it works. In Farren's case, this was the process used by law enforcement:
Sexual assault cases are investigated using the highest standard of care and consideration of all parties involved. Only when a majority of evidence is obtained is an arrest warrant approved by the Prosecuting Attorney's Office and issued by a Circuit Judge.
Knowing that merely being accused of sexual misconduct can ruin a pastor's life, law enforcement makes sure they have a case before arresting the offender. In fact, I would suspect that clergymen abuse claims are treated with great deference, knowing that wrongly charging esteemed church leaders could embroil authorities in controversy. Accusations of sexual abuse are often hard to prove, and it likely that more clergymen get by with their crimes than are arrested and convicted.
There are several reasons why I think it is vitally important to publicize clergy sexual misconduct stories:
Rarely are clergymen arrested the first time they sexually molest or abuse a minor. Most often, there are more victims, so publicizing these reports makes other victims aware of their abuser's arrest. If victims know their abusers have already been arrested, they are more likely to come forward and tell their stories to law enforcement.
Christian sects — particularly the Roman Catholic Church — are notorious for covering up sexual molestation and abuse claims. It is likely that the Catholic Church covered up thousands of abuse claims, protecting priests by sending them off to new parishes (new hunting grounds).
Evangelical churches are often independent. These churches have no denominational oversight. Sexual misconduct claims are often covered up or explained away. Offending pastors often leave one church and move on to a new church. This provides the offender with a new pool of potential victims.
There is no national database churches can check to see if a pastoral candidate has been accused of sexual misconduct or child abuse. Some clergymen are sexual predators, moving from church to church, leaving broken lives in their wakes.
One-time background checks are no guarantee that clergymen are moral and ethical. If they haven't been arrested/charged/convicted of a crime, their background checks would come back clean. Some pastors are psychopaths who are skilled in avoiding detection. The late Bob Gray, pastor of Trinity Baptist Church in Jacksonville, Florida evaded detection for fifty years. (Please see Stop Baptist Predator articles)  Bill Wininger avoided prosecution for twenty years.(Please see UPDATED: IFB Pastor Bill Wininger Outed as Sexual Predator) David Hyles molested his way through several churches, never facing arrest or conviction for his crimes (Please see UPDATED: Serial Adulterer David Hyles Has Been Restored)
Americans wrongly assume that churches are safe for their children to attend. They are not. Most congregants are decent, kind, trusting people. It is this naïve trust that makes their churches easy marks for sexual predators. Far too many churches take the testimonies of new pastors at face value. Oh, they love Jesus, trusting, congregants say. Why, their families are wonderful! Such fine Christian people!
Americans wrongly assume that churches exist for the teaching of morals. Publicizing sexual molestation and abuse reports serves as a reminder that churches are not bastions of moral purity.
As long as men of God keep "preying" on people, I intend to keep posting public news stories detailing their crimes. Instead of whining about my motives for posting these stories, I suggest Christians should spend their time making sure children, teenagers, and vulnerable adults are not abused, molested, and taken advantage of by church leaders. (Please see How Should Churches Handle Allegations of Abuse? and Is Clergy Sexual Infidelity Rare?)