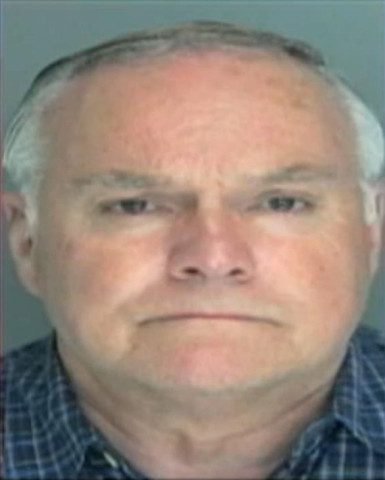 Shelly Foeller, an Independent Fundamentalist Baptist (IFB) mother, tells the horrifying story of her daughter who was sexually abused by Bill Wininger, then pastor of North Sharon Baptist Church:
If you will bear with me, I'd like to tell you a story. It is a true story of a little girl with incredible blue eyes. The church her family attended voted in a new pastor the same year she was born. Her family was very excited about this new pastor, and the little girl became very fond of him as well. She was a delightful child—very smart and tender-hearted. At a young age she expressed an interest in the Gospel, and at her mother's knee, prayed to give her heart to Jesus.

When she was still quite young, unbeknownst to anyone else,something very terrible started to happen. Her pastor, whom she loved and trusted, began to take advantage of her on numerous occasions, violating her little body in unspeakable ways. Because of her tender age, she did not understand this at all. Since her young mind was incapable of processing these terrifying events, the dark memories of these assaults became sealed in the deep recesses of her conscience. Though she did not speak of the things that had occurred, she carried an overwhelming heaviness in her little heart,a pain that she could not put into words…
The pastor moved away, and years later:
Finally she reached the point when she knew the only hope for her survival was to face what was at the bottom of her festering wounds—the truth of what had happened to her as a little girl. Very gradually her memories surfaced, and she bravely, though timidly, started to talk about them. As she recalled details of these life altering events, her mother soon recognized and remembered specific opportunities for their occurrence.

Over time, as more details were remembered and shared, the pieces of the puzzle began to fit together and make sense.The courageous little girl, who for many years had been unable to tell, had finally found her voice. The silence had ended.This same little girl is now a beautiful young woman, our beloved daughter, Bethany.It didn't take long for us to learn that there were other young ladies, as well as adult women, who had been victimized by the same man. All their stories agree together and have a ring of similarity. The truth is undeniable. The perpetrator, unfortunately,was Pastor Bill Wininger. The time frame was when he was our pastor at North Sharon Baptist Church from 1988 to 1995.
I wish I could say that this heartbreaking story is unusual, but it is not. Just in the last two weeks alone, three women have emailed me about being sexually assaulted as a child or teenager by a deacon or the pastor of the IFB church they attended. Quite frankly, these kinds of things are far too common and every bit as scandalous as the sex scandal of the Catholic church. We should be grateful that, through the internet, women and men can now tell their story of sexual abuse at the hands of men of God.
In classic IFB fashion, Bill Wininger, now pastor of King's Way Baptist Church, Douglas County, Georgia, has miraculously disappeared from the church's website and the website of their Christian School. Jeri Massi at the Blog on the Way writes:
All videos and sermons from him have been removed. The church, following the IFB practice of defiance against the Scripture, is maintaining a curtain of secrecy, even though Paul directly commands that elders who fall into sin are to be rebuked before the entire church. It is not to be a secret. And yes, the goal is to make miscreants afraid of abusing church office.
The good news is, thanks to the internet and those of us who refuse to allow these predators hide, we can hopefully keep them from molesting and harming other children and teens. More and more women and men are coming forward, willing to tell their stories of sexual abuse. Telling their stories takes great courage, because I know the hell that the IFB church movement releases on those who dare tell their secrets.
This is not an issue of Christianity vs. atheism. This is about sexual predators hiding in plain sight in Christian churches. They abuse their way through the church and then move on to another church of prey. They are the lowest of low and they deserve every bit of scorn and ridicule they receive. They also deserve to be prosecuted to the fullest extent of the law. Sadly, many avoid prosecution for lack of evidence, or the statute of limitations runs out. Public shaming is often the ONLY recourse their victims have at their disposal.
Several days ago, a friend of mine told me about a recent service at former IFB pastor — now convicted felon — Jack Schaap's church, First Baptist Church in Hammond, Indiana. It was mentioned during the service that Schaap had led someone to Christ in prison! Praise Jesus. Soon his despicable acts will be forgotten, just like those of his brother-in-law David Hyles and his father-in-law Jack Hyles. In time, we will hear of souls being saved and the life of Jack Schaap being rehabilitated to the glory of God. As I mockingly told my friend, by the time Jack Schaap is out of prison, he will be pastoring the largest prison church in America.
You can read the mother's entire letter here.
Someone from Sharon Baptist Church sent me the following:
Our current pastor did do something about what Bethany ________ told about Bill Wininger. He went to the Michigan police about it & reported it. The police are the ones who are not doing anything about it. What would you have the current pastor say to the world about something that happened when he was not there, and didn't know about until years later? Our church is not covering up for Bill Wininger. We were the ones who turned him in.
I replied to the question, what would you have us say to the world:
I would have them, on their website, say EXACTLY what you said here. Saying nothing is not an option.
All of the churches mentioned in this post are Independent Fundamentalist Baptist, King-James-Only, Separated, Soulwinning churches.
If I remember correctly, there were students from North Sharon Baptist Church when Polly and I attended Midwestern Baptist College in the mid-1970s.
Ironically, Bill Wininger wrote a book while he was pastor of North Sharon Baptist Church.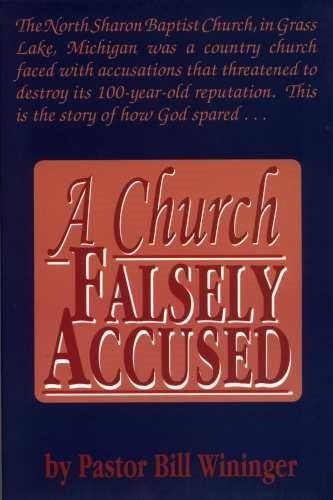 Revival Fires, the ministry of Dennis Corle, carries the book. Their website says this about the book:
In a country church two male workers are accused of committing horrible crimes against children while running Sunday school bus routes. What should they do? How should they react in the midst of a county-wide scandal? How does a pastor keep from seeing his ministry, at the least, paralyzed and, at the worst, destroyed? How does he deal with the accused and their accusers?

Pastor Bill Wininger tells the amazing story of a church which experienced just such a traumatic event and amazingly, survived the ordeal with minimal damage done to the church. A Church Falsely Accused is the astonishing story of the North Sharon Baptist Church, a country church whose commitment to Christ and to the lost in its community saw victory through a vicious scandal.
UPDATE: August 2014

In August 2014, Wininger was arrested and charged with four counts of simple battery. AJC.com reports:
A former Douglasville pastor was released from jail Friday after spending a night there on charges of having inappropriate sexual contact with a member of the staff at the church and school that is one of the oldest private Christian academies in Georgia.

Four misdemeanor charges of simple battery against the Rev. Bill Wininger involve one woman on the Kings Way staff and are detailed in the charges brought by the Douglas County solicitor general.

Three counts accuse him of having unwanted physical contact with the woman by "grabbing and hugging" her. The fourth charge was that he made "physical contact of an insulting and provoking nature" when he pressed against her with a part of his body that was aroused. The events detailed in the accusation are alleged to have happened between August 2012 and

Each charge carries a maximum punishment of 12 months in jail.

Wininger was arrested Thursday night and he posted a $10,000 bond Friday afternoon following a brief court appearance. No other court date has been scheduled.

One of the conditions of his release was that he have no contact with members of King's Way Baptist Church or employees of the school. Wininger must have a psycho-sexual evaluation and receive treatment if necessary…

…"The Douglas County Sheriff's Office spent the past 10 months investigating this individual," Solicitor General Matthew Krull said. "It is my job to make sure that everyone in Douglas County is afforded the opportunity to live free of unwanted and unsolicited physical contact."

Krull said there were other accusers but his office decided to prosecute Wininger just on the allegations of one woman, whom The Atlanta Journal-Constitution is not identifying because of the nature of the charges.

Krull said Friday the investigation did not involve any allegations that Wininger targeted children.

Wininger resigned last October after 15 years at the church when allegations surfaced that he had sexually abused children in Michigan 20 years ago. He was never charged on those allegations…
I found no further reports about Wininger's case.
I find it interesting that IFB churches and pastors preach against psychology and suggest every human misbehavior is sin, but once they are caught in their own web of sin and face criminal charges, they are quick to seek a psycho-sexual evaluation and treatment. Anything, to keep themselves out of jail. Why not stand on the unshakable ground of the King James Version of the Bible and refuse the evaluation and treatment? Shouldn't Wininger just pray a David Hyles forgive me Lord prayer® and get back to winning souls for Jesus? Isn't that the IFB way?
I am grateful that local law enforcement officials took the accusations seriously. Far too often, law enforcement ignores allegations against pastors because they have the naïve notion that clergy are above the fray, immune to the passions of mere mortals. As should be clear to all who are paying attention, countless pastors use their place of power and authority to manipulate and abuse others. Yes, most pastors are decent human beings, but a sizable percentage of them are predators lurking in the shadows waiting to rob people of their faith and trust.
UPDATE: October 9, 2015
According to the Douglas County Sentinel:
A former Douglasville pastor accused of having inappropriate sexual contact with a staff member will be in court Friday when he is expected to enter a plea.
Unfortunately, the story is behind a paywall. Once other news agencies report the story, I will update this post.
UPDATE: October 9, 2015:
A former Douglas County minister was sentenced Friday to two years on probation, resolving accusations that he forced inappropriate contact on a staff member of his church and school.

Rev. Bill Wininger was accused of "grabbing and hugging" one woman at the The King's Way Baptist Church and King's Way Christian School, one of the oldest Christian academies in Georgia. He also was accused of "physical contact of an insulting and provoking nature" when he pressed against her with an inappropriate part of his body.

Wininger pleaded no contest to two counts of simple battery.

"This plea brings justice for this victim and hopefully gives her some closure to a horrible series of events that happened in her life," Douglas County Solicitor General Matthew Krull said in an emailed statement. "The victim gave a voice to all those that have been too afraid to stand up to defendant's unacceptable behavior. This case was very troubling, to see … a preacher in a position of trust and power, use that position for his own selfish needs."..

…As part of his probation, Wininger was ordered to perform 200 hours of community service at a location that does not assist women or children…
Update: September 1, 2016
According to the Douglasville Patch:
The King's Way Baptist Church in Douglasville will pay $25,000 to settle a discrimination lawsuit filed on behalf of a kindergarten teacher who complained the church's pastor sexually harassed her.

The independent Baptist church, which operates King's Way Christian School, also will furnish other relief, the U.S. Equal Employment Opportunity Commission (EEOC) announced in a news release.

The EEOC filed suit in 2015 on behalf of Marsha Pearson, a kindergarten teacher at the school, who said she was fired after complaining that the pastor, who was also school superintendent, had harassed her.

Former King's Way pastor The Rev. Bill Wininger was arrested in 2014 on four misdemeanor charges of simple battery against a female employee.

According to the EEOC's lawsuit, Pearson complained in 2013 that the pastor had been sexually harassing her. Upon reporting the abuse, King's Way officials "told her that she allowed the harassment to happen to her" and that she was being fired, according to the suit.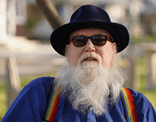 Bruce Gerencser, 65, lives in rural Northwest Ohio with his wife of 44 years. He and his wife have six grown children and thirteen grandchildren. Bruce pastored Evangelical churches for twenty-five years in Ohio, Texas, and Michigan. Bruce left the ministry in 2005, and in 2008 he left Christianity. Bruce is now a humanist and an atheist.
Connect with me on social media:
You can email Bruce via the Contact Form.
Your comments are welcome and appreciated. All first-time comments are moderated. Please read the commenting rules before commenting.