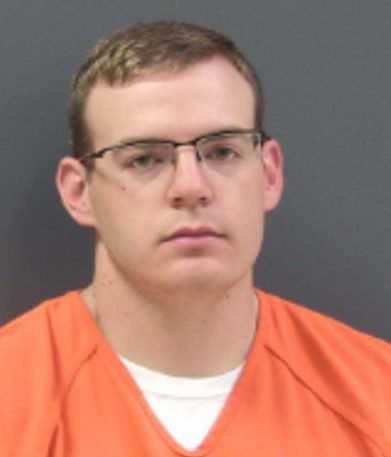 The Black Collar Crime Series relies on public news stories and publicly available information for its content. If any incorrect information is found, please contact Bruce Gerencser. Nothing in this post should be construed as an accusation of guilt. Those accused of crimes are innocent until proven guilty.
Devin Waters, a youth worker at First Baptist Church in Texico, New Mexico, a deputy with Parmer County, Texas Sheriff's Office, and owner of a Tae Kwon Do (TKD) studio in Bovina, Texas, was sentenced to life in federal prison after pleading guilty to transportation of minors with intent to engage in criminal sexual activity.
The United States Department of Justice reports:
A former sheriff's deputy who preyed on children at his church has been sentenced to life in federal prison, announced U.S. Attorney Erin Nealy Cox.

Davin Seth Waters, 26, a former deputy with Parmer County, Texas Sheriff's Office, was convicted in November 2019 for transportation of minors with intent to engage in criminal sexual activity.

"This life sentence confirms the important message that exploiting children in any form will not be tolerated," said U.S. Attorney Nealy Cox. "While this sentence will not repair the pain and damage done to the victims, it will ensure that Mr. Waters will never have the opportunity to prey upon children of our community again."

"Today's life sentence demonstrates the FBI's commitment to holding sexual predators accountable for their crimes and removes a dangerous threat from our community," said FBI Dallas Special Agent in Charge Matthew J. DeSarno. "We will continue working with our partners to ensure that children are protected from abuse and exploitation."

During a two hour sentencing on Thursday, the court heard how Mr. Waters lured minor victims into engaging in sex acts by leveraging positions of power and trust as a sheriff's deputy, childcare volunteer, and Tae Kwon Do instructor. Many of Mr. Waters' victims that he sexually abused were "afraid" of him because he was "big" and thought he might "hurt" them, according to court documents.

Authorities began investigating Mr. Waters following a report from a member at Frist Baptist Church Texico, New Mexico that a fellow member, identified as Mr. Waters, had sexually abused a child. Mr. Waters who served in the children's ministry as a volunteer, admitted to unlawfully touching a minor 8-year-old child on multiple occasions while in his capacity as a volunteer at the church.

Mr. Waters resided in Farwell, Texas and owned Tae Kwon Do (TKD) studio in Bovina, Texas where he instructed many young students. Mr. Waters admitted that he engaged in illicit sexual conduct at his studio with a 13-year-old minor and a TKD student between the ages of 9 and 10-years-old.

According to court documents, Mr. Waters also drove two minors from New Mexico to the Farwell, Texas to spend the night. At his home, Mr. Waters preformed sexual acts on the 11-year-old and 10-year-old while also after giving the 10-year-old pills to induce unconsciousness.

Through the course of the investigation, agents determined that Mr. Waters sexually exploited and abused seven children in the greater Amarillo-area.

The FBI's Dallas Field Office, the Texas Rangers, and Curry County, New Mexico Sheriff's Office conducted the investigation. Assistant United States Attorney Sean Taylor prosecuted the case. United States District Judge Matthew J. Kacsmaryk handed down the sentence.
First Baptist Church of Texico was formerly affiliated with the Southern Baptist Convention. According to a 2019 news report, First Baptist plans to pull out of the SBC due to its unbiblical (non-Calvinistic) positions.
Bruce Gerencser, 63, lives in rural Northwest Ohio with his wife of 42 years. He and his wife have six grown children and thirteen awesome grandchildren. Bruce pastored Evangelical churches for twenty-five years in Ohio, Texas, and Michigan. Bruce left the ministry in 2005, and in 2008 he left Christianity. Bruce is now a humanist and an atheist. For more information about Bruce, please read the About page.
Are you on Social Media?
Follow Bruce on Facebook and Twitter.
Thank you for reading this post. Please share your thoughts in the comment section. If you are a first-time commenter, please read the commenting policy before wowing readers with your words. All first-time comments are moderated. If you would like to contact Bruce directly, please use the contact form to do so. Donations are always appreciated. Donations on a monthly basis can be made through Patreon. One-time donations can be made through PayPal.