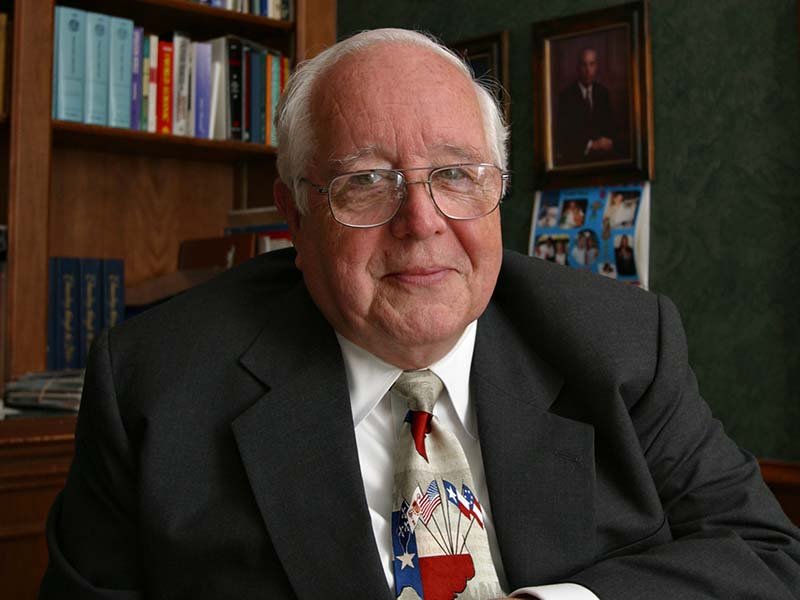 The Black Collar Crime Series relies on public news stories and publicly available information for its content. If any incorrect information is found, please contact Bruce Gerencser. Nothing in this post should be construed as an accusation of guilt. Those accused of crimes are innocent until proven guilty.
Paul Pressler, best known for his instrumental roll in turning back the Southern Baptist Convention from its drift into liberalism, stands accused of sexually abusing a former office assistant. The assistant has filed a $1 million civil suit against Pressler, along with Southwestern Baptist Theological Seminary, Paige Patterson, and First Baptist Church in Houston.
Adelle M. Banks, a reporter for Religions News Service, writes:
Paul Pressler, a key figure in the self-identified "conservative resurgence" in the Southern Baptist Convention in the late 1970s and early '80s, is fighting a lawsuit by a former office assistant who alleges the onetime Texas appeals court judge sexually abused him over the course of several decades.

Gareld Duane Rollins Jr. filed the $1 million suit Oct. 18 in the District Court in Harris County.

The plaintiff, now in his 50s, claims he was abused by Pressler starting when he was in his midteens, continuing when he was hired as a "boy Friday" in the judge's home office and ending around 2014 when Rollins was rearrested and imprisoned for driving while intoxicated.

In a court document responding to the claims, Pressler and his wife, Nancy, a co-defendant, "categorically deny each and every allegation."

Pressler's attorney, Ted Tredennick, said the suit's claims cannot be taken seriously.

"Mr. Rollins is clearly a deeply troubled man, with a track record of multiple felonies and incarceration, and it is the height of irresponsibility that anyone would present such a bizarre and frivolous case," according to a statement from Tredennick.

The 40-page suit describes sexual acts that allegedly occurred around the time Pressler enrolled Rollins in a Bible study at First Baptist Church in Houston. The suit says Pressler told Rollins he should consider the alleged rape "our secret, our freedom, no one but God would understand."

Rollins' attorney who filed the suit, Daniel Shea, is a Houston lawyer and former Catholic deacon who previously represented young men who alleged they were sexually abused by a seminarian who fled to his native Colombia after the charges arose. That case was settled in 2008.

Legal documents filed in the suit against Pressler, now in his 80s, contain letters he wrote on behalf of Rollins to a parole board reviewing his status after he was charged with forgery and driving under the influence. The suit says Rollins turned to drugs and alcohol—leading to multiple DUI arrests—as a response to the alleged abuse.

In one letter, Pressler mentions plans to employ Rollins after the younger man was granted parole and released from rehab.

The suit also names as defendants Southwestern Baptist Theological Seminary and its president, Paige Patterson, and Houston's First Baptist Church, and claims they are liable for their professional, personal or denominational connections with Pressler.

The legal document also goes into the movement led by Pressler and Patterson starting in 1979 that turned the Southern Baptist Convention in a more conservative direction after deep theological battles. It claims the movement was focused on power, which the suit called "a key ingredient in the abuse of children and women."

Mark Lanier, a Houston lawyer representing Patterson and his seminary, rejected the allegations, saying they are "riddled with errors and falsehoods."

"We will diligently defend the fine reputation of Dr. Patterson and SWBTS in court," he said, referring to the seminary.

….