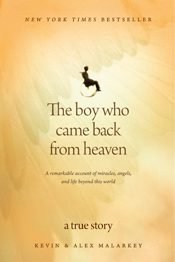 The internet is buzzing over Alex Malarkey's repudiation of his earth-to- heaven-and-back story. Alex now says the story is a lie. In a recent press release, Alex stated:
An Open Letter to Lifeway and Other Sellers, Buyers, and Marketers of Heaven Tourism, by the Boy Who Did Not Come Back From Heaven."

"Please forgive the brevity, but because of my limitations I have to keep this short.

I did not die. I did not go to heaven. I said I went to heaven because I thought it would get me attention. When I made the claims that I did, I had never read the Bible. People have profited from lies, and continue to. They should read the Bible, which is enough. The Bible is the only source of truth. Anything written by man cannot be infallible.

It is only through repentance of your sins and a belief in Jesus as the Son of God, who died for your sins (even though He committed none of His own) so that you can be forgiven may you learn of heaven outside of what is written in the Bible … not by reading a work of man. I want the whole world to know that the Bible is sufficient. Those who market these materials must be called to repent and hold the Bible as enough."

Alex Malarkey
The gist of what has happened here is that Alex and his mother Beth, have repudiated the fundamentalists charismatic/pentecostal beliefs that are the foundation of Alex's book. Sadly, they have taken up with a different group that is almost as bad. To the best of my knowledge, Alex and Beth are now in a John MacArthur-like Reformed/Calvinistic church. Their recent statements reveal that they have been deeply influenced by Reformed/Calvinist thinking, especially its emphasis on sola scriptura. For more information on this connection, please read the Pulpit and Pen blog and John MacArthur's right hand man, Phil Johnson's article, The Burpo-Malarkey Doctrine.
Are Beth and Alex Malarkey in a better religious setting? That's for them to decide. They should, however, realize that they have traded one form of fundamentalism for another.
What follows is the review I wrote when The Boy Who Came Back From Heaven first came out. I thought it was lost, but I was able to retrieve it from The Wayback Machine.
The Boy Who Came Back From Heaven, a remarkable account of miracles, angels, and life beyond this world is written by Kevin and Alex Malarkey.
At the bottom of the front cover are the words True Story. The Boy Who Came Back From Heaven recounts the story of six-year-old Alex Malarkey, who was seriously injured in an automobile accident that left him paralyzed. While in a coma, Alex was taken to heaven and given the grand tour. He returned to earth and his body so that he could share with all of us the story found in the book. The book also records post-coma trips to heaven by Alex and even includes an angel appearance to Alex's father Kevin Malarkey.
I almost stopped reading the book after reading the introduction. Kevin Malarkey, an Evangelical Christian therapist in Columbus Ohio wrote:
I'm not here to beat a drum, convince you of a theological argument, or force you to validate Alex's experiences. But I humbly offer a challenge: suspend your judgment for just a few chapters. I think your life may be changed forever.
If Alex's story is to be taken as a TRUE story, then why do I need to suspend my judgment? Should not the truth of the story be clear to all who read it?
According to Kevin Malarkey:
Heaven is real. There is an unseen world at work—an intensely  active spiritual realm right here on earth , all around us. And much of this activity keeps us from focusing on our future destination, the place where we will spend eternity. Alex has been there….
The only thing the book actually proves is that some people believe there is a heaven. The Boy Who Came Back From Heaven may be a true story, but it is a "true" story without one shred of provable truth. In other words, you are going to have to take the word of six-year-old (or 11-year-old by the time the book is written) Alex Malarkey that what he shares is the truth.
The story begins when Kevin and Alex Malarkey are involved in a horrific automobile accident. Kevin, while talking on his cellphone, turned in front of an automobile coming in the opposite direction. The driver of the other car was a woman with two young children. Alex was injured far worse than anyone else. The accident left him paralyzed and in a coma for 2 months.
At the accident scene, unconscious Alex saw:
Five angels carrying his father outside the car. Four were carrying the body and one angel was supporting his head and neck (the police report said Kevin Malarkey was ejected from the automobile).
The devil sitting in the front seat of the automobile accusing Alex of causing the accident.
While in a coma, Alex was taken to heaven. What did Alex see and experience while he was in heaven?
His father was in heaven too, but only for a short time.
Alex saw the five angels that carried his father's body outside the automobile. The five angels stayed with Alex so his father could have time alone with God.  He pleaded to trade places with Alex, but God told him no. God sent his father's spirit back to earth and Alex remained in heaven. God told him that he would heal him later on earth to bring more glory to His (God's) name.
While in the emergency room, Alex watched everything that was going on from the ceiling. Jesus was standing right there beside him. Alex felt safe and he was not afraid to die.
While in the emergency room, Alex saw 150 pure white angels with fantastic wings who were all calling his name. After a while, they said "Alex, go back."  Alex did go back and Jesus came with him and held him during his time in the emergency room.
Alex found himself in the presence of God. God had a human-like body, but a lot bigger. Alex was only allowed to see God from the neck down because the Bible says anyone who looks on the face of God dies.
There is an inner heaven and an outer heaven. The outer heaven has a hole that leads to hell.
There are lots of colorful, beautiful things to see, and beautiful music too.
Heaven is a lot like earth, but it is perfect in every detail.
Angels are white, have wings, and are sexless.
Some angels are short, 2 feet tall, and others are much taller.
There are different types of angels, with different jobs to do.
There are lots of buildings in heaven, but Alex only really noticed the Temple. God never leaves his throne in the Temple. There is a scroll in a glass container that only Jesus can read.
After Alex came out of  his coma, he continued to see other world beings. Angels were present in Alex's hospital room. The angels helped Alex and the angels talked to Alex and he talked back to them.
One day, Alex told his father that he had something important to tell him. He wanted to make sure his father would not be sad after hearing what Alex had to say. Alex said:
There are two days I look forwards to more than any others in my life. The first is the day I die. You see, I can't wait to get home. It's not that I want to die right now; I'm not sad…. The second is the day when the devil goes to the Lake of Fire. I can't wait for him to be gone for good.
According to Alex, demons and evil spirits came to visit him. He was thankful that his father taught him how to pray and how to take authority over the demons.
Alex had this to say about the devil, about demons  and evil spirits:
They are evil, scary, and ugly.
They accuse Alex of things, bring him doubt, make him feel sad, tell him he will never be healed, and that God won't protect him.
The devil has three heads and all three heads have hair of fire (is the devil a redhead?). Each of the heads speak different lies at the same time.
The devil has beaming red eyes with flames for pupils. His nose is nasty and torn up.
The devil speaks English to Alex. His voice is screechy like a witch and changes into different sounds. The devil's mouth is funny-looking with only a few moldy teeth.
The devil's body has a human form but has no flesh.
The devil wears a torn and dirty robe.
The devil personally appeared to Alex. Sometimes, the devil came along with other evil spirits but sometimes he came alone.
Demons are often green and they have hair made of fire. Their skin and robes are just like the devil's. Their eyes are like the devil's and they have long fingernails.
According to Alex, demons walk around telling lies. In Frank Peretti style, Alex says that there is a spiritual war going on—angels against demons.
Towards the end of the book, Kevin Malarkey lets readers know that Alex has continued to take periodic trips to heaven. Readers are also told that Kevin himself had an experience where an angel named John appeared to him.
The angel John gave Kevin  a message:
I have anointed you with a message of hope…for the church….for the body of Christ…and for those who will be the body…..that He will be raised up and seen in His true glory…This is the word of the Lord given to you by the angel John.

Speak of Me, for Me, and about Me. Use Alex to show who I am. I have chosen him as a screen upon which to show myself. I am unity, the Trinity, a complete circle. Your story will lead to praise and worship, there will be altar calls. Your bills are the least of my worries. I will be with you all the days of your life. I will speak to you, I will guide you, I am in you. I am about you, you be about me. My love is unconditional. My vengeance is restricted for the holy. My apostles died for Me, will you die for Me? I am the Alpha and the Omega, the First and the Last.
Most of the book is Kevin Malarkey's explanation of Alex's trips to heaven and how God is using them to reach other people. One chapter is devoted to the things that Alex knew about his time in the coma. To many people, this is proof above all proof. Alex talked of things that were not possible for him to know.
The story is what it is. Either you believe it or you don't. Just like the book Heaven is for Real, you have the story of a young child being taken to heaven. Both boys waited for years before their story was put into print. Both stories show clear signs of being shaped by adult human hands (whether by parents or book editors).
I have no doubt that the Malarkey family believes what is written here. As with many Christians, they are desperate to know that their lives matter and that when death comes there is a new life that awaits beyond the grave.
As a non-believer, I found that the story said little that I would consider as proof that there is a God, a devil, a heaven, a hell, or that life continues beyond the grave. I found myself angry, once again, at the idea of a god who paralyzes a kid in an automobile accident so he can get some praise and glory. With all the suffering, sickness, disease, and death in the world, it seems to me that God has plenty enough praise and glory.
My conclusion? Kevin Malarkey asked me to suspend my judgment as I read the book. I could not do so, and, in my judgment, the book is a bunch of malarkey (meaningless talk and nonsense).
In June of 2014, I wrote the following update:
Last week, I reposted a review of The Boy Who Came Back From Heaven by Kevin and Alex Malarkey. After my review hit the internet, Beth Malarkey, the mother of Alex, contacted me via Twitter.  She let me know that Alex, now a teenager, did not write the story and he does not agree with what is in the book.
On her blog, Life's a Journey, Beth wrote:
I never intended this blog to be a place that I would have to defend my son ALex's indentity [sic] let alone the journey that he and he alone has endured. I started this blog as a "fun" thing to do and with the intention of maybe sharing some hope and bits of wisdom that has been learned through the struggles. I have taken this blog down from time to time not sure what to do with it and NEVER wanting to make it appear as if any of the people that I write about are extraordinary individuals…

,,,This past week a movie based off the book Heaven is for Real came out. I have not read the book, do not plan to, and am strongly opposed to the movie. Let's just say that the Burpo book and the book that has Alex's name listed as coauthor (The Boy Who Came Back From Heaven), as does the Tyndale Publishing website (can not understand how that can be), have a few things in common which I will not get into on here. I am trying to defend my son and truth. Here is something to think about….

It is both puzzling and painful to watch the book The Boy who Came Back from Heaven to not only continue to sell, but to continue, for the most part, to not be questioned. I could post facts and try to dispel many of the things contained within the pages of that book (have done a bit of that), I could continue to try to point out how Biblically off the book is (a few strategically placed scriptures does not make a book Biblically sound) and how it leads people away from the bible not to it (have done that as have others including John MacArthur and Phil Johnson), I could talk about how much it has hurt my son tremendously and even make financial statements public that would prove that he has not received monies from the book nor have a majority of his needs been funded by it (a fund that was set aside by a friend a few years ago has actually been paying for most things in the past few years but that fund is dwindling), I could…..but it seems like many people want to believe what they are given despite the wrong that it may be doing or the wrong that was done in the making of it.

When Alex first tried to tell a "pastor" how wrong the book was and how it needed stopped, Alex was told that the book was blessing people. Ok…first, Alex said that while he was struggling physically and trusting this person as someone who seemed to be concerned so the person was invalidating Alex's feeling while justifying the wrong that Alex was trying to make that person aware of. . The person told Alex to "trust" him. Alex is the ONLY one that supposedly had the experiences being written about(Alex was a 6 year old and coming out of major brain trauma…note I am not saying what is true and not just that Alex was a kid with major brain trauma which alone should raise questions as to validity) Alex is the ONLY one who has endured not only a horrific set of injuries, but having his journey capitalized on. His struggles are NOT past tense nor is the "story."

The ones making money from the book are NOT the ones staying up through the night, struggling for their breath, or were they the ones at six years old, waking up unable to move or breathe and in a strange place after last remember seeing a car coming right at the car he was riding in. What I have walked through with Alex over the past nine years has nearly broken me personally and spiritually. I have wept so deeply for what I have watched my children go through, been made aware of how ignorant I was of some things, how selfish I was, and how Biblically illiterate I was which allowed me to be deceived! Sure, I had read my Bible A LOT, but I had not studied it. I had listened to teachings but probably enjoyed more ear tickling than I am still even aware of(for that I repent and have experienced deep sorrow) I am so thankful that God is so merciful and patient. I am thankful that God allowed me to go ahead and fall for the junk that I did(and it was that junk)for I am fully aware of what it feels like to be pulled in.

There are many who are scamming and using the Word of God to do it. They are good, especially if you are not digging into your Bible and truly studying it. They study their audience and even read "success" books to try to build better and bigger…"ministries/businesses". Please, examine what you see and read. I see many things from a different vantage point because of how much I have witnessed and am witnessing first hand…not second hand. I will remain puzzled and remain seeking truth in the Word of God! One more time..Alex did not write the book and it is not blessing him! Saying that it is blessing others to try to justify its wrong is just that…justification of wrong!
Beth is divorced from Kevin Malarkey and continues to be Alex's primary caregiver.
052516