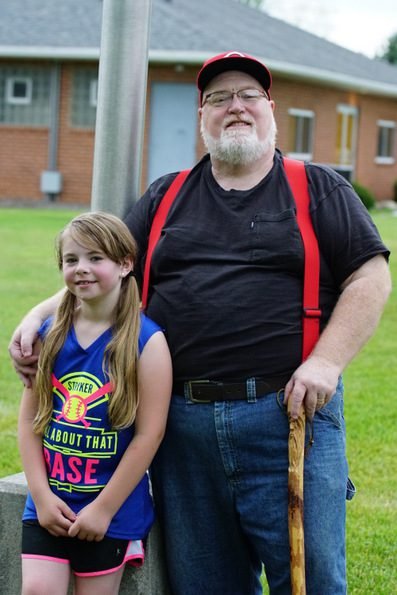 Most parents and grandparents go through periods of time when they wonder if their children/grandchildren like/love them. I know I've had moments where I've wondered if ___________ child or grandchild knew I even existed. Children go through phases ranging from clingy I need you to who are you?  As a young parent, I was certain my two oldest boys wanted nothing to do with me. Same goes for several of my granddaughters. I intellectually know that this is all part of their development, but who doesn't want to feel needed and liked, right?
Thanks to being all jacked up on Lyrica and narcotics, I've been able to attend some of my grandchildren's sporting events. I am easy to spot, the big man who looks like Santa Claus, the man who always wears a hat and suspenders and walks with a cool hand carved cane. That, and always having a monopod and camera with him.
On Wednesday, I attended my 8-year-old granddaughter Karah's softball game. During the home half of one of the innings, I shuffled over to the Stryker dugout so I could take some photographs. As I aimed my camera towards the girls in the dugout, one of Karah's teammates said. Who's grandfather are you? I thought, here's THAT moment. Will she own me? Without even pausing to think, Karah replied, He's MY grandfather! And then she added, can't you tell?  She seemed quite indignant that it was not evident to everyone that I was her grandfather.
These are the small moments that make your day, even when you are in tremendous pain.
Here's some of the photographs I've shot in recent weeks.