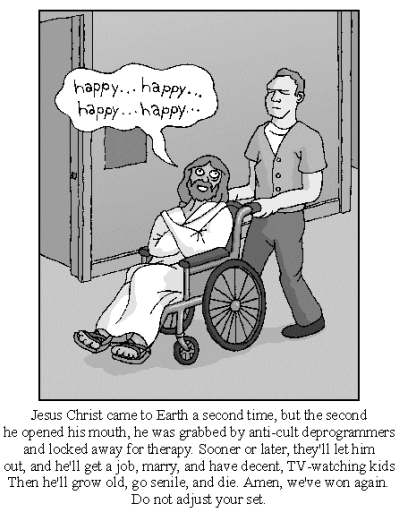 Several months back, I asked readers to submit questions they would like me to answer. If you would like to ask a question, please leave your question here.
Tony asked
I'd like to hear your thoughts on Jesus: who exactly do you think he was? I've read back through your archives to see if you covered it before, and found some thoughts, but would love to hear your take on specifically what you think Jesus was about. I sat in church last week and heard the old "JESUS CHRIST WAS EITHER A LIAR, A LUNATIC, OR LORD!!" sermon. Yeah, whatever… I find those options to be extremely limiting and I don't see what authority anyone has to demand we choose only one of those. I also realize we are confined by getting much of our historicity of Jesus from the scriptures that were written decades after his death, and surely seem to be agenda-driven. But still, would like to hear your thoughts. Thanks for your great work on this blog, Bruce! Always enjoy reading.
Tony asks a question that tends to stir up all kinds of controversy. Some atheists now think Jesus was a myth, that everything the Bible says about Jesus is fiction. I am not one of them. I think Bart Ehrman's arguments in Did Jesus Exist: The Historical Argument for Jesus of Nazareth and How Jesus Became God: The Exaltation of a Jewish Preacher from Galilee provide ample evidence for Jesus being a real person (and I have no desire to debate this issue).
Christians answer this question with all sorts of faith claims based on their interpretation of the Bible. As a non-Christian, I look to history, including the history found in the Bible, to determine who Jesus was. The Christian says, you mean who Jesus IS, right? No, that would be a faith claim. I know of no compelling evidence for the belief that Jesus, the son of God, resurrected from the dead and is now in heaven interceding on behalf of his followers. What the evidence does tell us is that a man by the name of Jesus lived in Galilee, was some sort of religious or political figure, and was likely executed. He lived, he died, end of story.
Some atheists think the Bible is a complete work of fiction. Again, I don't agree with this position. I think within the Bible we can find historical facts. Granted, these facts are mixed in with distortions and fabrications, so I can understand why someone might say the Bible is historically unreliable. That said, I think most of what Christians say about Jesus has no proof outside of the Bible. Believing requires suspending reason and exercising faith. While the Christian is free to do so, I am not willing to accept that Jesus is who Christians claim he is based on the Bible says so.
Outside of the New Testament — a collection of books written by unknown authors 20 to 100 years after the death of Jesus — there is very little historical proof for the existence of Jesus. I can easily understand, if someone rejects the history found in the Bible and relies on secular sources alone, they might conclude that Jesus was a mythical being. Each of us must determine for ourselves if the evidence is sufficient to warrant thinking Jesus was a real person.
As textual critics and New Testament history scholars continue to punch holes in the Christian/Jesus narrative, some followers of Jesus are forced to reevaluate their beliefs. Sometimes, this leads to a loss of faith or, as in the case of the Evangelical, a move towards liberal Christianity. Sadly, the majority of American Christians could not defend their beliefs if their life depended on it. They wrongly think that the Bible narrative is true and that whatever their pastor tells them is rooted in historical fact. This is why books by Bart Ehrman and Robert M. Price are so deadly to faith. They confront the Evangelical with evidence their pastor or Sunday school teacher never mentioned. Once confronted, Evangelicals must determine how this evidence changes their view of God, Jesus, and Christianity. Some hold on to faith, others lose their faith or move on to sects that value scholarship over blind faith.
Personally, I consider Jesus's sermon in Matthew 5-7 to be a powerful indictment of modern culture and much of American Christianity. I find great value in his teachings and the world would be well served if Christian and atheist alike embraced many of his teachings. Not all of them, of course, but I do find value in many of the things Jesus said. I can say the same thing about other moral/ethical writings, secular and religious.
101716