Snark ahead.
Two years ago, our youngest son moved out, and he left behind a box of trading cards for our grandson. He had hundreds of trading cards, including some from Answers in Genesis. I am not sure how old these card are, but I suspect they are at least 15 years old. I did not know these cards were in the box, and my oldest son found them when he was going through the collection with our grandson.  We had a lot of fun with these cards, a reminder of what we once believed.  I thought you might enjoy the good science these cards teach, so I scanned a couple of them just for you!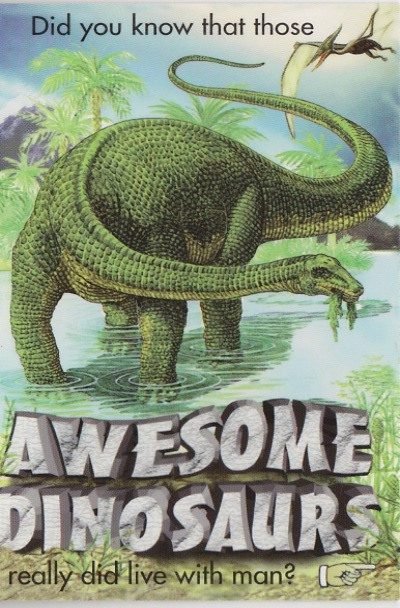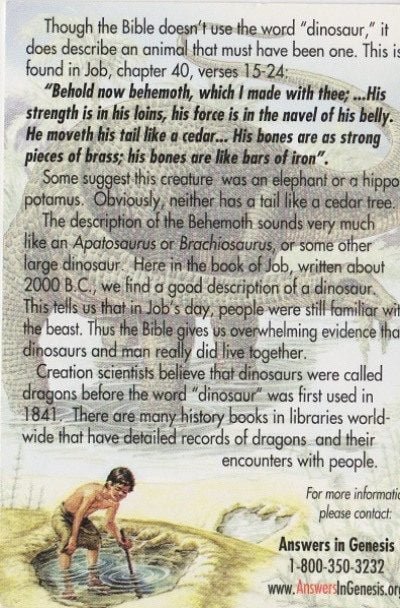 I love the logic of this card. Ken Ham and Answers in Genesis are committed to a Fundamentalist, literalist interpretation of the Bible, except when it not convenient to do so. Since the inerrant, infallible, inspired creationist science textbook, AKA the Bible, doesn't mention dinosaurs, and Ham and Co. know dinosaurs existed at one time, it is imperative that one of the animals mentioned in the Bible be a dinosaur. Kids love dinosaurs and  have lots of questions about them. Using his magic Bible word-decoder ring, Ham determined that the behemoth in the book of Job is actually a dinosaur and that dragons are also dinosaurs.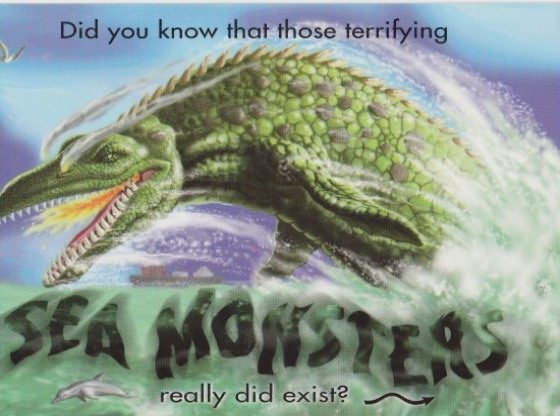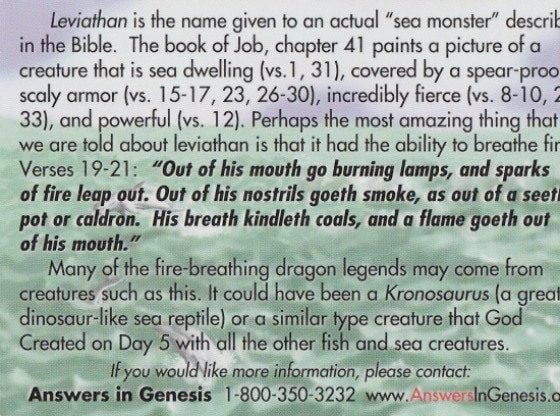 I found this card interesting for a different reason. The card states emphatically that the Leviathan mentioned in the book of Job is actually a sea monster. No, actually it is a Leviathan, right? We must not tamper with the inerrant, infallible, inspired creationist science textbook, AKA the Bible. But again, when a point needs to be made, Ham and Co. have no problem ignoring the hermeneutic they demand all other Christians use.
Forty years ago, I heard a sermon on Job 41:19-21, but it wasn't about a sea monster. Oh no, this IFB preacher was quite novel and his sermon showed that you can make the Bible say almost anything. The text says:
Out of his mouth go burning lamps, and sparks of fire leap out. Out of his nostrils goeth smoke, as out of a seething pot or caldron. His breath kindleth coals, and a flame goeth out of his mouth.
Are you ready for it? Drum roll, please! According to this preacher, these verses are about SMOKING!  Surely you can see it:
Out of his mouth go burning lamps (the burning cigarette in the mouth)
Out of his nostrils goeth smoke
His breath smells bad
This is definite proof that smoking is a sin.
And now let us go to a Sunday service at Bible Baptist Church. It is manipulation time, time for the altar call:
Every head bowed, every eye closed. Is God convicting you of the sin of smoking? If so, with no one but God and me looking, please raise your hand so I can pray for you.

I see that hand, and that hand. Praise Jesus.

Dear baby Lord Jesus, I pray right now for those who have admitted they are sinful smokers. Please forgive them of their sin and give them the victory over Marlboro. And while you are at it Lord…please help them to see that the money they are saving by not buying cigarettes can be put in the offering plate so the church can continue to preach the gospel of no smoking.

In the name above all names, the Lord Jesus Christ, Amen.
121615