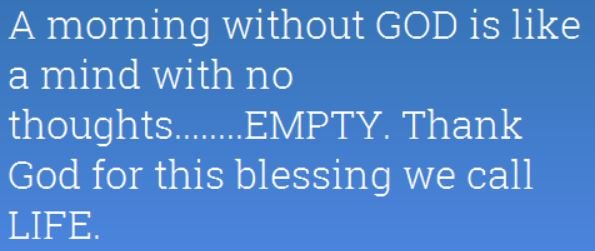 I recently received an email from an Evangelical named Preacher Dog. Here's an excerpt from his email:
1. In stating you are an agnostic, although you think it is highly improbable that there is a God/creator, is it logical to think that the creature can possibly exceed its Creator in terms of intelligence, wisdom or virtue? I mean, if you are actually leaving the door open to the potential that God might exist, then it's fair to say that the clay cannot be superior to the potter, right? Think about it. When people shake their fists and [sic] God, scream at Him, curse Him, or question Him, etc., what they are really claiming is that they are superior to Him. They are charging God with having less love, or less righteousness, or with caring less, etc. Of course, this is a very silly premise, to say the least. So if you are leaving the door open to the possible existence of God, and God does indeed exist, then you must admit and concede to God's superiority to yourself on all fronts. Do you see my point? You are a personal being, so can God be any less personal? If you are a loving being, is it reasonable to think God is some cold, heartless, unfeeling entity?

2. Okay, let's assume God doesn't exist. If such is the case, then where then does this leave you? Well, it leaves you stuck in the hopeless, senseless, futureless bog of mere naturalism. Yup, stuck in the mud, as the old saying goes. All of life is the product of mere time and chance. Everything is therefore "natural" ( including religion), and there's no sense putting morality to anything, because authoritative morality doesn't exist under such a naturalistic worldview. Hey, the only difference between man and all other creatures is conscience and a greater dose of  intelligence, right? But as soon as chickens develop self awareness and start talking, then it will be a heinous, murderous act to sit down to a chicken finger dinner with coleslaw and a thick strawberry shake.

Bill, as I see it, abandoning a belief in God has left you greatly wanting. Throw God out of the equation of life and you will not be able to define your origin, meaning, purpose and destiny. Well, you can define it, but not properly, sensibly or logically.

Bill, you are not a glorified frog.

Think about it.
He later emailed me and apologized for calling me Bill. Bill, Bruce, it matters not. Let me attempt to answer his questions.
In admitting that I am agnostic on the God question, I am in no way suggesting that a God of some sort exists. Since I lack absolute knowledge, it is possible that some sort of deity created the universe. In determining whether a God exists, all any of us can do is weigh the available evidence and make a rational decision. Since all of life is based on probabilities, all I can do is look at the evidence and make a decision as to whether some sort of deity exists. Having done so, I have concluded that God does not exist. Let me put it this way. It is possible that if I step outside my back door at a certain time a falling piece of an aircraft engine could hit me in the head and kill me. It's possible, but not likely. I can, with calm assurance, walk out my back door at a certain time without a glance to the skies to see if something is hurtling my way. So it is with God. I have no thoughts or worries about the existence of Gods because I see no evidence for their existence.
I suspect that Preacher Dog thinks that I am leaving the door open for believing once again in the Christian God. I am even more certain that the Christian God is a fiction conjured up in the minds of humans millennia ago. Since I am able to read and study the Bible, the odds are even less that the Christian God — in all his various iterations — does not exist. Having spent 50 years in the Christian church and 25 years as a pastor, I think it is safe for me to say that I know the Bible inside out. I can't remember the last time I have discovered a new "truth" about Christianity. The Bible is not an inexhaustible book. It can be read and studied to such a degree that one can fully comprehend its construction, message, purpose, and teachings — along with the various sectarian interpretations of Christianity and the Bible. I have no doubt that the supernatural claims of the Bible are false. While I think there was a man named Jesus who lived and died in first century Palestine, that Jesus bears little resemblance to the Jesus of the Bible. At best, Jesus was some sort of Jewish prophet or teacher who lived and died 2,000 years ago. His miracles, resurrection, and ascension should be rejected by rational thinkers and viewed no different from countless other mythical stories passed down through history.
People such as Preacher Dog are often clueless as to their own atheistic beliefs. While most Evangelicals — having been raised in Evangelicalism — reject all other religions but their own without studying them, some Evangelicals do study other religions before concluding that the Christian deity is the one true God. While I do have my doubts about whether someone can study world religions and still think that only one religion is right, I have had Evangelicals tell me that they had done their homework, so I am taking them at their word. Regardless of the path to Evangelicalism, once people embrace Christianity they are, in effect, saying that all other deities are false Gods. This makes them atheistic towards all Gods but their own.
Much of what Preacher Dog says in his first point doesn't make sense to me. I think he is saying it is ludicrous for humans to say that they are morally superior to their Creator (assuming that their Creator is the Christian God). What reveals to us the existence of the Christian God? Not nature or conscience. Nature can, depending on how one views the universe, testify to the existence of some sort of deity or creating energy. However, there is zero evidence in the natural world that proves that this deity is the Christian God. The same could be said for human conscience. At best, all we can say is that some sort of God exists. I have written numerous times on the lack of a bridge that connects the God of nature to the God of Christianity. The only way that people come to believe in the Christian God is through the teachings of the Bible. Perhaps nature reveals A GOD of some sort, but the Bible reveals THE GOD.
Since the Bible reveals to us the Christian God, we can then determine the nature and morality of this God. Those who read the Bible without filtering it through the various Evangelicals interpretive filters, will conclude that the God of the Bible is an immoral monster. He is a misogynistic, violent, capricious psychopath who uses suffering, pain, loss, and death to teach frail humans so-called life lessons. While this God gets somewhat of a moral makeover in the New Testament, by the time we get to the book of Revelation, the nice New Testament Jesus-God has reverted to the moral monster of the Old Testament. Look at all the things God does to people during the Great Tribulation. Such violent behavior makes the Christian God a perfect candidate an episode of the TV show Criminal Minds. There is nothing in the behavior of the Christian God that I find appealing —  or moral. Where is this God of mercy, kindness, and love Evangelicals fondly talk about?  When I compare the behaviors of Evangelicals with those of their God, I find that Christians (and atheists) are morally superior to that the God of the Bible. And the world should be glad that this is the case. Imagine what would happen if Evangelicals started acting like their God. Why, there would be blood bridle deep in the streets (Revelation 14).
In his second point, Preacher Dog regurgitates a well-worn Evangelical trope — that without God life would be senseless and meaningless. This is notion is easily refuted by pointing to the fact that the overwhelming majority of world citizens are not Christians. And if the only True Christians® are Evangelicals, then 90% of people are living sinful, meaningless lives. Preacher Dog cannot intellectually or psychologically comprehend the idea of the existence of morality apart from the teachings of the Bible. If all Christians everywhere had the same moral beliefs, then Preacher Dog might be on to something. However, even among Evangelicals — people of THE Book — moral beliefs widely vary. Christians can't even agree on the Ten Commandments. (Please see Letter to the Editor: Is the Bible the Objective Standard of Morality?)
Evangelicals believe that the only things keeping them from being murderers, rapists, and thieves, is God and the so-called objective Bible morality. For the uninitiated, this argument makes sense. However, for those of us well schooled in all thing Evangelical, we know that Evangelicals incessantly fight about what the Bible does or doesn't say. Just stop by an Evangelical preacher's forum and watch them go after each other about what is the "law" of God. God may have written his laws down on stone tablets, but modern Evangelicals, just as their Pharisaical forefathers, have developed lengthy codes of morality and conduct. It is laughable to think that there is some sort of universal Christian morality. Christians can't even agree on whether there are TEN commandments in the Decalogue. Some New Covenant Christians think the Ten Commandments are no longer binding A careful examination of the internecine wars Christians fight over what the Bible says reveals that Evangelical beliefs are the works of men, not God. There is no such thing as objective or absolute morality. Morality has always changed with the times (or with new Biblical interpretations). Behaviors once considered moral are now considered immoral. As humans adapt and change, morality evolves. There was a time when it was moral for men to have child brides. Most countries now have laws prohibiting such marriages. We wisely recognize that it is not a good idea to allow grown men to marry 12-year-old girls.
It should be obvious to everyone that morality flows not from the Bible but from the minds of humans. We the people decide what is moral and lawful. Our objective should be to build a moral framework on the foundation of "do no harm to others." Of course, this maxim is not absolute. When a nation-state attempts to assert its will over another, war often breaks outs. Settling things often requires violence. People are injured or die as these nations settle their differences. This is regrettable, but it serves as a reminder that the maxim of "do no harm to others" can never be absolute. Let me explain matters another way. Suppose a man is driving down the road with his eight-months-pregnant wife. A car hits them head on, severely injuring the wife. Her injuries are so severe that doctors tell the father that he must choose between the life of his wife or the fetus. No matter who he chooses to save, the other will die. The father can choose to "do no harm" to one of them, but not both.
Preacher Dog thinks that atheists are incapable of defining their "origin, meaning, purpose and destiny." Again, another worn out, shallow understanding of how atheists and other non-believers understand the world. While Preacher Dog will appeal to the Bible as "proof" of his origin, the fact is he is making a faith claim. Atheists do the same. We do not know what took place before the Big Bang. How life began is beyond our understanding — for now. Unlike those whose minds are chained to the pages of an ancient religious text, atheists put their "faith" (confidence, trust) in the scientific method. It is the best vehicle, so far, for explaining the universe. We may never have all the answers, but we will continue to seek out as much knowledge as we can. Evangelicalism, on the other hand, leads to lazy thinking. Genesis 1-3 is given as proof of how the world came into existence. Science easily shows such claims are false, yet Evangelicals are content to say, God or the Bible says ___________ (fill in blank with statement of fact not in evidence).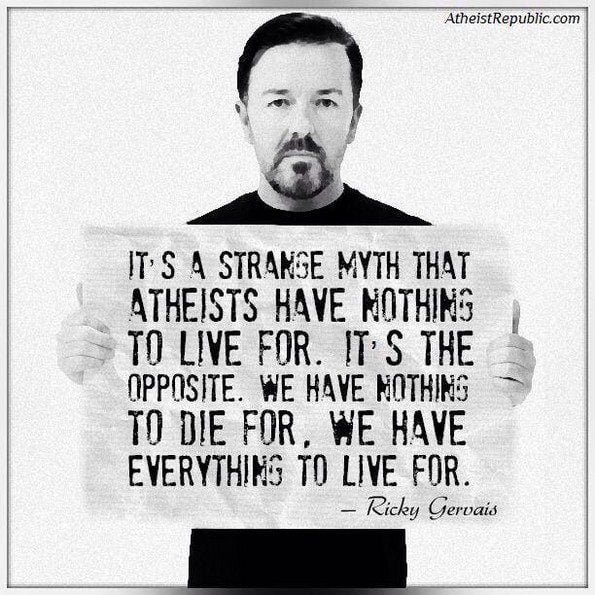 As far as meaning or purpose is concerned, Evangelicals such as Preacher Dog have been duped into thinking that the Evangelical God alone gives their lives meaning and purpose. Again, billions of people live meaningful, purposeful lives without believing in the Christian God, so what does that say about this Preacher Dog's assertion? I know P Dog can't wrap his mind around what I am going to say next, but it is true nonetheless. I am a contented, happy person. In fact, atheism and humanism have, in every way, improved my outlook on life. No longer facing the moral demands of a deity is a big relief. Not having to devote my waking hours to slavish  worship of God allows me to have time necessary to enjoy life. Being human and alive is enough for me. Having a wonderful wife, six children, and eleven grandchildren are more than enough to give my life meaning and purpose. I challenge the Preacher Dogs of the world to examine my life and conclude otherwise. I suspect most atheists, agnostics, humanists, pagans, and non-Christians would say the same. Life is what you make it.
What lies behind Preacher Dog's statement is the need for some sort of divine payoff. Evangelicals are told that suffering and loss are the price they pay for admission into God's gated community. Life is, in effect, offloaded to the afterlife — an afterlife, by the way, that no Evangelical knows for sure exists. Yes, the Bible says that there is life beyond the grave, but based on evidence found in cemeteries and on obituary pages, such a belief is little more than fanciful thinking.  One thing is certain, dead people stay dead. To use a bit of reverse Pascal's Wagers…are Evangelicals really willing to risk (and forego) the pleasures and joys of this life in the hope that there is life beyond the grave? What a waste if this life is all there is. Think of what you could have been done with all the money donated to the church or the hours spent in church services. And please, don't tell me that living life according to the Bible is a better way to live. It is not, and if it wasn't for the promise of eternal bliss and happiness, most Christians would abandon their houses of worship for the prospect of sleeping in on Sunday, followed by a relaxing afternoon spent with family, friends, and NFL football.
I choose to embrace THIS life as it is. Yes, life brings pain, suffering, and loss. In June I will be 59, just a hop, skip, and a fall to 60. I know a good bit about life, and here's a nugget of wisdom I would like pass on to Preacher Dog and his fellow zealots:
You have one life. There is no heaven or hell. There is no afterlife. You have one life, it's yours, and what you do with it is what matters most. Love and forgive those who matter to you and ignore those who add nothing to your life. Life is too short to spend time trying to make nice with those who will never make nice with you. Determine who are the people in your life that matter and give your time and devotion to them. Live each and every day to its fullest. You never know when death might come calling. Don't waste time trying to be a jack of all trades, master of none. Find one or two things you like to do and do them well. Too many people spend way too much time doing things they will never be good at.

Here's the conclusion of the matter. It's your life and you best get to living it. Some day, sooner than you think, it will be over. Don't let your dying days be ones of regret over what might have been. (from the ABOUT page)
If I died today, I would die knowing that I had lived a good life — one filled with meaning, purpose, joy, and happiness. Preacher Dog's religion has nothing to offer me. Like the Israelites of Moses' day, I have shaken off the bondage of Egypt. Why would I ever want to leave the Promised Land for the squalor of Egypt? As the old gospel song goes, I have come too far to look back now. I may not know what lies ahead, but I do know what's in my rear view mirror and I have no desire to turn around. Let me finish this post with a story from my teenage years. When I was 15 my parents divorced and my Dad packed everything up and moved us to Arizona. I wept many a tear as we drove farther away from all that I had ever known. Somewhere in the Plains states, we drove on a straight road that seem to go on forever. As I looked off into the distance, I could see how the road went on for tens of miles. And then there was a slight grade and the road disappeared. This is how view my life. There's a lot of history behind me. Plenty of good and bad experiences lie in the rubble of my past. However, in front of me all I see is a long road. Where will this road take me? What lies beyond the horizon? There are experiences to be had, joys to be experienced, and questions to be answered. It is these things that still, even at my age, excite me. Possibilities, to be sure, but I will never know unless I put the car in drive and move forward.
[signoff]