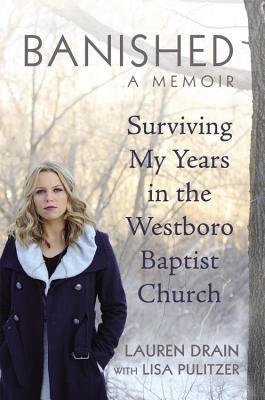 I recently finished reading, Banished: Surviving My Years in the Westboro Baptist Church. The book is written by Lauren Drain (along with Lisa Pulitzer) a former member of the Westboro Baptist Church in Topeka, Kansas. The book is 295 pages long and is published by Grand Central Publishing.
Lauren Drain spent her teenage years as a member of the infamous Westboro Baptist Church. The Drain family moved to Topeka to join the church in 2001 and they remain members to this day. In 2007, Lauren was kicked out of the church. For a time she continued to live in Topeka. She is a nurse and now lives in Connecticut with her fiancé.
I wanted to like this book, I really did. Anyone who can escape the clutches of Fred Phelps and the Westboro Baptist Church is to be commended. Throughout the book, it is evident that Lauren was mistreated and abused, and it is a wonder that she escaped with any sense of self-worth. The church and her family did their best to destroy her mentally and emotionally, yet she came through it, and she deserves a lot of praise for what she has done with her life post-Westboro.
Banished reads like a teenage girl's diary. Page after page detail Drain's angst over boys, make-up, dating, marriage, and the fear of going to hell. Drain spends significant time repeatedly detailing how she craved the approval of the Phelpses and how she went about trying to gain their approval. Sadly, the book became quite redundant and I found myself speed reading.
Banished does offer a first-person account of how the Phelps clan lives. However, Drain has very little negative to say about the Phelpses or the church. As one reviewer on Amazon noted, it seemed that Drain, if she could, would go back to Westboro. I doubt this is actually the case, but Drain spends little time critiquing the vile behavior and beliefs of the Westboro church family. I don't want to be harsh in my judgment because I have not walked in her shoes, and since her family is still members of Westboro, I can easily understand her hesitation to be severely critical of the Westboro church family.
Drain was not kicked out of Westboro because of her beliefs. She still believes in the Christian God, albeit a different version of the Christian God — a kinder, gentler, loving God – than that of the Westboro Church. She still reads and studies the Bible and has come to see that there are many different ways to interpret the Bible.
In telling her story, whether intentionally or not, Drain shows that the Phelps family and the Westboro Baptist Church is made up of vile, nasty, vindictive people, who, due to their doctrinal beliefs, have lost the capacity to love anyone other than their own (and even then, their love is conditioned on obedience to what the church beliefs and the edicts of the pastor).
Drain reveals that the Phelps family has a few secrets of its own, such as the fact that two of Fred Phelps' daughters became pregnant outside of wedlock. I am sure this was especially galling to Drain, since the reason she was banished is because she desired to have a relationship with a boy who was not a member of the church. That's right — her big sin was being a normal, heterosexual teenage girl.
And this is the crux of the story. It is the story of an American teenage girl who wanted to be like other teenage girls. She wanted to have a boyfriend. She wanted to feel loved. She had wistful thoughts about getting married some day. (The only available boys in the church to marry were grandsons of Fred Phelps.) Her parents, the Phelpses, and the Westboro Baptist Church robbed her of her youth. They used and abused her and then threw her away like a piece of trash. (To this day she has no contact with her parents.)
I wish Lauren Drain well. She deserves a good life, a life with those who will love her for who she is. I hope that someday her family will be delivered from Phelps' cult and that her relationship with them can be restored. I can only imagine the pain she must suffer from being completely cut off from her parents and siblings.
Drain gives the impression that the Westboro Baptist Church in an aberration and that most Christian churches and people are not like the Phelpses and Westboro. Unfortunately, my extensive involvement in Evangelicalism tells me this is not the case.
Westboro uses the threat of church discipline to control its members. I know of many Calvinistic Baptist churches that do the same. When I was co-pastor of Community Baptist Church in Elmendorf, Texas, I saw church discipline routinely used to keep people in line. People who refused to obey were excommunicated. When I decided to leave the church and return to Ohio, I was excommunicated because I did not ask the church's permission to leave. To this day, the church considers me a publican and heathen.
Drain reveals that Fred Phelps is the domineering, controlling man everyone thinks he is (as is his daughter Shirley, who rules the church with her father). As the pastor of the church, he rules the church with a rod of iron. His word is the law. Is such behavior by a pastor an aberration? Maybe in some sects, but in the Independent Fundamentalist Baptist (IFB) church and in many other Evangelical sects, extreme pastoral authority and control is the norm.
Westboro Baptist Church is a cult. Drain refuses to say this in the book, but any cursory reading of Banished will clearly show that the Westboro Baptist Church is a cult and Fred Phelps is a cult leader. The same cult markers found in the Westboro Baptist Church can be found in countless Evangelical churches. If anything, Banished should be read by every church member in the IFB church movement. If they are able to set their cognitive dissonance aside, IFB church members should have no trouble seeing themselves in the book. As I have often said, there is little difference between many Evangelical churches and pastors on the one hand and Westboro Baptist Church and Fred Phelps on the other. The difference is one of appearance rather than substance. There is nothing in the beliefs of Fred Phelps and Westboro that can't be found in Calvinistic churches in the IFB church movement, in the Reformed Baptist movement, the Founder's Group in the Southern Baptist Convention, and the Sovereign Grace Baptist movement. Theologically, there is little difference between Fred Phelps and Al Martin or Al Mohler.
While I cannot give Banished a 4 star rating for the reasons mentioned above, I do think people investigating the Westboro Baptist Church or Evangelical cultism in general will find the book helpful.
You can purchase the book here.
070216