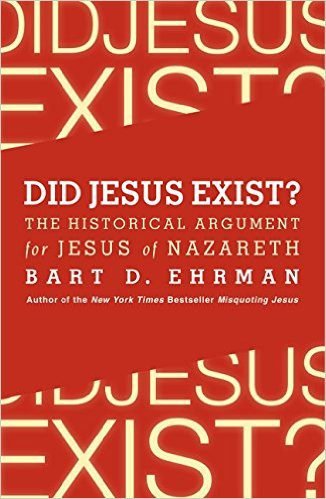 Repost from 2012
I am delighted to review Dr. Bart Ehrman's latest book, Did Jesus Exist? The Historical Argument for Jesus of Nazareth. The book was sent to me by the publisher.
Anyone who reads this blog knows I am a big fan of Bart Ehrman. When I began to move away from Christianity, Ehrman's books were extremely helpful. They forced me to confront my beliefs about the English Bible and the underlying Greek and Hebrew text. I was also forced to consider that many of the ideas I had about Christianity and its history were either complete fabrications or an admixture of truth and error.
I have stated many times that any Evangelical Christian who honestly reads Bart Ehrman's books can no longer say, I believe the Bible is the inspired, inerrant, infallible Word of God. Evangelicals might be able to hang on to some form of progressive or liberal Christian belief but Ehrman's books are an axe to the root of Evangelical Christianity.
Ehrman's latest book, Did Jesus Exist? is 368 pages long. As he has in the past, Ehrman writes in a manner easily understood by the non-scholar. I am sure he will be faulted, as he is every time he comes out with a new book, for not having enough footnotes or endnotes, but Ehrman knows who is target audience is and he does not weigh them down with copious notes that only the scholars among us would appreciate. The bibliography does list 45 authors and 66 books, with ample representation by authors who believe Jesus existed and those who don't. Anyone wanting to research this matter further will find plenty of material listed in the bibliography to help them with their research.
I am not a scholar, at least in the sense the word is used in the Did Jesus Exist debate. I was a Christian for 50 years. I spent 25 years pastoring Evangelical churches in Ohio, Texas, and Michigan. I have a rudimentary Bible College education. While in college I received no training in Hebrew or Greek. I was taught a narrow, truncated version of Christian church history. What knowledge I gained about Hebrew and Greek and Christian church history came from tens of thousands of hours spent in the study.
As a pastor, I was largely self-taught, and books became my education. Over time, I came to trust certain authors. This is what most non-scholars do. We decide which authors, which experts, we are going to trust. We do this all the time in virtually every sphere of life in which we are not expert. However, when it comes to the Bible, it seems everyone is an expert.
I am not a expert. I am not a novice but I am certainly not a university- and seminary-trained scholar. I am also at the place in life age-wise and health-wise where my ability to improve my academic lot is limited. I read and study as much as I can. As I do this, I again look for authors that I can trust. Dr. Bart Ehrman is one such author.
In Did Jesus Exist? Ehrman states several times that history is not a science. There is no test to prove that Jesus existed. The historian must look at the available evidence and come to a reasonable conclusion. From those conclusions, we end up with probabilities. The main question that Ehrman asks is, is it probable that Jesus existed? Based on the available evidence Ehrman says, Yes, Jesus existed.
Ehrman states in the introduction that his goal is not to convince mythicists (those who don't believe Jesus existed) of the folly of their view. He writes :
I do not expect to convince anyone in that boat. What I do hope is to convince genuine seekers who really want to know how we know that Jesus did exist, as virtually every scholar of antiquity, of biblical studies, of classics, and the Christian origins in this country and, in fact, in the Western world agrees. Many of these scholars have no vested interest in the matter. As it turns out, I myself do not either. I am not a Christian, and I have no interest in promoting a Christian cause or a Christian agenda. I am an agnostic with atheist leanings, and my life and views of the world would be approximately the same whether or not Jesus existed. My beliefs would vary little. The answer to the question of Jesus's historical existence will not make me more or less happy, content, hopeful, likable, rich, famous, or immortal.

But as a historian I think evidence matters. And the past matters. And for anyone to whom both evidence and the past matter, a dispassionate consideration of the case makes it quite plain: Jesus did exist. He may not have been the Jesus that your mother believes in or the Jesus of the stained-glass window or the Jesus of your least favorite televangelist or the Jesus proclaimed by the Vatican, the Southern Baptist Convention, the local mega-church, or the California Gnostic. But he did exist, and we can say a few things, with relative certainty, about him.

In any event, I need to admit that I write this book with some fear and trepidation. I know that some readers who support agnostic, atheist, or humanist causes and who typically appreciate my other writings will be vocal and vociferous in rejecting my historical claims. At the same time certain readers who have found some of my other writings dangerous or threatening will be surprised, possibly even pleased, to see that here I make common cause with them. Possibly many readers will wonder why a book is even necessary explaining that Jesus must have existed. To them I would say that every historical person, event, or phenomenon needs to be established. The historian can take nothing for granted. There are several loud voices out there, whether you tune into them or not, who are declaring that Jesus is a myth. This mythicist position is interesting historically and phenomenologically, as a part of a wider skepticism that has infiltrated parts of the thinking world and that deserves a clearheaded sociological analysis in its own right. I do not have the skills or expertise to provide that wider analysis, although I will make some brief remarks about the broad mythicist phenomenon in my conclusion. In the meantime, as a historian I can show why at least one set of skeptical claims about the past history of our civilization is almost certainly wrong, even though these claims are seeping into the popular consciousness at an alarming rate. Jesus existed, and those vocal persons who deny it do so not because they have considered the evidence with the dispassionate eye of the historian, but because they have some other agenda that this denial serves. From a dispassionate point of view, there was a Jesus of Nazareth.
Did Jesus Exist? has three parts:
Evidence for the Historical Jesus
The Mythicists' Claims
Who Was the Historical Jesus?
In the first chapter Ehrman gives a brief history of the mythicist view and its relevant present-day authors. Later in the book he will come back to these authors and give their views more careful consideration. Ehrman looks at the mythicist claims of such men like Robert M Price, Richard Carrier, Frank Zindler, Thomas L. Thompson, Earl Doherty, George A. Wells, Acharya S, D.M. Murdock, Timothy Freke, and Peter Gandy.
In chapter two Ehrman talks about the non-Christian sources for the life of Jesus. Ehrman makes it clear that there is no hard, physical evidence for Jesus. There is no archeological evidence. There are no writings from Jesus. Does this mean the Jesus did not exist? Hardly.
Ehrman writes:
This is not much of an argument against his existence, however, since there is no archaeological evidence for anyone else living in Palestine in Jesus's day except for the very upper-crust elite aristocrats, who are occasionally mentioned in inscriptions (we have no other archaeological evidence even for any of these). In fact, we don't have any archaeological remains for any non-aristocratic Jew of the 20s CE, when Jesus would have been an adult. And absolutely no one thinks that Jesus was an upper-class aristocrat. So why would we have archaeological evidence of his existence?

We also do not have any writings from Jesus. To many people this may seem odd, but in fact it is not odd at all. The vast majority of people in the ancient world could not write, as we will see in greater detail. There are debates about Jesus's literacy, if of course he lived. But even if he could read, there are no indications from early sources that he could write, and there is no reference to any of his writings in any of our Gospels. So there is nothing strange about having nothing in writing from him. I should point out that we have nothing in writing from over 99.99 percent of people who lived in antiquity. That doesn't mean, of course, that they didn't live. It means that if we want to show that any one of them lived, we have to look for other kinds of evidence.
Ehrman spends a good bit of the book talking about the non-Christian sources for the life of Jesus. He talks about:
Roman references: Pliny the Younger, Suetonius, and Tacitus
Jewish sources: Josephus
Mythicists often claim that the passage in the writings of Josephus that makes mention of Jesus was not written by Josephus, that it was added by a Christian years later. Ehrman charts a path between the extremes of yes, Josephus wrote this and no, he didn't by suggesting that the passage in question had been embellished.
Ehrman writes:
The big question is whether a Christian scribe (or scribes) simply added a few choice Christian additions to the passage or whether the entire thing was produced by a Christian and inserted in an appropriate place in Josephus's antiquities.

The majority of scholars of early Judaism, and experts on Josephus, think that it was the former–that one or more Christian scribes "touched up" the passage a bit. If one takes out the obviously Christian comments, the passage may have been rather innocuous, reading something like this:

At this time there appeared Jesus, a wise man. He was a doer of startling deeds, a teacher of people who receive the truth with pleasure. And he gained a following both among many Jews and among many of Greek origin. When Pilate, because of an accusation made by the leading men among us, condemned him to the cross, those who had loved him previously did not cease to do so. And up until this very day the tribe of Christians, named after him, has not died out.

If this is the original form of the passage, then Josephus had some solid historical information about Jesus's life: Jesus was known for his wisdom and teaching; he was thought to have done remarkable deeds; he had numerous followers; he was condemned to be crucified by Pontius Pilate because of Jewish accusations brought against him; and he continued to have followers among the Christians after his death.
As can be expected, Ehrman spends considerable space detailing why the gospels must be considered as historical sources. Ehrman does a good job defending the view that that gospels are a historical source and certainly are appropriate for use in determining whether or not Jesus existed. Mythicists like to reduce the gospels down to one gospel, Mark, and Ehrman makes short work of the folly of such an argument.
Ehrman concludes his chapter on The Gospels as Historical Sources with this:
The evidence I offer in this chapter is not all there is. It is simply one part of the evidence. But it is easy to see why even on its own it has proved to be so convincing to almost every scholar who ever thought about the issue. We are not dealing with just one gospel that reports what Jesus said and did from some time near the end of the first century. We have a number of surviving gospels—I name seven—that are either completely independent of one another or independent in a large number of their traditions. These all attest to the existence of Jesus. Moreover, these independent witnesses corroborate many of the same basic sets of data—for example, that Jesus not only lived but that he was a Jewish teacher who was crucified by the Romans at the instigation of Jewish authorities in Jerusalem. Even more important, these independent witnesses are based on a relatively large number of written predecessors, gospels that no longer survive but that almost certainly once existed. Some of these earlier written texts have been shown beyond reasonable doubt to date back at least to the 50s of the Common Era. They derive from locations around the Mediterranean and again are independent of one another. If historians prefer lots of witnesses that corroborate one another's claims without showing evidence of collaboration, we have that in relative abundance in the written sources that attest to the existence of the historical Jesus.

But most significant of all, each of these numerous gospel texts is based on oral traditions that had been in circulation for years among communities of Christians in different parts of the world, all of them attesting to the existence of Jesus. And some of these traditions must have originated in Aramaic-speaking communities of Palestine, probably in the 30s CE, within several years at least of the traditional date of the death of Jesus. The vast network of these traditions, numerically significant, widely dispersed, and largely independent of one another, make it almost certain that whatever one wants to say about Jesus, at the very least one must say that he existed. Moreover, as we will now see, there is yet more evidence.
In chapter four Ehrman talks about the evidence for Jesus from later sources outside the gospels. He briefly talks about Josephus and Tacitus but he spends the bulk of this chapter giving evidence for Jesus's existence from Christian sources like:
Papias
Ignatius of Antioch
1 Clement
The book of Acts
The writings of Paul
Ehrman writes:
As a result of our investigation so far, it should be clear that historians do not need to rely on only one source (say, the gospel of Mark) for knowing whether or not the historical Jesus existed. He is attested clearly by Paul, independently of the Gospels, and in many other sources as well: in the speeches in Acts, which contain material that predates Paul's letters, and later in Hebrews, 1st and 2nd Peter, Jude, Revelation, Papias, Ignatius, and 1 Clement. These are ten witnesses that can be added to our seven independent Gospels (either entirely or partially independent), giving us a great variety of sources that broadly corroborate many of the reports about Jesus without evidence of collaboration. And this is not counting all of the oral traditions that were in circulation even before the surviving written accounts. Moreover, information about Jesus known to Paul appears to go back to the early 30s of the Common Era, as arguably does some of the material in the book of Acts….
In chapter five Ehrman talks about two key data for the historicity of Jesus:
Paul's association with Simon Peter and Jesus's brother James.
The crucifixion of Jesus.
Ehrman writes:
Paul indicates that he received some of these traditions from those who came before him, and it is relatively easy to determine when. Paul claims to have visited with Jesus's closest disciple, Peter, and with his brother James three years after his conversion, that is around 35—36 CE. Much of what Paul has to say about Jesus, therefore, stems from the same early layer of tradition that we can trace, completely independently, in the Gospels.

Even more impressive than what Paul says about Jesus is whom he knew. Paul was personally acquainted, as I've pointed out,with Peter and James. Peter was Jesus's closest confidant throughout his public ministry, and James was his actual brother. Paul knew them for decades, starting in the mid 30s CE. It is hard to imagine how Jesus could have been made up. Paul knew his best friend and his brother.

Paul also knew that Jesus was crucified. Before the Christian movement, there were no Jews who thought the Messiah was going to suffer. Quite the contrary. The crucified Jesus was not invented, therefore, to provide some kind of mystical fulfillment of Jewish expectation. The single greatest obstacle Christians had when trying to convert Jews was precisely their claim that Jesus had been executed. They would not have made that up. They had to deal with that and devise a special, previously unheard of theology to account for it. And so what they invented was not a person named Jesus but rather the idea of a suffering Messiah. That invention has become so much a part of the standard lingo that Christians today assume it was all part of the original plan of God as mapped out in the Old Testament. But in fact the idea of a suffering Messiah cannot be found there. It had to be created. And the reason it had to be created is that Jesus—the one Christians consider to be the Messiah—was known by everyone everywhere to have been crucified. He couldn't be killed if he didn't live.
In chapters six and seven, spanning almost a hundred pages, Ehrman talks about, and discredits, the claims of those (mythicists) who say Jesus did not exist. He returns to the writings of the mythicists I mentioned earlier.
What claims do mythicists make? Ehrman gives four claims that mythicists make:
Claim 1: The Gospels are Highly Problematic as Historical Sources.
We do not have the original texts of the gospels
We do not know the authors of the gospels
The gospels are filled with discrepancies and contradictions
The gospels contain non-historical materials
The stories in the gospels are filled with legendary material
Claim 2: Nazareth Did Not Exist.
Claim 3: The Gospels are Interpretive Paraphrases of the Old Testament.
Claim 4: The Nonhistorical "Jesus" is based on Stories About Pagan Divine Men.
In chapter seven Ehrman homes in on mythicist claims that Jesus was a mythical being. He asks and answers several questions:
Did the earliest Christians invent Jesus as a Dying-Rising God, based on Pagan myths?
Was Jesus invented as a personification of Jewish Wisdom?
Was Jesus an unknown Jew who lived in obscurity more than a century before Paul?
Was Jesus crucified in the spiritual realm rather than on earth?
Did Mark, our first Gospel, invent the idea of a historical person, Jesus?
Ehrman's answer to each of these questions is NO!
The final part of the book asks the question, Who was the historical Jesus? If Jesus existed who was he?
Ehrman makes clear that we must differentiate between the historical Jesus and the Jesus who Christians claim was born of a virgin, worked miracles and rose again from the dead. Before the supernatural claims can be addressed we must first determine if Jesus existed. We can believe Jesus existed without believing Jesus was born of a virgin, worked miracles, and rose again from the dead. The former is a matter history can decide. The latter is a matter of theology, of faith.
According to Ehrman, who was Jesus? After reading the book, I would summarize Ehrman's view like this:
Jesus was born in relative obscurity in the town of Nazareth. His parents were poor and his father was a common laborer. As an adult Jesus became a disciple of John the Baptist, and over time became an Jewish apocalyptic prophet. He was crucified by the authority of Pontius Pilate.
In the final part of the book Ehrman has much to say about the apocalyptic proclamations of Jesus and his apocalyptic activities. He makes a compelling case for Jesus, the apocalyptic prophet. I plan to write several posts in the future about several interesting points Ehrman makes about Jesus and the works he did during his three years of public ministry.
I have no doubt that the diehard mythicists who frequent this website will not be convinced by Bart Ehrman's, Did Jesus Exist? I can only hope they will read the book and it will force them to add a bit of nuance and temper to their claims. I also hope their wilder claims will die the swift death they deserve.
For the rest of my readers I hope the book will be instructive and will provide ammunition when debating with Evangelical Christians about the inerrant, inspired, infallible Word of God.
For Christian readers of this blog (yes, I know you are out there) the book is likely to be offensive, instructive, or affirming depending on how you open you are and how you view the Bible itself. I can only hope this book will be widely read in Christian circles.
As our family gathered together to watch Ohio State go down in flames to Kansas last night, I told them that I thought Did Jesus Exist? was Bart Ehrman's best book (and I have all of them). While Ehrman spends a good bit of time dealing with mythicist claims he also spends a lot of time detailing how we should read the Bible and judge its historical reliability. I daresay if Evangelical Christians are willing to read the book with an open mind they will never view the Bible or Jesus the same again.
Who is Dr. Bart Ehrman?
Bart D. Ehrman is the author of more than twenty books, including the New York Times bestselling Misquoting Jesus, God's Problem, Jesus, Interrupted, and Forged. Ehrman is the James A. Gray Distinguished Professor of Religious Studies at the University of North Carolina, Chapel Hill, and is a leading authority on the Bible and the life of Jesus. He has been featured on a variety of top media outlets.
You can buy Did Jesus Exist? here.