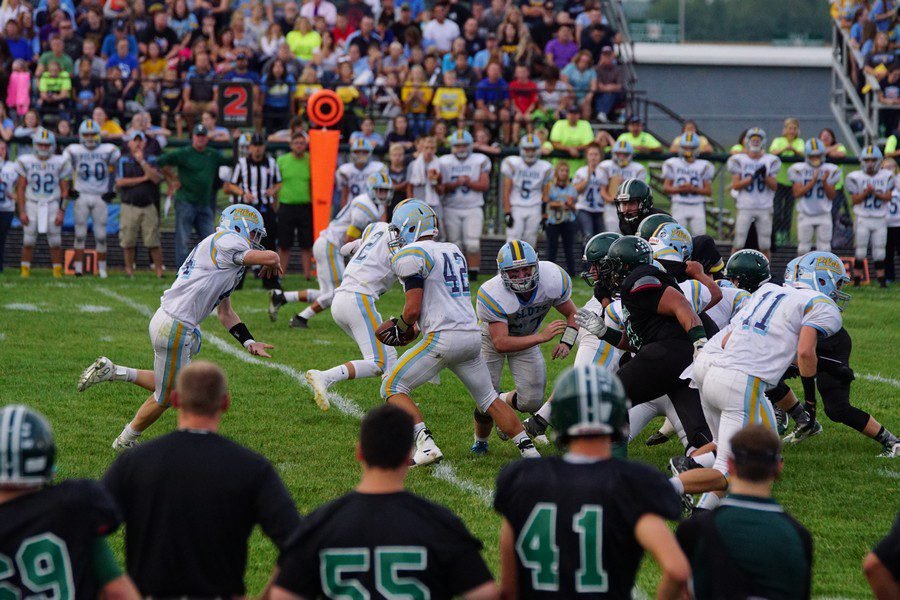 It is a beautiful Friday night in rural Northwest Ohio. Football weather — the time of year when I go to local high school football games with my sons. While none of my grandchildren is old enough to play football, I do enjoy watching young men battle it out on the gridiron, each hoping to be that night's victor.
On this Friday, the game of choice is Ayersville vs. Tinora — billed as THE must-see game. I arrive early at the field so I can secure a good seat. Second row up, 50 yard line, perfect for viewing and photography. As always, I have brought my camera, hoping to shoot a few keepers before the darkness of the night forces me to stop.
I am the first person in the stands, but not for long. Soon the bleachers start to fill. By game time, late arrivers will be forced to stand along the fence that cordons off the stands from the field. I smile as I think of those who will have to park great distances away from the stadium. The early bird gets the best seat, I think to myself, and Bruce Gerencser is ALWAYS early.
I soon settle into my seat. I sit, thinking of nothing but how nice the weather is for a September football game. By the time the Ohio High School Athletic Association crowns its divisional champions, the weather will have turned cold and snow will blanket the landscape. Today, I will enjoy the warmth of the sun and the balmy breeze that make it a perfect night for a football game.
Eyes closed and head tilted slightly towards the sun, I bask in the nothingness of the moment; that is, until my state of mindfulness is rudely interrupted by an elementary school boy. A younger family with children arrived a few minutes ago, taking up seats several rows above mine. Their restless son, unable to contain his energy, jumps from his row to mine, landing on the metal stands with a big thud. My seat bounces as his feet hit my row, causing me to abruptly return to reality. Not thinking, I said, quite loudly JESUS! Better than a swear word, right? The mother is offended by my utterance, choosing to ignore how her son actions in using the stands as a trampoline might affect others.
The young family soon moves to different seats. Did my taking the Lord's name in vain cause them to move? I don't know. Not that I care. As the stands continue to fill, an elderly man and his forty-something son make their way into the bleachers. I always sit on the end of the row. This allows me to control who sits next to me and it also allows me to stand up and move when people need to go to the bathrooms or concessions. I know I am a big guy, and not wanting a night filled with lap dances, I prefer to stand up and move into the common aisle so people can get by me.
Sitting on the end of the row has its disadvantage too. Over the years, I have been repeatedly beaten with purses, coolers, and the like as people make their way to their seats. Some people say sorry, but most often they ignore their personal assaults on my body. I accept that this is the price I pay for sitting near the common aisle. Tonight is no different. As the father and the son make their way up to their seats, both of them plow into me as if I didn't exist. Soon they settle into their seats right in back of mine. This begins what will be a night-long beating from both of them. I have suffered many such beatings before, so I smile, grit my teeth, and say nothing. I am still the polite Christian, I think to myself. I want to tell my oppressors, Dammit, PLEASE stop hitting me. But I say nothing, choosing instead to slide forward on my seat, hoping that the extra distance will keep me clear of their feet and knees.
The son brought with him an oversized stadium seat, a seat so large that my son asks him to move it so he can sit next to me. My sons are far less "Christian" than I am these days and are quite willing to ask people to remove themselves from their personal space. The man quickly complies, but as he does, his metal-framed chair smashes into my back, causing my pain-wracked body to scream its objection. Before I can turn towards the man and give him my really, asshole? face, he slaps me hard on the back twice and says, sorry 'bout that.
I can feel my face flushing with anger. I want to tell the man what I think about his assaults on my body and personal space, but I say nothing, choosing instead to weakly say, that's okay. It's not okay, I tell myself, but what's to be gained by telling this man what I really think? My grandchildren are sitting next to me, and their friends' families sit nearby. What will they think of me and our family if I give this man the verbal lashing he so richly deserves?
I reach for my pain medication, taking a double dose, choosing to suffer in silence. I am here to watch the game, my inner Bruce says. Ignore this asshole. Half time arrives and the game of the year is a blowout. The Tinora stands are quiet, shocked by the beat-down Ayersville is putting on the home team. With four minutes left in the game, I decide to leave, hoping to escape the throng that will soon pour from the stands.
I gingerly make my way down the stands to the walkway that leads to the parking lot. I walk haltingly, relying on my cane to keep me from falling over. Free from the man who assaulted me, I wrongly assume that I am safe from further indignities. As I walk slowly to my car, filled-with-life teens run into me. With a quick sorry uttered to a stranger, these youths continue to playfully run, hoping to catch friends. I don't blame them for running into me. I remember when I was their age. I had little thought of others and how my actions might affect them. I don't, however, have the same sympathies for the adults who rush by me, hoping to beat the traffic. Surely, they know better, I think to myself. By the time I reach my car, I have been run into countless times. I feel as if I have been forced to run a gauntlet. I unlock the car door, open it, and slowly pull myself into seat. I sit for a few moments, a tear of exhaustion in my eye. I can't do this anymore, I tell myself.
In a few moments, my mind and body settle down enough for me to start the car and head for home. Several hours later, I text my son: "Tinora vs. Holgate next Friday. Want to go?"