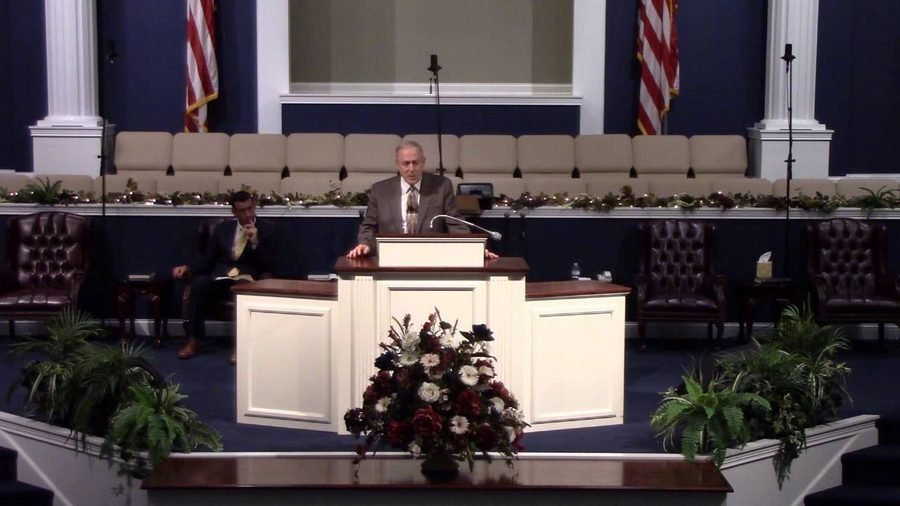 Please read previous posts on this scandal: Black Collar Crime: Woman Claims Evangelical Pastor Mike Holloway Knew She Had Been Sexually Abused and Did Nothing and Black Collar Crime: Evangelical Pastor Mike Holloway Denies He Knew Anything About Woman's Sex Abuse Claim and Black Collar Crime: Another Victim Comes Forward in Temple Baptist Church of Kokomo Sex Abuse Scandal
Today, The Kokomo Perspective released another episode in their ongoing coverage of the Temple Baptist Church sex scandal. Devin Zimmerman writes:
Donald Croddy first admitted to molesting his daughter, Dawn Price, in 1989 during a Department of Public Welfare child abuse investigation.

And, documents obtained by the Kokomo Perspective contradict claims by Temple Baptist Church leadership concerning whether Croddy admitted again to molesting his daughter in 1991.

In 1989 the Indiana Department of Public Welfare (the agency that would eventually become Child Protective Services) conducted an investigation at Temple Christian School. During that investigation, a 17-year-old Price admitted to a caseworker that she had been molested at a very young age by her father. In a subsequent interview with Croddy, he admitted to a caseworker that he had "fondled" his young daughter.

This information was obtained from a DPW 311 form, which Price had to procure because such documents are confidential. Price said she was shocked to learn that her father admitted to a caseworker he had molested her, and while she said certain aspects of the report weren't accurate, she also expressed dismay at the fact that no further action ever came from the investigation.

"When I got it, it was sealed. I … opened it while I was driving and immediately saw, 'Mr. Croddy admitted,' and I had to pull over because I was shaking so hard and crying so hard," said Price, who is now 45. "I couldn't believe he admitted to it, and they did absolutely nothing. They didn't even come back to talk to me again. They just let me go home with him. That just blows my mind. There was no follow up, no nothing … It was referred to the prosecutor and still nothing."

According to the DPW 311 form, caseworkers conducted their investigation of alleged child abuse on Nov. 15, 1989, after receiving a referral in September of that year where it was alleged Price had been molested by her adopted father when she was approximately 3 to 4 years old. Price noted that this isn't correct. She wasn't certain who made the referral, and that information remains confidential.

As a result of the referral, a caseworker interviewed Price at Temple Christian School. In that interview, "Dawn admitted to the caseworker that indeed she had been molested at a very young age by her father. She stated at this point in time she feels that she could use some counselling to deal with some of the emotional issues that are currently present. She stated that she is no longer afraid of her dad and the abuse did not continue."

By Price's own admission, the portion about not being afraid of her father was a lie. According to her, Croddy was actually at the school when the interview took place.

"I was always afraid of my dad. I mean, I don't know. I hate to admit it, but up until I started going to counseling a year-and-a-half ago, almost two years ago, I was still terrified of my dad," said Price. "It was more of a petrified, don't want to do anything. It was just instilled in me. He is going to lash out at you if you do anything wrong.

"At that point in time, which also blows my mind, he was there. So, anything I said, I didn't know if they would tell him. Like I said before, I was in self-preservation mode. Don't do anything that could cause me to get beat like Danny (Price's brother). Like I said before, I didn't even remember telling them that it happened. Reading that also kind of surprised me, that I actually told them."

According to the DPW 311 form, "Mr. Croddy admitted to the allegations and stated that he had fondled his daughter approximately 10 years ago, but nothing has occurred since. Caseworker referred Mr. Croddy to counselling, stating that Dawn was requesting having someone to talk to."

This, said Price, was inaccurate. She claimed that the alleged molestation had been more recent than her father stated and elevated to more than being "fondled." While the form also indicated she would be referred to counseling, Price also noted she never received any aid.

"I was 17 (at the time of the interview), so he had stopped five years prior," said Price. "So he doubled the years, first of all, and secondly, I think he, I don't know, he was trying to make it as little as possible so he would get in trouble as less as possible. It says, 'He admitted to the allegations and stated that he fondled his daughter.' He did a hell of a lot more than that.

….

On April 19, Holloway penned a letter that was shared via Facebook. In that letter, he wrote, "In February 2017, Dawn posted a video to Facebook making additional accusations against her father, claiming Don had admitted his behavior to me during the 1991 meeting. This accusation is completely false and an attack on both the truth and my character. Given the allegations made in Dawn's video, I sat down with Don and our church deacons for an in-depth discussion. After this discussion, I asked that he resign as a member of our church."

However, the Kokomo Perspective recently was given a document that was compiled by the church. This document includes notes about allegations made against the church by Price, actions taken by the church, and other similar information.

Within the document is an account of the conflict prior to Price's wedding in 1991, which appears to be compiled by information from Tami Breed, who is noted to be Temple Baptist Church's secretary.

"Approximately, Aug. 19, 1991, prior to her scheduled wedding at TBC, Dawn informed her fiancé (Andrew Thornton) that Don had molested her as a kid," read the document. "Andrew was very upset and possibly threatened to kill Don (not clear if a threat was verbalized). It was during this 'blowup' that Don admitted that he had molested Dawn as a child 14 years earlier (age 5). Following this confrontation, Dr. Holloway instructed Tami Breed to get him CLA's (Christian Law Association) phone number, which she did. He then contacted CLA for advice on how to handle this information and was told to have Don removed from all ministries that involve children. That was done immediately. Additionally, Dr. Holloway informed Tami Breed to keep an eye out for any inappropriate behavior."

….

Additionally, it was shown within the document that a meeting between Croddy, Holloway, and church deacons was scheduled after Price released a video in February detailing her accusations against her father.

The document reads, "Sunday, February 26 – Dr. Holloway met for one hour with deacons and Don Croddy and asked many questions; Don Croddy stated that 80% of accusations on the video were false but did admit to:

1 – 'touchy-feely' incident when Dawn was five (1975 – lasted for 3 mos.)

2 – had same experiences with 3 neighborhood girls (1985 – he used to bring them to church; they were 11-12 years of age)

3 – no molestations since then."

According to the document, the meeting resulted in Croddy's removal from the church.
You can read the entire article here.
Temple Baptist Church Abuse Survivors Facebook Page