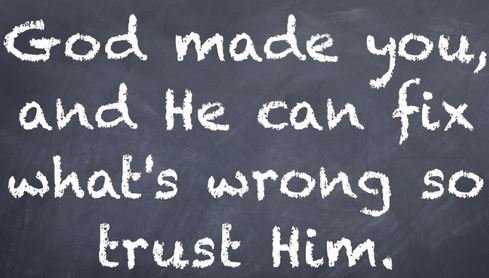 Tonight, one of my granddaughters had a softball game. Between innings, a man who knows me struck up a conversation about girls and sports. His daughter is quite diminutive in size — the smallest girl in her class. He told me that his daughter has been fretting over her height, wanting to know when she was going to grow tall like all the other girls in her class. The man said, I told her she was the size the Lord wanted her to be. End of discussion.
Grandchild number two — also a girl — is also quite short (and thin). Like the girl mentioned above, she is one of the smallest girls in her class. She accepts the fact that she is not going to be very tall. Instead of fretting over her height, she focuses on academics. She does play volleyball and basketball, but she knows that the girls around her will continue to tower over her and this could affect whether she can play these sports in high school. I encourage her to continue to work hard at improving her skills, reminding her that there have been short players who have figured out ways to play their respective sports. I also suggested that she consider running track in junior high school. Her mother is quite short and petite herself, yet she successfully ran track in high school and college. At no time has anyone (as far as I know) said to my granddaughter, you are short because the Lord made you that way. Would she like to be taller? Sure. Both my granddaughter and the girl I first mentioned above would love to be tall like many of their fellow classmates. Children want to fit in, be a part of the crowd. When you are short (or overweight, have red hair, wear coke-bottle glasses, have bigger breasts than other girls, or have parents who can't afford to buy you the shoes and clothes other children are wearing), you naturally attract the attention of fellow students who love to make fun of your height. And sometimes, being different attracts bullies who can make school a living hell.
Our daughter Bethany was born with a genetic disorder called Down syndrome. When our Catholic primary care doctor called us in to talk about Bethany's disorder, he told us that most fertilized eggs with the trisomy 21 genetic disorder miscarry. He also said that God only let children with Down Syndrome be born into special families who could love and care for them. At the time, I was pastoring a country Baptist church in Southeast Ohio and both Polly and I found his words comforting. As with the father who told his short daughter that the Lord made her this way, our doctor was telling us that having a child with Down Syndrome was just what the Lord intended. God made her this way.
Is the Lord really behind both the good and bad that befalls our children and grandchildren? While Evangelicals love to praise Jesus when their special snowflakes excel in school and sports and are straight-A students, I don't hear much cheering when the good Lord above gives parents children with learning disabilities, debilitating genetic disorders, cancer, and sundry other maladies and diseases. Shouldn't Evangelical parents be shouting from the rooftop, PRAISE THE LORD, OUR SON HAS SPINAL BIFIDA! PRAISE THE LORD, OUR DAUGHTER IS BLIND AND DEAF! The Lord does all things well, says the Bible. Shouldn't Evangelicals be praising God day and night for the bad things that have come their way? In all things give thanks, the Apostle Paul said. If the Evangelical God is the hand from which good things flow, it must also be true that bad things come from the same hand. If God is who Christians say he is, then whatever befalls our children comes from Him.
Think about it for a moment — God is sovereign and in control of his creation. Nothing happens apart from His purpose and plan. When God determined to give Polly and me a daughter, he said to himself, I think I will give the Gerencsers a child with a genetic disorder. Ain't I awesome! Fortunately, Bethany hasn't had to face many of the physical maladies that children born with Down syndrome face. Yes, she has a heart problem, thyroid deficiency, and has had cataracts removed from both her eyes, but compared to other children with Down Syndrome, she has fared well. For every high-functioning Down Syndrome adult paraded before TV viewers, there are numerous others facing grave, lifelong disabilities One such woman attended the church I pastored in Southeast Ohio. She had severe heart problems, was partially blind, slobbered profusely, and conversed with others with unintelligible words. When this woman didn't want to do something, she would plop down on the floor and refuse to move. Because she was quite overweight, her refusal to move required two care workers to pick up her up so they could take her home.
I wonder if Evangelicals really are comfortable and satisfied with the notion that the Lord makes children who are genetically malformed. Why would a deity who can do anything, deliberately hurt, harm, and kill children? What did these precious ones ever do to deserve such suffering and pain? Yet, if the Bible is true, one must conclude that whatever befalls us comes straight from Jehovah himself. I don't know about you, but I consider such a God to be a monster of the first degree, no different from Nazi doctors who cruelly experimented on Jewish prisoners, or American physicians who deliberately infected unaware blacks with Syphilis so they could watch what happened when the venereal disease was left untreated.
To my short granddaughter, I say, your height is determined by genetics. You favor your mother, and that is why you are short and have eye problems. I say something similar to my granddaughter who is the same age as my short granddaughter, yet has a large frame and towers over many of her classmates. Like it or not, biology determines everything from height to hair color to body shape. Don't like your butt? Blame your parents or other people in your family line. I was born with bright red hair. I faced decades of being gawked at, pointed to, or being made fun of. My junior high phys-ed teacher called me "Carrot Crotch." I was short both in height and genital size, so my teacher calling attention to my red pubic hair in a locker room full of naked teenagers was quite embarrassing. There were many times I wished I could have had "normal" hair, been taller, and had a bigger penis. Over time, I grew to be six-foot tall, but the hair and you-know-what stayed the same.
Since it is likely that my father was my Mom's redheaded cousin, my red hair came from him, along with my tall, redheaded lawyer great-grandfather. My great-grandfather died before I was born, yet he passed along his genetics to me through my mother and her cousin.  Like it or not, unless I was willing to dye my hair, I was stuck with having red hair. Damn genetics! They don't concern themselves with social or cultural matters. When our mother's egg united with our father's sperm, two genetic streams came together to make a new human being. The results may or may not have been good, but there's nothing we can do about it. It does no good to blame our parents, nor to blame God. We are, genetically, who we are, and it is up to us to make the most of what has been passed on to us by our mothers and fathers.
I understand why the man told his daughter that she was short because the Lord made her that way. It's an easy answer for which there is no retort. Blaming God ends all discussions. Don't like your height? Take it up with God! But passing the buck to God is a denial of reality. Science tells us why some people are short and others are tall. When I look at my body, I see a six-foot man with a twenty-nine-inch inseam. I want to know WHO gave me these short legs! Ever try to find a pair of men's jeans for a twenty-nine-inch inseam? Not easy to find, so I end up buying pants with a thirty-inch inseam and live with it. And I say to my grandchildren the same thing. Whatever the genetic roll of the dice has given you, live with it. Make the most of what has been given to you, and don't get upset if you aren't like everyone else. I want to model to not only my grandchildren, but to my adult children, that you are fine just as you are. Be comfortable in your own skin. There's nothing wrong with you. While I don't take the "ain't you special" approach, I do remind them that they are, for good or ill, the sum of their parents' genetics. Praise or curse us, it matters not. You are who you are, and the happiest people in life are those who understand this and live life to the fullest with what they have been given.