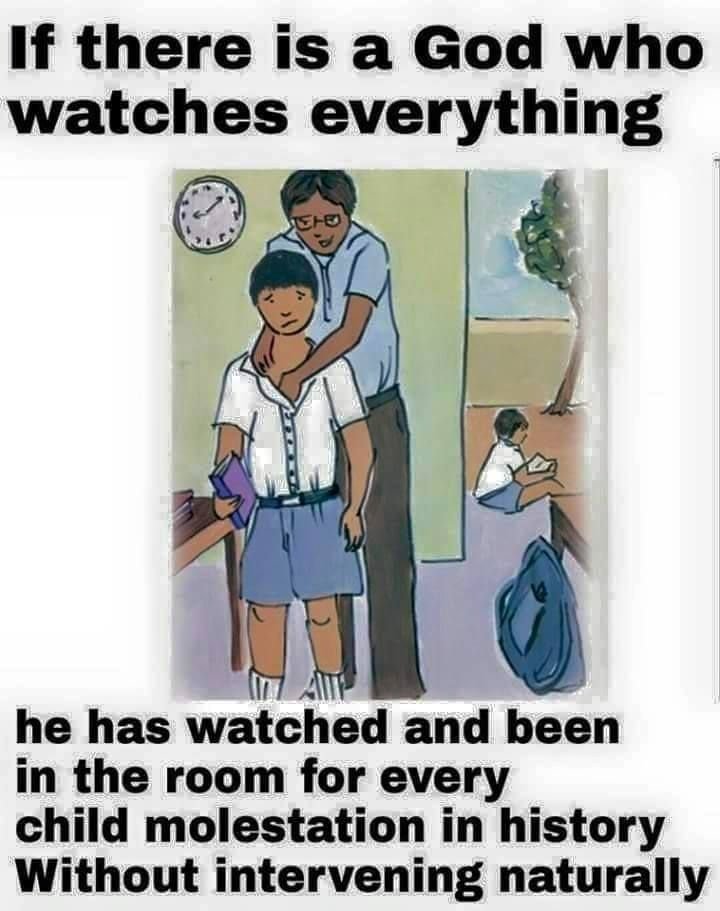 Note: As you will soon see, I was very angry when I wrote this post — the eighth post today dealing with sexual/financial misconduct by clergy and church leaders. Day after day, these kind of stories show up in my email in-box. I often feel dirty, disgusted, and depressed after reading them. Is there no end to the predatory behavior of Christian clergy? That's a rhetorical question. The answer, of course, is no. What makes these stories worse is the fact they are often covered up, explained away, or coated with Grade A religious bullshit. I started the Black Collar Crime series in March. Since then, I have posted almost 250 stories. These reports are but the tip of the iceberg. Most sexual abuse goes unreported. As we are learning with Hollywood's sexual harassment/abuse/rape scandal, men (and it is almost always men) with power and authority over children and women can and will use that power to satisfy their perverse desires. What makes Evangelical and Catholic scandals worse is the fact that pastors, priests, and other church leaders are naively viewed as pillars of morality and virtue. People, especially children, implicitly trust clerics and church leaders, and these degenerates take that trust and use it harm their charges. 
Curtis Van Dam, a fifth-grade teacher at Sioux Center Christian School in Sioux Center, Iowa, was arrested and charged with sexually molesting numerous students. The Globe Gazette reports:
An elementary teacher at Sioux Center Christian School arrested last month for committing a lascivious act with a student at the school has been charged with an additional 84 counts of sexual abuse involving "numerous" children, police said Wednesday.

Curtis Van Dam, 35, of Sioux Center, was arrested Oct. 23 after a complaint was lodged against him five days earlier for inappropriate conduct with a student.

The latest charges are tied to incidents that occurred over a four-year period, between August 2013 and last month. Van Dam now faces 101 felonies and 39 misdemeanors.

The felonies include 72 counts of second-degree abuse, 12 counts of third-degree sexual abuse, 14 counts of sexual exploitation by a teacher, and three counts of lascivious acts with a child.

The alleged acts took place at various locations, including the private school, the release said.Police Chief Paul Adkins said the investigation is continuing, and additional charges are possible. Adkins declined to identify the number of alleged victims or their ages.

Van Dam, a fifth-grade teacher at the school, was fired following his arrest last month.

Police searched Van Dam's residence on Oct. 21, two days before his arrest. He is booked into the Sioux County Jail.

Van Dam started teaching at the school after he graduated from Dordt College in 2004.

Sioux Center Christian School was founded in 1905. According to the school's website, the school has 509 students in grades K-8 for the 2017-18 school year.
In a statement, the school said it removed Van Dam from the school immediately after hearing the initial complaint and terminated him on Oct. 19. The case, the school said, is now "in the hands of our criminal justice system and we trust that justice will be served.

….
Evidently, no one, not even God, knew that Van Dam was preying on school children for FOUR FUCKING YEARS. Josh  Bowar, the principal at Sioux Center Christian had this to say to the children abused by Van Dam:
Kids, we want you to know that we consider you brave for telling your parents, the police, and the interviewers what happened to you.  We praise God that your testimony has brought to light a dark secret that none of us adults knew was there. Please know that thousands are lifting you before the throne of your Father in heaven…. Trust Him to restore you completely.
Sioux Center Christian is a Reformed institution. These institutions' philosophy is such that they believe that Van Dam's heinous behavior was decreed (or permitted) by the sovereign, all-knowing God of John Calvin (and yes, I know all the arguments Calvinists use to escape the logical conclusion of their deterministic theology). A statement put out by Bowar states:
We have been told from the beginning that additional charges for a former teacher at Sioux Center Christian would be coming. Today, Mr. Curt Van Dam, was charged with 101 felonies and 39 misdemeanors. We have been informed that he was arrested this afternoon. On Oct 18, within hours of hearing a complaint, school officials removed Mr. Van Dam from the school and immediately contacted authorities. His employment was terminated on Oct 19 and we have been in full cooperation with civil authorities since. This case is in the hands of our criminal justice system and we trust that justice will be served.

Though the number of charges do not necessarily reflect the number of students, we are grieved again as we hear the extent of the charges. We've wept, now it's time to weep again. We've prayed, now we need to continue praying. We've brought our anger and fears to the Lord, and now we need to lay those feelings again at His feet. We need to remember that though the charges are many, it also means that many students are no longer carrying secrets. Kids, we want you to know that we consider you brave for telling your parents, the police, and the interviewers what happened to you. We praise God that your testimony has brought to light a dark secret that none of us adults knew was there. You have played an important role in keeping others safe. Please know that thousands are lifting you before the throne of your Father in heaven… trust Him to restore you completely.

Our focus at Sioux Center Christian continues to be the Christ-centered education of our students, while also providing daily support and guidance to students as needed through their teachers and professional counselors. Tonight, there is a parent group session with All Things New Therapy Services. It is at 6:30pm in our gym for parents. Next Wednesday, Nov. 15, we will have a parent/5th – 8th grade student opportunity with Pastor Aaron & Nicole Baart at 6:30pm in our gym.
We are planning additional specialized support for our students in the months ahead and for as long as it takes. If this news especially hurts because you have suffered or are suffering abuse, we encourage you to bring it out of the realm of secrecy, so that it loses its powerful grip on you. We encourage you to talk to a professional Christian counselor.

We know hearing these new charges is incredibly painful and heartbreaking, but we need to be reminded again that we are walking this road of pain, so that another child need not. In the midst of this hurt, we proclaim hope. Hope in our sovereign God, who is so very trustworthy and true in His promises of life and healing. He gave His only Son, who lived as one of us, died on the cross, rose again, and reigns on high, so that we could enjoy eternal life in Christ's unfolding Kingdom. As a community of people bound together by our love and care for kids, let us persevere through the trials that lay before us. This will be an enduring process but we rest in our Living Hope, Jesus Christ. Let's continue to pray and encourage one another. We have been overwhelmed by the love and support shown by our entire community and beyond …you have done more for us than words can define. Be assured that God is good and He is at work mightily in this school. Thank you for your continued prayers and support.

Below was not part of our public statement, but we want to share this with those who read the statement. We have all experienced comfort and assurance through Scripture and in songs of faith during this trying time. Here is one Bible verse that has been especially encouraging to us:

"In all this you greatly rejoice, though now for a little while you may have had to suffer grief in all kinds of trials. These have come so that the proven genuineness of your faith—of greater worth than gold, which perishes even though refined by fire—may result in praise, glory and honor when Jesus Christ is revealed. Though you have not seen Him, you love Him; and even though you do not see Him now, you believe in Him and are filled with an inexpressible and glorious joy, for you are receiving the end result of your faith, the salvation of your souls." 1 Peter 1:6-9
This is, of course, a horrible story. I find it hard to believe that NO ONE had any suspicions about Van Dam's predatory behavior. Not one person questioned Van Dam's behavior? Not one child complained? Not one parent wondered if Van Dam's was up to no good?
Bowar offered the abused children thoughts, prayers, and Christian counseling. The thoughts and prayers are worthless, little more than empty religious platitudes meant to make adults feel better about allowing a sexual predator to run wild at Sioux Christian. And the Christian counseling? This allows the school to keep the matter in-house. Students will be counseled according to Biblical principles, with, I suspect, a healthy dose of Calvinistic thinking. Will these counselors tell the children the truth; that their abuse at the hands of their teacher was all part of God's plan for their lives; that God was "with" them through every disgusting, vile act perpetrated by Van Dam.
I wonder if anyone will dare to ask the question,WHERE WAS GOD when Van Dam was violating these children? And while you are at it, explain to these precious children why an all-powerful, all-knowing, all-seeing God stood by and watched — doing nothing — while their innocence was ripped away. Shouldn't God be held accountable for his indifference?
Of course, God didn't intervene because he couldn't — he doesn't exist. Religion might provide a temporary salve to soothe these wounded children, but there is coming a day, perhaps years from now when they are adults, that those abused by Van Dam will have to wrestle with the things done to them by their Christian school teacher. Perhaps then, far away from the empty words of Josh Bowar, they will find healing. I hope they will seek out competent counselors who put them, and not God, first.
About Bruce Gerencser
Bruce Gerencser, 60, lives in rural Northwest Ohio with his wife of 39 years. He and his wife have six grown children and eleven grandchildren. Bruce pastored Evangelical churches for twenty-five years in Ohio, Texas, and Michigan. Bruce left the ministry in 2005, and in 2008 he left Christianity. Bruce is now a humanist and an atheist. For more information about Bruce, please read the About page.
Bruce is a local photography business owner, operating Defiance County Photo out of his home. If you live in Northwest Ohio and would like to hire Bruce, please email him.
Thank you for reading this post. Please share your thoughts in the comment section. If you are a first-time commenter, please read the commenting policy before wowing readers with your words. All first-time comments are moderated. If you would like to contact Bruce directly, please use the contact form to do so.
Donations are always appreciated. Donations on a monthly basis can be made through Patreon. One-time donations can be made through PayPal.