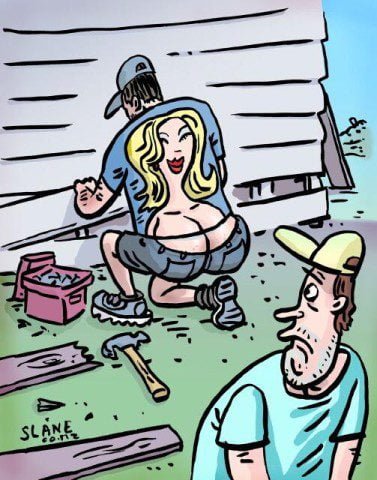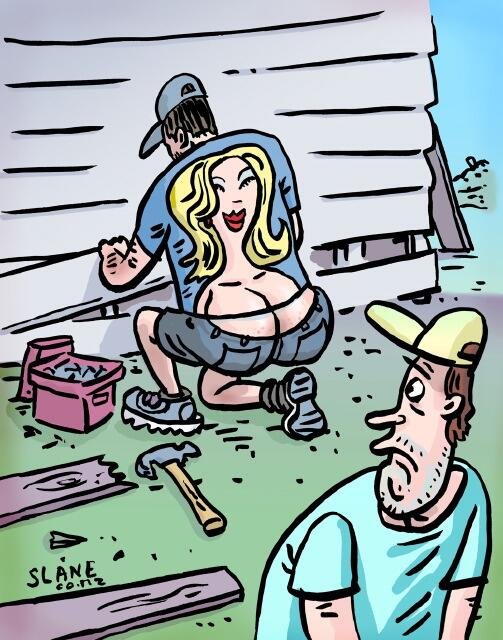 Another day, and yet another blog post written by an Evangelical blaming sexily dressed women for Christian men being unable to keep their lustful thoughts, desires, and actions under control. Geri Ungurean, a Christian Fundamentalist and conspiracy theorist, runs the Absolute Truth From the Word of God website. Today, Ungurean wrote a post titled, Sisters in Christ: Are You Causing Brothers in Christ to Sin in Their Hearts?
As you can tell from the title, Ungurean believes that inappropriately dressed Christian women are causing the male horn dogs in their churches to sin. Ungurean writes:
I remember a time when my husband and I were visiting a new church. The music was way too "Rockin'" for us. But the sermon was good and sound. After service, the wife of the pastor offered to walk us around to meet people.

She took us into a 4th grade Sunday School class. As we walked into the room, the teacher was obviously caught off guard. You see, she was wearing an extremely revealing low cut sweater, and when she saw us she immediately attempted to pull up her sweater.

To say that was an akward [sic] moment would be a gross understatement. As we talked with her, she held onto her sweater to keep it from slipping down where it was before we came in.

Okay. I know that there are going to be women who will be angry with me because I am writing about a "touchy" subject.  Well SOMEONE has to talk about this!  And please don't say to me "I think I look nice when I go to church" because I've heard it so many times before. Looking "nice" would reflect the motives of your heart. Of course, we women want to look nice when we go to church – or anywhere for that matter. But there is a vast difference between looking nice and looking sexy.

Here's the deal – If you look in the mirror and you think "I look sexy" then you do not look nice. You are calling attention to yourself, and you are hoping that men will be enticed by you.  YES – YOU.

Men are visually oriented

If you are lost and do not care about Jesus or Christian men, then you have an excuse. But if you are born again and have repented and trusted the Lord Jesus for the forgiveness of your sins, then I have some news for you. You are taking the eyes of these Christian men off of the Holy Spirit, and onto your body.

This is sin, and God will hold you accountable for it.

….
Let me summarize Ungurean's post:
She and her husband visited a church that had a Sunday school teacher who showed too much cleavage. Her boob exposure made Ungurean and her husband feel uncomfortable.
There is a difference between a woman looking "nice" and looking "sexy."
If a woman looks in the mirror and says, "I look sexy," she does not look "nice." Evidently sexy and nice cannot inhabit the same space in Ungurean's world. (I've seen some sexy Amish women. Try as they might to hide their beauty, it seeped through their head-to-toe anti-lust clothing.)
Women who dress sexily are calling attention to themselves, hoping that men are enticed by their revealing clothing. (Enticed to do what? Grab them, strip them naked, and fuck them in the middle of the church sanctuary?)
Men are visually oriented. (And women aren't?)
Unsaved whores, I mean women, have an excuse for their immoral dress. (Evidently, unsaved women don't care about men.)
Christian women who violate Ungurean's dress code are causing men to focus their eyes on them and not on the Holy Spirit.
I continue to be hysterically amused by weak, pathetic Christians who can't bear to see women wearing clothing that accentuates their God-given bodies. I wonder if such people can even go outside, watch TV, or read magazines. Why, there are Jezebels everywhere you look! Perhaps it would be better if Christian men followed Jesus' advice in Matthew 18:9:
 And if thine eye offend thee, pluck it out, and cast it from thee: it is better for thee to enter into life with one eye, rather than having two eyes to be cast into hell fire.
Wouldn't it be far better to be blind than to face, day after day, sexily dressed women who want nothing more than for men to ravage them?
Ungurean believes that women who violate her dress code are causing Jesus-loving men to take their eyes off the Holy Spirit. Has Ungurean ever "seen" the Holy Spirit? Of course not. According to the Bible, the Holy Spirit is an incorporeal being. He can't be seen, but women can, and therein lies the problem for Fundamentalists such as Ungurean.  Christian women wearing clothes that calls attention to their comeliness are causing men to have lustful thoughts, and, in some instances, inappropriate boners. Now, there can only be one rising from the dead, so church women must go out of their way to make sure they don't do anything that might cause male stirrings. Again, women are viewed as gatekeepers. Men are too pathetic and weak to be responsible for their sexual behavior. Evidently, once these servants of the Most High God gaze at a woman they find attractive, morality and religious belief are cast to the wind, turning otherwise normal men into dogs looking for a bitch to hump. Poor Christian men!
About Bruce Gerencser
Bruce Gerencser, 60, lives in rural Northwest Ohio with his wife of 39 years. He and his wife have six grown children and eleven grandchildren. Bruce pastored Evangelical churches for twenty-five years in Ohio, Texas, and Michigan. Bruce left the ministry in 2005, and in 2008 he left Christianity. Bruce is now a humanist and an atheist. For more information about Bruce, please read the About page.
Bruce is a local photography business owner, operating Defiance County Photo out of his home. If you live in Northwest Ohio and would like to hire Bruce, please email him.
Thank you for reading this post. Please share your thoughts in the comment section. If you are a first-time commenter, please read the commenting policy before wowing readers with your words. All first-time comments are moderated. If you would like to contact Bruce directly, please use the contact form to do so.
Donations are always appreciated. Donations on a monthly basis can be made through Patreon. One-time donations can be made through PayPal.