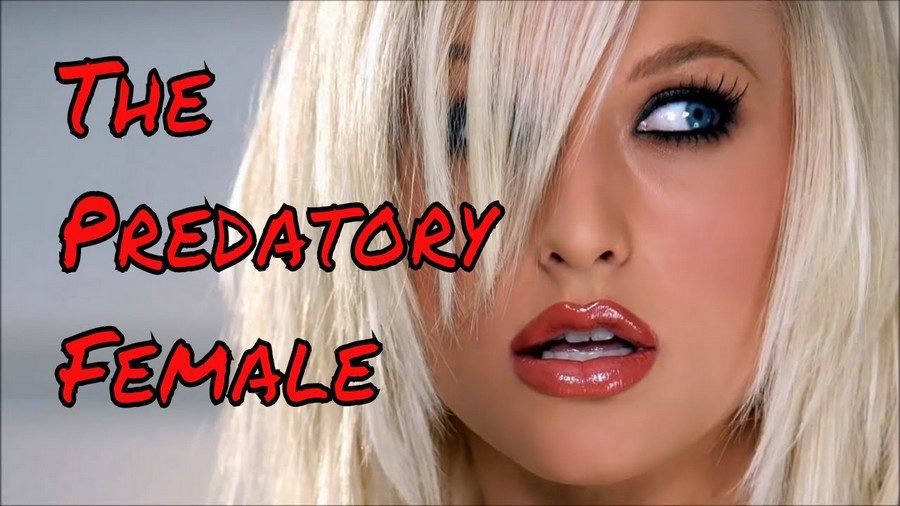 Just when I think I have heard EVERYTHING, a Christian fanatic will send me an email such as the one that follows. According to the letter writer, contrary to what we know to be true about rape, pedophilia, and sexual assault, most perpetrators are actually angry ovulating females. Let that sink in for a moment. You see, ladies, it is men who are being harassed and molested, not women. It is men who must constantly be aware of their surroundings lest a woman jump out of the bushes and rape them. Birth control, according to the letter writer, has turned women into predatory animals who seek to sexually dominate men.
I suspect the letter writer is a Roman Catholic. What better way to deflect attention from the Catholic church's sex scandal than to suggest that most sex crimes are perpetrated by women, not men. Countless children and teenagers have been sexually abused by Catholic priests, yet, according to the letter writer, the REAL scandal is sexual abuse at the hands of birth-control-using women.
Here's an excerpt from the letter writer's three-thousand-word tome:
CONTRACEPTION CREATES FEMALE PEDOPHILES & CHILD MOLESTERS

(To Eliminate Majority of Rape Just Ban Birth control)

The Bureau of Justice Statistics (the statistical agency of the injustice department) states: "Approximately 95% of all youth reporting staff sexual misconduct said they had been victimized by female staff. In 2008, 42% of staff in state juvenile facilities were female."

This disproves the idea that women are more likely to molest children just because they are around them more often and have more access. No. The statistical data shows that even when the pagan women have less access to children and are less than half of the staff in juvenile prisons they end up committing a staggering 95% of child rapes. So shocking is this statistic that journalist Laura Burke of the Texas Observer out of curiosity decided to contact the justice bureau of her home state of Texas concerning the figures of female victimization of youth, since she knows that 'nationally' 42% of staff in child prisons are females, and that in Texas 50% of juvenile hall staff employees are females (in the Texas Youth Commission, which is the biggest chain of child prisons in Texas and dominates almost 100% of youth prisons there); now this is what she said in regard to her inquiry: "The justice bureau will not release percentage breakdowns of sexual offenses by female employees in Texas, or at individual facilities. The bureau cites confidentiality as the reason."

Birth control creates the female pagan child predator epidemic. Women who use it are such beasts of impurity that they are driven to murder in the 1st degree in an act of ultimate betrayal the children they conceive. This vicious act utterly permanently destroys their maternal (and feminine) instincts. Contraception murders already conceived children. It prevents them from attaching themselves to the womb after conception when they travel to that place. It would also seem there are tons of female sodomites (no doubt themselves child killers) in action too, because 14% of juvenile hall youth are females and this figure in general has not changed since 1997 and yet 95% of all minors reporting child molestation say female staff did it. So statistically this means male staff are less likely to molest girls than their female staff counterparts, despite constituting over half of the staff in juvenile prisons. This tells us that it's very much possible the majority of the female pedophiles in juvenile hall are sodomites and that the remainder who are not sodomites are nonetheless guilty of child murder (and that being a murderess of children is what drove sodomite women to be sodomite in the first place). It's scientifically undeniable, birth control turns women into pedophiles. Young males in detention are being sexually assaulted more so by female guards and caretakers than females in detention by male guards. Female staffers are more likely to committ [sic] sexual assault and rape inmates than male staffers.

Female staff committ [sic] more forcible sexual assualt [sic] than male staff; indeed females committ [sic] 86% of it according to the 2012 BJS report of staff indecent misconduct in juvenile hall. Here is a situation in which women in complete power have no hesitation using it to hurt children. It shows that when presented with the opportunity women will rape and this should raise concerns not only about female staff in juvenile prisons, but women in general because women have much greater access to children than men. This means that people should suspect all contracepting [sic] women of being child rapists or potential child rapists and at the very least, as pedophiles. I repeat; women who use birth control are either active child predators, a developing child molester, or a child molester in training. Statistics do away with the ridiculous notion that sexual violence is always or mostly male-on-female assaults.

The epidemic of woman predators molesting school children is so bad that even CBS News has a well-updated special section on their website dedicated to showing the profile photos of teacher female molesters and briefly mentioning the details of their child molestations.

According to Richard Nixon's Commission on Obscenity for every female prostitute there are 9 underage male prostitutes. Birth control turns women into pedophiles. An extensive study in Canada found that high rates of homeless children are being molested. Staggeringly, 3/4 of the molestations of boys were done by adult women.Arguably, pagan female child killers (among whom are many woman sodomites) are more intense in their child lust than male sodomites.

With prescience Giuseppe Cardinal Siri (His Holiness Pope Gregory XVII) wrote on June 12th, 1960 the epistle "Notification Concerning Men's Dress worn By Women". Logically outlining the evil effects of women wearing pants, he said it leads to "the rising of the primary instincts" which "push forward to uncontrolled acts." For such a change of clothing "helps to diminish the vital defenses of the sense of shame" or "obstructs that sense" and "when this sense of shame is absent because of some obstacle or impediment, then the relations between men and women degrade to pure sensuality devoid of all mutual respect and esteem." He also says: "Experience teaches us that when the woman is de-feminized, then defenses are undermined and weakness increases." He added: "What can these women give their children when they have worn trousers for so long that their self-esteem is determined more by their competition with men than by their function as women?"

Indeed, the feminism heresy (of which contraception and wearing men's clothing is a part) turns women into pedophiles. The statistics robustly go on. Apart from raping boys, pagan women harlots also love raping men, gang raping men, kidnapping and raping them; especially if the male victim is a handicap or blind or immobile or non-verbal or unconcious [sic] or sedated or restrained.

These swine love to abuse the role of "care giver." 12 years ago one careerist pedophile with the usual indiscretion, candor of snobbery and mockery, said: "Had an incident the other day, a pt. had a tight foreskin. First i couldn't get the thing to go back, THEN couldn't get it to go back over!! What didn't help matters is that there wasn't much to take hold of. Plus 5 sets of eyeballs watching." Indeed, one only need peruse the blogs owned by nurses (which will not be named here because they are awful and moreover frequently criticized by doctor blogs and websites and a few nurse blogs as unprofessional and incredibly damaging to the profession) to discover their unladylike strange appetites; their supercilious ribaldry and shocking amount of inappropriate comments they make regarding the physique of boy patients, their belittling comments; detraction, their disturbingly fanatic attraction to minors, their fascination with personal areas of the body, their frank admissions of how they love it when they do "physicals" on boys, how they love to undress them and digitally penetrate the male part of boys with a catheter while the person is drugged under sedation (and in most cases then removing it prior to the child awaking, who never find out that they were undressed and lost their virginity) and this undoubtedly would constitute rape (this also happens to male adult patients). They also constantly love to gloat and bask in their status of total impunity and predation, the wide culture of acceptance of these deviancies, and how co-workers with ogling eyes watch and even participate in it. Any place of care of the vulnerable has always been a magnet for these types of perverts, who take pleasure in the degradation, hurt and humiliation of their victims. Indeed 6 female Minnesota teens at a nursing home raped their elderly patients. I mean, high school girls unleashed their devastating desires on the elderly, presumably after taking birth control.

….

SHOCKER: MORE MEN ARE VICTIMS OF RAPE THAN WOMEN

"More men are raped in the US than women, figures on prison assaults reveal:  "More men are raped in the U.S. than woman, according to figures that include sexual abuse in prisons. In 2008, it was estimated 216,000 inmates were sexually assaulted while serving time, according to the Department of Justice figures. That is compared to 90,479 rape cases outside of prison."

Sexual misconduct is not an uncommon complaint to state boards of nursing. 38 to 52 percent of nurses report knowledge of colleagues who have had sexual misconduct with patients. The NCSBN reports that in some states sexual activity with a consenting adult patient is considered a criminal offense (since it is statutory rape for a person in a position of trust to use it for lewd activity).

According to individual state boards of nursing disciplinary records; the ratio of female nurses committing boundary violations as compared to male nurses is 26/1. That is for every male nurse that has sex with his patient, 26 female nurses have done so as well.

CONTRACEPTING FEMALE PAGAN (HARLOTS) CAN BE MORE VIOLENT THAN MEN

Contracepting female [sic] are just as violent, if not more violent than their male counterparts: "It has often been claimed that the reason CTS studies have found as many women as men to be physically aggressive is because women are defending themselves against attack. A number of studies have addressed this issue and found that when asked, more women than men report initiating the attack."  According to CDC study: "Almost 24% of all relationships had some violence, and half (49.7%) of those were reciprocally violent. In nonreciprocally violent relationships, women were the perpetrators in more than 70% of the cases."

USA FLAG INSPIRES FEMALES TO BE CHILD MOLESTERS

Another factor driving female pedophilia is venerating the anti-Christian USA flag whose tricolor represents the condemned rebellious masonic slogan "liberty, equality, fraternity" under which millions of Christians were murdered (it represents man against God and the overthrow of Christian order and Monarchy which uphold inequality). This purges all their moral sensibilities, drives them to lust and therefore birth control and child molestation. After speaking to a rebellious foul-mouthed heretic in the South who audaciously pretends to be Catholic, I should point out in regard to the tricolor, that anti-Christian France and the USA republic are masonic creations. Both colonial and French freemasons [sic] collaborated in fomenting the revolution in America (1775-1783) and France (1789-1799); so the significance of the tricolor 'red, white, and blue' as representing the heresy 'liberty, equality, fraternity' remains. When adopted and used by masons, it carries a particular meaning; in the same way that the rainbow though given to mankind by God as a sign of peace and promise that he would never destroy the world again with a flood; when that symbol is used by secular religion it takes on a whole different meaning, namely, the total repudiation of Marriage and the family, which is the lifelong union of man and the woman. When the Cross is used by Christianity it signifies Christ but when used by American religion especially on gravesites [sic] of the USA missionaries (I.e soldiers) it represents the condemned doctrine of 'universal salvation.' When Christians use the upside down Cross on the Feast of St. Peter it represents his upsidedown [sic] crucifixion martyrdom, but when used outside that context it represents Satanism. The more pagan woman tries to conform to the women of Christianity (the only authentic standard of womanhood) the better; for pagan women would not generally be harlots and murderesses of innocent children in the 1st place.

….
I think I can now safely say that women really are to blame for EVERYTHING! Pity us men. It is unsafe for us to even leave our homes with female sexual predators prowling about seeking to drop their pants and ride every man in America. Men must demand action be taken by law enforcement to protect them from angry, ovulating, birth-control-popping, child-molesting, rapist females.
Or we can safely assume that the writer of the aforementioned screed is bat-shit crazy, a Roman Catholic loon who hates women. What say ye, female readers? Has the letter writer exposed the truth about women — that it is women, not men, who commit most sexual crimes? Please share your angry, hormone-driven, birth-controlled thoughts in the comment section.