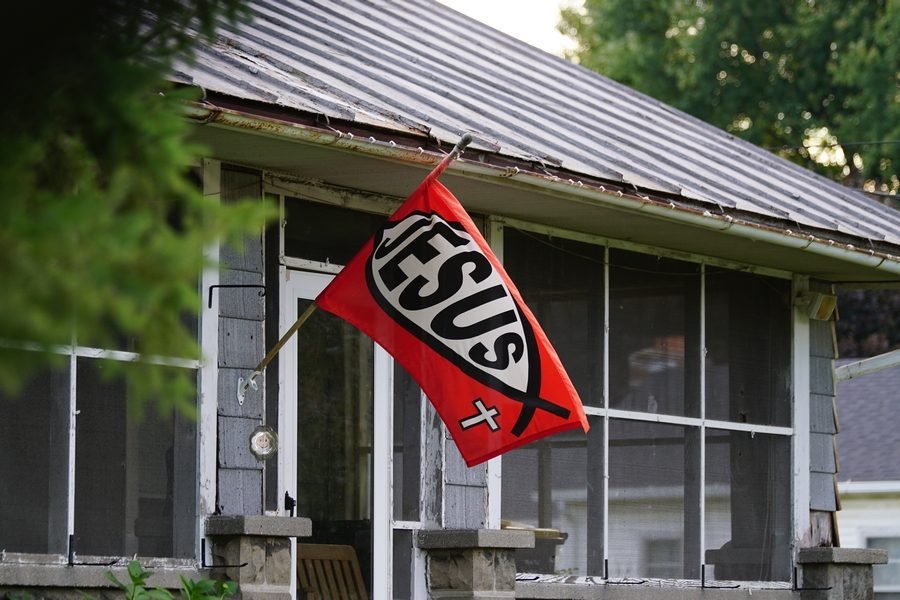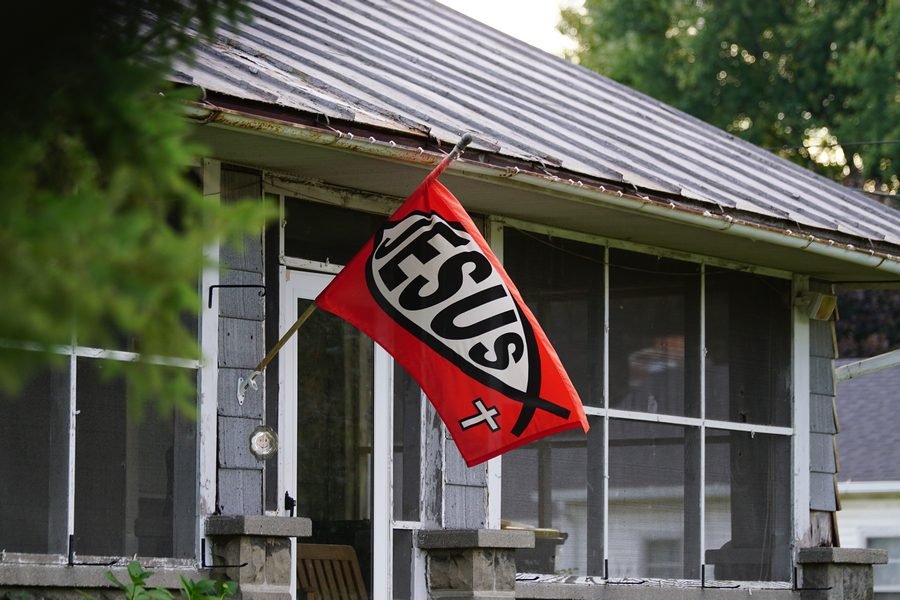 I have spent most of my sixty years of life living in rural Ohio. I was born in Bryan, Ohio — a small community in Northwest Ohio. My dad's parents immigrated to the United States from Hungary in the 1920s and settled down on a hundred acre farm a few miles south of Bryan. Dad and his siblings attended schools in the very district my wife and I now call home. We live in a small spot along State Highway 15. Ney, population 345, has two bars/restaurants and a convenience store/fast station. Dad graduated from Ney High School in 1954. I attended elementary school for several years west of here in the flashing-light, spot-in-the-road town called Farmer. Dad frequently moved us from town to town, unable, for some inexplicable reason, to pay the rent. It wasn't until junior high that I got a taste of "big" city life.  For three and a half years, we lived in Findlay, the home of Marathon Oil. This allowed me to attend the same school for three straight years. I actually had the same friends from one school year to the next!
Divorce and Dad moving us to Arizona turned my happy world upside down. At age sixteen, I returned to Findlay for my eleventh-grade year. I then returned to Bryan to live with my mother. Lots of drama, including Mom being locked up in Toledo State Hospital, resulted in my siblings and me being uprooted and moved once again to Arizona. By then, I had dropped out of high school. In the fall of 1975, I moved back to Bryan and took a job working at a local grocery store. A year later, I left Bryan to attend classes at Midwestern Baptist College in Pontiac, Michigan. I returned to Bryan three years later, pregnant wife in tow.
Polly and I spent much of our married life living in small, rural communities. The churches I pastored were, for the most part, attended by white, working-class people. In 1995, we moved back to the flatland of rural Northwest Ohio. I pastored two nearby churches, moving away from the area to pastor a church in rural Michigan, along with a move to Yuma, Arizona. In the end, like the proverbial bad penny, I seem to always make my way back to Northwest Ohio. In 2007, we bought our house in Ney. Our six children and eleven grandchildren (soon to be twelve) all live within twenty minutes of our home.
There are times when Polly and I yearn for the big city; for the anonymity that living in such places provide. But, we love our family, and when we bought our home, we committed ourselves to living here until death do us part. This is the place and people we call home. We love the slowness of life, and when we need a big city fix, Fort Wayne and Toledo are but an hour away.
I write all this to say that my roots run deep into the soil of rural Ohio. No matter how often I fled the scene, looking for excitement and diversity, I always seemed to come right back to where life started for me. Polly was a city girl, but forty years of country living have turned her into a small-town girl who has embraced the rural way of life. Would we live where we do if it weren't for our children and grandchildren? Probably not. And the reason for this is simple. While both of us feel quite at home in rural Ohio, our beliefs have changed greatly over the past two decades. This change of thinking puts us at odds with most of our neighbors — politically, religiously, and socially.
Rural northwest Ohio is the land of God, Guns, and the Republican Party. Hundreds of conservative churches dot the landscape, and virtually every public office is held by a Republican. In Defiance County where I live, the Democratic Party has fielded two winners in the last decade, neither of whom is currently in office. Living here means that I must accept  the monoculture of my surroundings, a society where it is assumed that everyone thinks and believes the same way. Someone like me, a socialist/pacifist/atheist, is a rare bird. While I have met more than a few people with similar views (particularly young adults), there are no liberal/humanist/atheist/secular groups or meet-ups in rural Northwest Ohio. People who don't fit the rural Ohio political and religious mold exist, but few are vocal about their liberalness and unbelief. Why? Doing so would be socially suicidal.
One of my sons and I were talking about this tonight — about how being an out-of-the closet unbeliever or liberal leads to social suicide. While I am often lauded for my outspokenness about local politics and religion, my position has come at a high cost socially. I have in the past pondered whether, if I had it to do all over again, I would have been so vocal early on about my atheistic beliefs. I know that my outspokenness (and my age and disability) has made me unemployable. I own a photography business. When locals are given a choice between an Evangelical photographer and me, guess what? They usually choose the God-fearing one (regardless of the quality of work).
Over the past fifteen months, I have made a concerted effort to, outside of this blog, to tone down my public pronouncements. At times, I feel guilty for doing so; feeling as if I am a sell-out or a hypocrite. Everyone should be able to be who and what they are, right? Sure, but small-town life demands at least some modicum of outward conformity to tribal political, religious, and social beliefs. Disobey and you will pay the price. And for my family in particular, I don't want them being socially and economically punished for who their father is. Some of my children may agree with me, but their futures depend on them not committing social suicide. Rarely does a week or two go by without one of my children telling me that someone at work — a boss, fellow employee, or customer — was inquiring about whether they were related to me. My children have become experts at fielding such interrogations, knowing that they are always free to say, Hmm, Bruce Gerencser? Don't know the guy.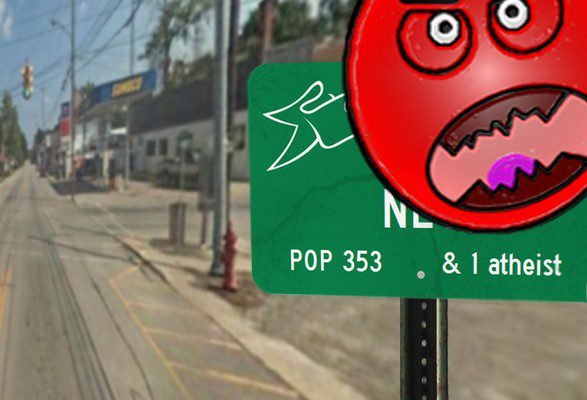 I plan to live the remaining days and years of my life in Ney, Ohio. As a committed liberal and atheist — who also wants to get along and be accepted by his neighbors — I have to find ways to be true to self while at the same time not being ostracized by locals. Everything, unfortunately, comes down to money. My wife and I need to earn money to live. Earning money requires acceptance by local employers/customers. While it would be wonderful to be a street-corner atheist (and some locals think I am way too outspoken, even at presently muted levels), I have to live here, and being one would be social suicide. The violations of separation of church and state are so common is this area that the Freedom From Religion Foundation could spend the next year or so filing lawsuits against local government agencies, schools, and businesses. Yes, I find these violations of the law egregious, and the street-corner atheist in me wants to call out and condemn their sins. But, I can't, for in doing so I would cause great social harm not only to myself but to my wife, children, and grandchildren. If I made $40,000 a year blogging, things would be different, but as things now stand, I must swim in waters infested with Evangelical/right-wing Republican sharks, and being a lone fish is sure to turn me into a snack.
I have much hope in the belief that things are slowly changing here in rural Northwest Ohio. Local millennials are not as religious as their parents, and they most certainly don't hold to the moral and religious values of their grandparents. It is in these young adults that I see promise. It is unlikely that this area will ever be as liberal as the West or East coasts, but I am hoping that there is coming a day when it won't be social suicide to say that I am a liberal, a socialist, and non-Christian.
For now, I must choose my battles carefully, hoping that I can safely navigate the dangerous waters of rural Ohio. I have seen progress on this front thanks to my high school basketball photography. I have talked to more locals in the past few months than in the last ten years combined. I want them to see me as a family man, as a decent, kind curmudgeon who also happens to take really good pictures. I know that Google is not my friend, but there nothing I can do about the stories she might tell if someone asks her about Bruce Gerencser. Just last week, one my children ran into several people their age who were once members of a local church I pastored. These young adults have heard the gossip about me and read up on me, thanks to the Internet, but they still can't understand how it is possible that the man they once called pastor is now a heathen. What happened? they asked, desperately trying to figure out how I ended up where I am today. Lost on such people is the fact that I am, in many ways, the same man I was when I was their pastor. Sure, I am a political liberal and an atheist. But, personality-wise I am pretty much the same guy. I am still a down-home friendly man with a wry sense of humor. I am…Bruce. [My editor commented, Your closing raises some interesting questions. Are you the same guy? I think it is hard for you to claim that you are. Sure, you are still a decent, hard-working man, but you have done an about-face in regard to many of your core beliefs of your prior life.]
I would love to hear from readers who find it difficult to navigate the waters of their communities. Please leave your thoughts in the comment section.